Business process flow template
Map out your business process in a flowchart using our template! Once your process map is built, easily embed the business process flow into a SharePoint page.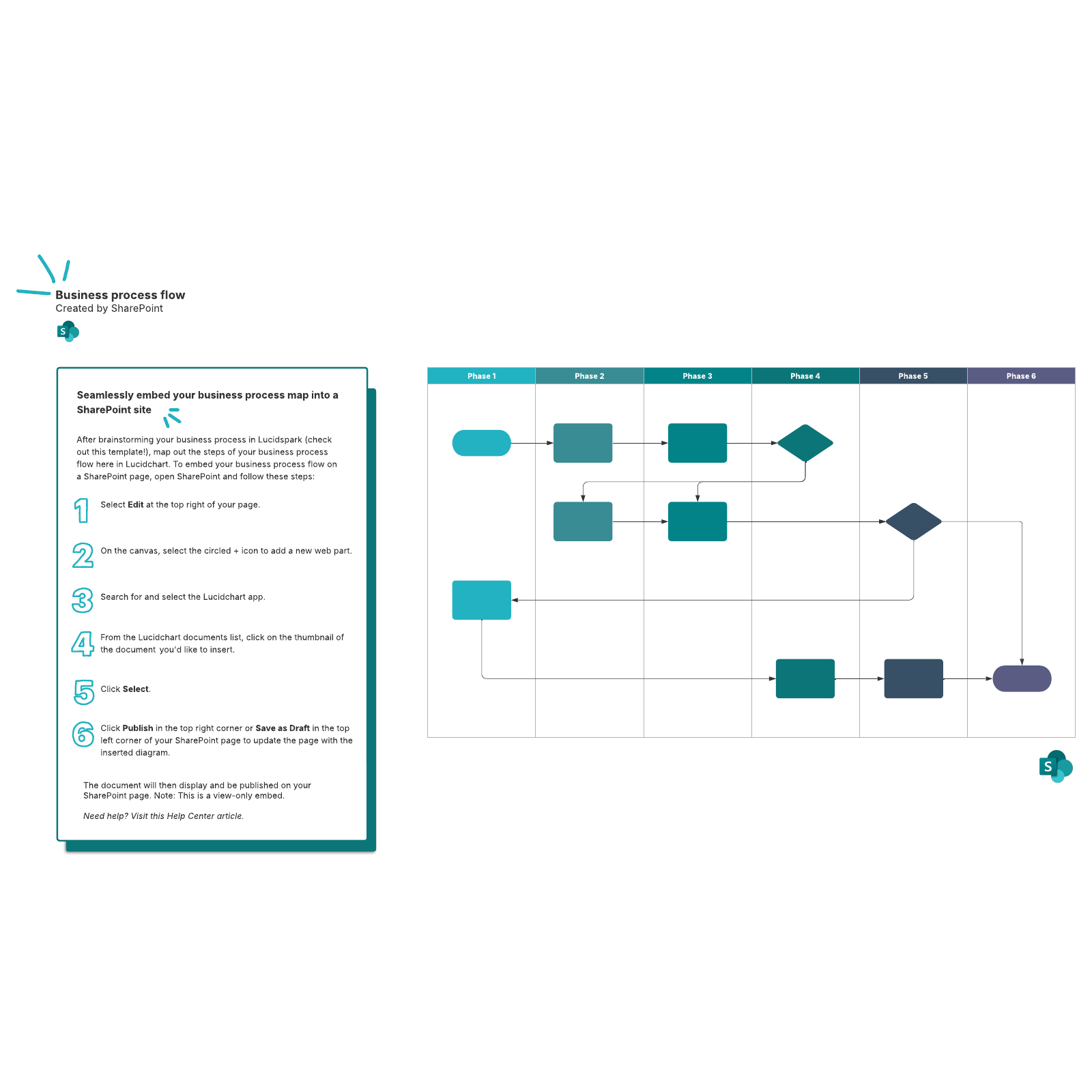 What is the business process flow template?
Process flow diagrams (PDFs) are flowcharts that illustrate how major components of a business relate to each other. You usually see them used in industrial plants, like in the fields of chemical engineering and process engineering, but you can use a PDF for other processes as well.
Use our free business process flow template to map out your business process from start to finish. This free template was created in collaboration with SharePoint.
Benefits of using the business process flow template
When you use this template to document a process, you can better:
Understand, standardize, and improve your process flow
Train employees
Align shareholders and promote ongoing communication
You can also use the template to create a brand new process.
The business process flow template is perfect for remote and hybrid teams because you can collaborate on it in real time, no matter where you are, and you can share it at the click of a button. You can also link the template to data so that it automatically updates, ensuring you always have the most recent information.
How to use the business process flow template in Lucidchart
After you brainstorm your business process in Lucidspark, map out the steps of the process flow in Lucidchart. You can also embed your business process flow on a SharePoint page for added convenience.
To reformat a shape, click on it, then click "Shape Options." Choose the fill and line color that you want. To add lines, hover over a shape and click on any red circle. Add text to existing lines by double-clicking and typing. You can also format lines by selecting them and using the properties bar at the top of the canvas.
If you need to adjust the swimlanes, click on the swimlanes shape, then use the advanced shape bar to adjust the number of lanes, text orientation, header, and lane color. For more information about swimlanes, or about Lucidchart in general, click the tutorial buttons on the right side of the document.
SharePoint
Share and manage content, knowledge, and applications to empower teamwork, quickly find information, and seamlessly collaborate across the organization.