Company fact sheet example
This company fact sheet template can help you: - Provide a brief visual summary of your company for prospective clients/customers, investors, or employees. - Demonstrate that your company is worth investing in, working for, or buying from. - Highlight your company's biggest strengths (and your product's best features). Open this template to view a detailed example of a company fact sheet that you can customize to your use case.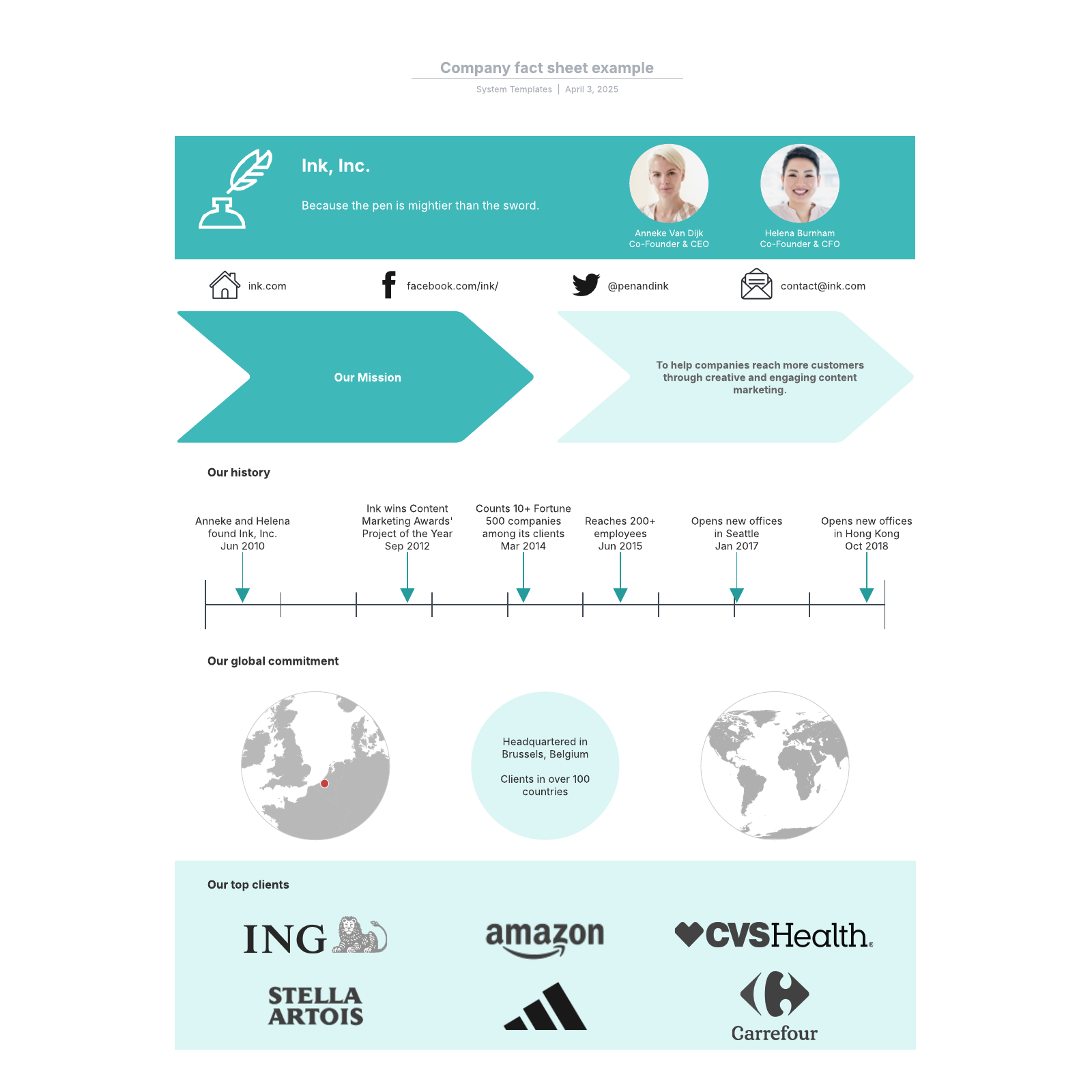 Create a snapshot of your company with a fact sheet
You'll need a compelling pitch to attract investors and clients to your business. A fact sheet can showcase your company's biggest strengths and products' best features in an easy-to-digest visual format.
This appealing snapshot can give potential stakeholders all the information they need to explore your company further, whether they are looking for employment, investment opportunities, or goods and services. You can even use your company information sheet as a one-pager template for your website.
Lucidchart offers a convenient company fact sheet example template that allows you to see what you can do with your own. You can study or customize it according to your needs to create your company fact sheet.
Use the company fact sheet example template in Lucidchart
Whether you are customizing the template or creating your company fact sheet from scratch, remember that it should include graphics and data. Not only are these elements informative, but they also create visual interest and make your conveyed facts more compelling. For instance, Lucidchart's fact sheet example includes a timeline graphic and breaks up statements with shapes and images.
If you decide that you want to customize the existing template, you can:
Add an image inside a shape by selecting it and utilizing the properties bar.
Add icons and images with the search feature using the magnifying glass.
Add or change text by clicking on existing text or typing anywhere on the template.
Lock background shapes to the canvas for easier editing.
Add or change shape colors using the properties bar.
If you want to create a company fact sheet from scratch, explore the tutorials to the right of the template. Whether you modify the template example or create your own, Lucidchart makes it easy to share your company fact sheet with coworkers and potential stakeholders.