CRC cards example
This CRC cards template can help you: - Understand the different objects that your team will be creating. - Visualize how objects will interact with other people, places, things, or functions. - Quickly uncover potential problems or weaknesses in the system. Open this template to view a detailed example of CRC cards that you can customize to your use case.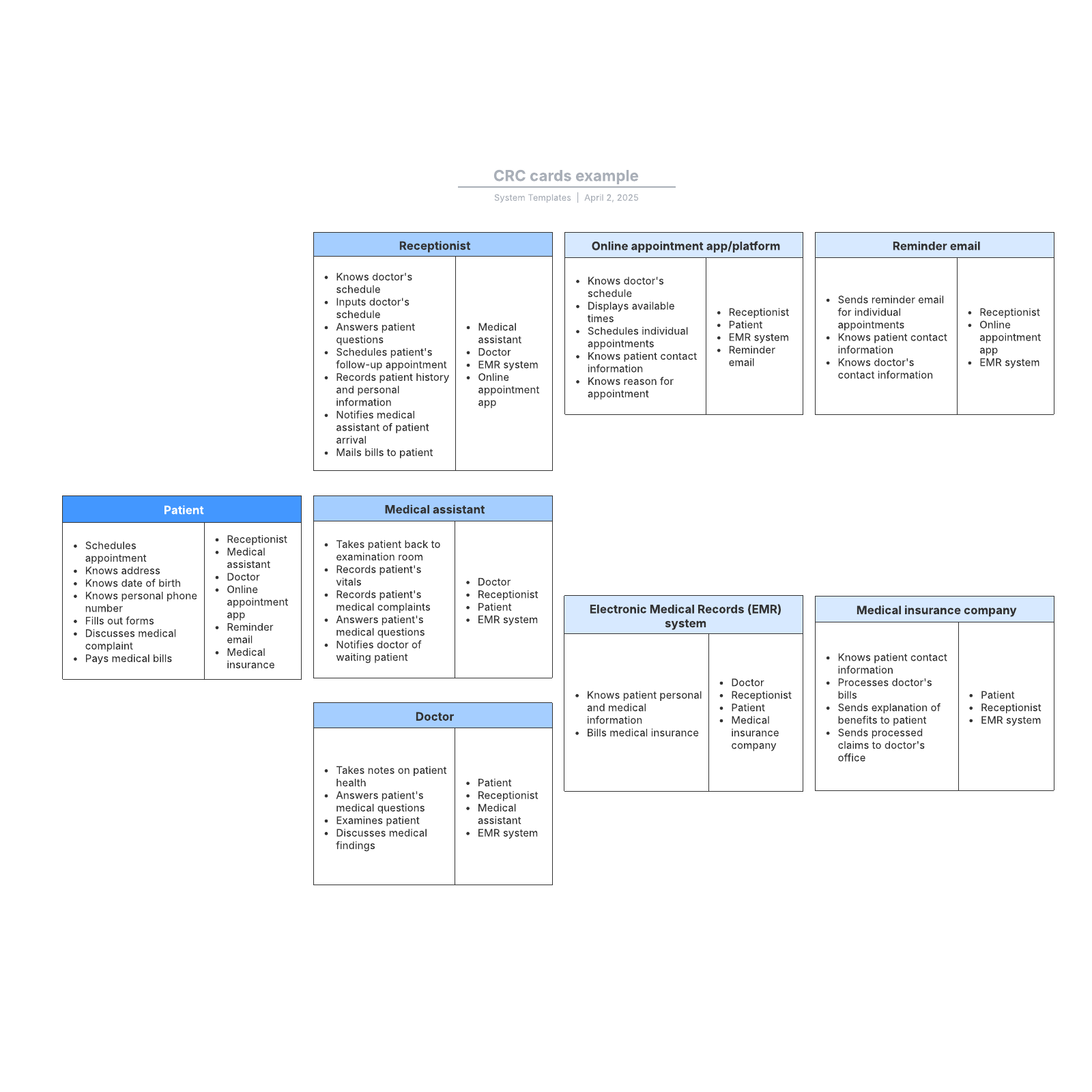 Categorize the objects and functions in your system with CRC cards
When designing a system, tracking each part's function can be challenging. This is especially true when parts have multiple functions. But whatever you're trying to track, you can use CRC cards to learn how everything works.
CRC stands for class, responsibilities, and collaborators. Class refers to a collection of similar objects or people within the system. Responsibilities are something a given class knows or an action they will perform as part of their function. Collaborators are other classes that the original class will need to work with for the system to be optimal.
In a CRC cards visualization, you'll create cards for each system component or object—a person, place, or thing. These cards list each object's responsibilities and collaborators, enabling you and your system development team to visualize how each object interacts with other people, places, things, or functions. This can help you understand each object clearly and quickly uncover potential problems within the system.
With Lucidchart's CRC cards example template, you'll have a helpful CRC visual to study and customize for your system.
Use the CRC cards example template in Lucidchart
To customize the template for your system, fill in the cards with your information by clicking on the text and then typing. For each card:
Type the class name in the header.
List that class's responsibilities in the left column.
List the collaborators this class needs to complete its responsibilities in the right-hand column.
After you've filled out each card you need, move the cards around and place those closely related next to each other. Consider adding colors to clarify close relationships. When the CRC cards are appropriately arranged, you'll have a clear overview of how the system works together.
To learn more about Lucidchart or create your own CRC cards, click the tutorial buttons to the right of the document.