Event floor plan
This basic event floor plan template can help you: - Draw a bird's-eye view and layout of any property type to scale. - Visualize your venue. - Understand the best way to arrange things. Open this template and add content to customize this basic event floor plan diagram to your use case.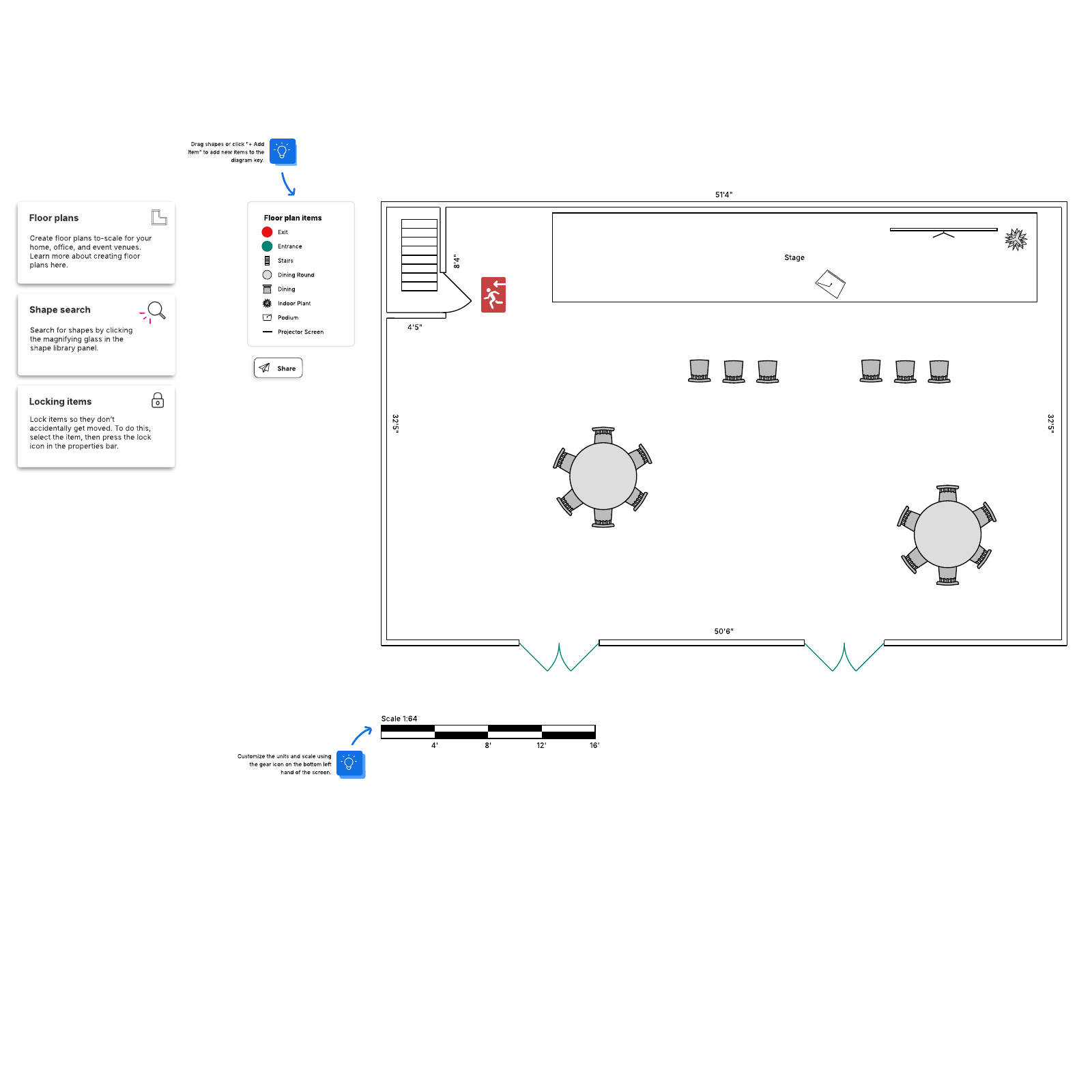 What is the Event floor plan template?
If you need to make a floor plan for an event, this template has you covered. Use it to draw a bird's-eye view of the layout of any property type to scale in minutes.
Benefits of using the Event floor plan template
When you're planning an event, you need to figure out how every component will fit together. This template for floor plans helps you visualize your venue so you can plan where everything will go, preventing traffic jams and mishaps. You'll be able to find the best way to arrange things to account for the number of guests and planned activities.
Our free floor plan template is customizable, so you can easily make it your own. Utilize the shapes in our Shape Library to make the layout realistic. Use the scale tools to ensure accuracy, which is generally one of the most complicated aspects of creating a floor plan.
If your plans for the event change, the template is easy to adjust. You can also share updated versions with the click of a button, or just send team members the direct link to your document. That way, everyone stays on the same page.
How to use the Event floor plan template in Lucidchart
To use our template for floor plans, start by setting the correct scaling using the scale tool in the bottom left corner. From there, you can work on setting up your floor plan.
Edit the wall shapes' length by selecting a wall, then clicking and dragging the purple squares or green boxes with arrows. If you want to move a wall, select the wall shape and drag it anywhere on the canvas.
You can add and remove shapes as needed, including tables, chairs, doors, fireplaces, kitchens, and bathrooms. This will help you better visualize how your guests will use and move about the event space.
To allow the canvas to adjust automatically with changes, click "File", then go to "Page Settings" and turn on auto-tiling.
If you want to see an example of a completed floor plan, or to learn more about floor plans and Lucidchart in general, explore the resources to the right of the document.