Project flowchart example
This project flowchart template can help you: - Organize complicated projects. - Outline what needs to happen to complete a project. - Access the flowchart shape library. Open this template to view a detailed example of a project flowchart that you can customize to your use case.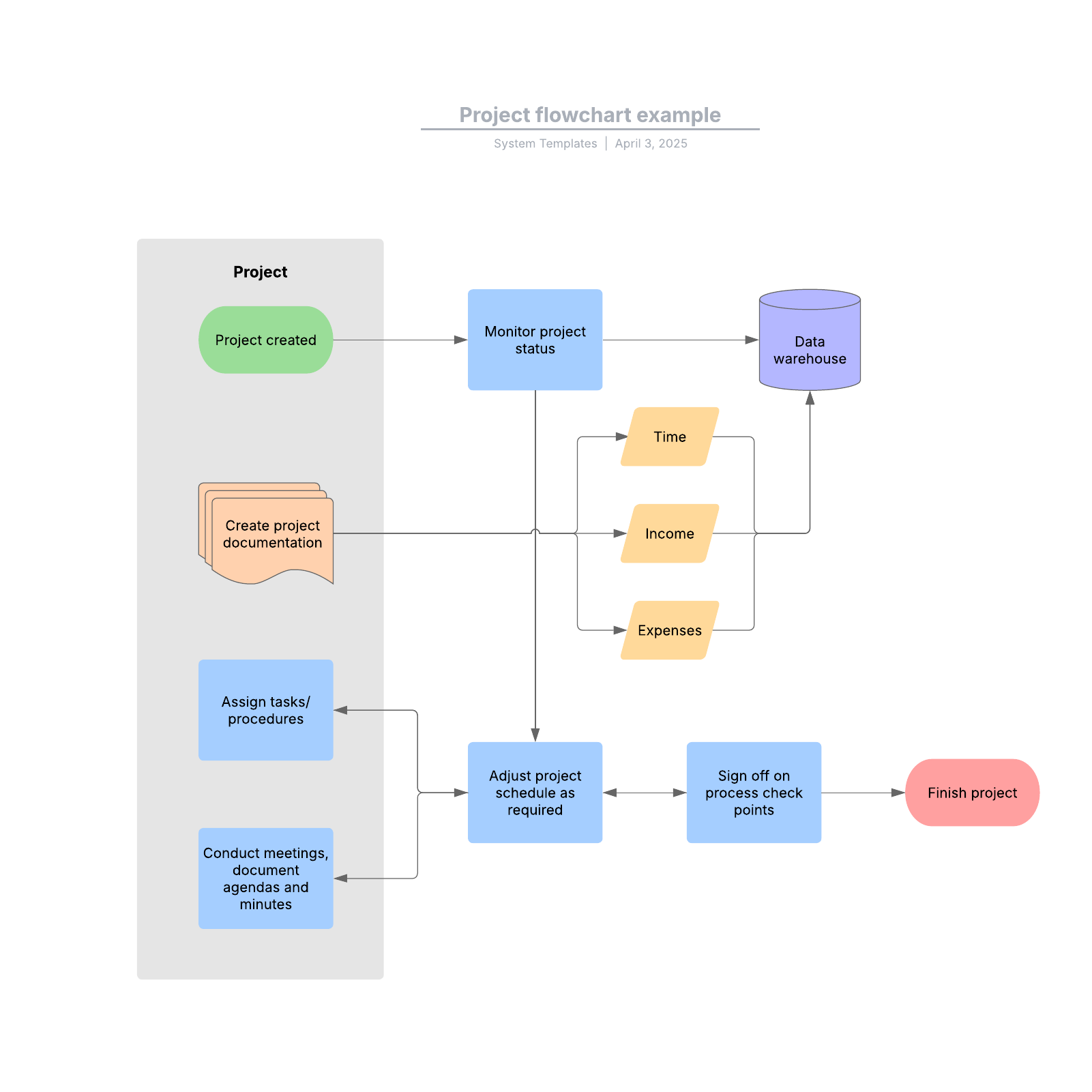 What is the project flowchart example template?
A flowchart can help you visualize a project from beginning to end, detailing what steps are required to make progress. Visually organize tasks and goals to ensure that your team is aligned on team responsibilities, deadlines, and more.
Benefits of using the project flowchart example template
Our project flowchart template is designed to help you visualize even the most complicated projects from beginning to end. Clarify the complex and ensure you're not overlooking important components. Customize your diagram with dozens of shapes from our shape library and collaborate on your template in real time to receive feedback, even if you're working remotely.
How to use the project flowchart example template in Lucidchart
Here's a step-by-step guide to getting started with our project flowchart diagram:
Take a look at the template to see how a project flowchart works and how you might customize the example to fit your use case.
When you're ready, personalize the template, either by deleting the elements and starting from scratch, or editing the content so it fits your use case.
Drag and drop shapes from the shape library to represent different aspects of the project
Add lines to connect different elements
Double-click on shapes and lines to add text for more context and direction
Personalize shapes and lines with customized colors so everything is organized and easy to understand
Once your diagram is complete, select how you wish to share your diagram. Share your work via published link, invite, or one of our many integrations.