Mapped for success: Benefits and best practices for sales territory alignment
Lucid Content Team
Reading time: about 7 min
In assessing the qualities that determine a successful business, you'd be hard-pressed to find a quality more important than efficiency. All areas of a successful business are worth assessing for ways to improve efficiency, from product research to product manufacturing to marketing, but as the main driver of revenue, none may be as important as sales.
As sales orgs begin to grow and scale, they often use sales territory alignment to improve efficiency within the sales process. This article will discuss how to establish and implement sales territory alignment across your organization—and why it's important for your business. 
How sales territory alignment sets teams up for success
In sales operations, sales territory alignment is the process of redistributing or reallocating territories and among salespeople in order to optimize efficiency and maximize profit. 
Some companies opt to have multiple salespeople serve certain territories, tag-teaming their efforts in order to best serve the clients and customers in the territory. Without well-defined territories, sales teams may risk wasting valuable time, energy, and resources by having either too few salespeople serving a territory or too many salespeople serving a territory.
Sales territory alignment is the equivalent of redrawing district lines in order to ensure that each district is best served according to the infrastructure available to serve them. A district with a larger courthouse or a more active postal service, for example, may be larger because it can handle the demands of the citizens within the district. Similarly, sales territory alignment is about assessing the size and activity of a territory and ensuring that your company has the right human and real resources to maximize your product or service offerings.
For example, if you're a SaaS firm offering work management tools for small businesses, you wouldn't place an equal amount of marketing effort and sales outreach in New York City as you would in Fort Worth, Texas. The result would be either an underserved territory or an overserved territory. The work of sales territory alignment is ensuring that all territories are served most efficiently.
How effective sales territory alignment will boost your business
The key outcome of sales territory alignment, again, is efficiency. Your company's realignment shouldn't take a one-size-fits-all approach to your sales strategy. Rather, it should focus on a comprehensive solution and strategy, weighing revenue goals and client needs against company capabilities. Your territory realignment should help you:
Increase profits by adjusting the size of a dedicated sales force to an optimal size and reach.
Increase revenue by redistributing effort toward client accounts with the highest engagement and greatest incremental revenue per call.
Improve client satisfaction through better client coverage.
Decrease client fatigue through the elimination of outreach redundancies.
Reduce travel expenses by implementing an outbound sales strategy that appropriately matches the size of the territory.
Factors to consider when planning sales territory alignment 
It might seem logical to base your realignment strategy solely on volume of sales. While understandable, this approach could limit your company's overall success for two primary reasons. 
First, revenue doesn't have a linear growth relative to effort. Certain clients may require lots of hands-on attention that yields consistent mid-level revenue over time. Other clients may be virtually autonomous, but yield consistent large sales even with a low time and energy input. 
Second, aligning territories based on sales doesn't account for the human element of the sales process. A high-performing salesperson may end up having a portion of their territory redistributed to a lower-performing salesperson, limiting future growth and potentially overwhelming a less capable salesperson. 
So what factors should influence your sales territory alignment?
If a sales rep's goal is to secure new business and manage existing client relationships, sales territory alignment should enable sales teams to be successful. It helps sales managers set proper quotas, define territories strategically, lower costs, and provide teams with effective, efficient sales processes. 
With this goal in mind, take a look at the factors you should consider.
Data
As with most business decisions, it helps to look a hard look at the data to inform your territory alignment decisions. The data sources that will help you best align sales personnel to territories can live in a number of places, from your CRM platform to census data. 
Benchmarks
Armed with data about your prospects and customers, you can begin to create a successful plan for territory alignment that also meets larger business goals and objectives. This plan should use consistent logic for determining staffing needs by location and provide quantifiable, predictable criteria for success. 
Local adjustments
Once you have a central benchmark in place, you can incorporate local input and data to ensure your sales territory alignment will be effective in response to local conditions. Collaboration with your sales reps in various locations will also ensure your team's "on-the-ground" experience is heard and help you gain buy-in on any new alignment plan. 
Workload
It's important to balance workload across territories to optimize sales coverage of opportunities and customers. Sometimes, it's not possible to balance workload and potential. However, keeping this balance in mind will also help you balance productivity and burnout among reps, while ensuring every potential client and existing customer gets the attention they need.
Account potential
Some prospects require a heavier lift than others. Regardless of lift, some accounts also have more potential for success and revenue. Balancing this potential across your sales team will ensure an even distribution of opportunity and reward. 
Location
If the primary goal of sales territory alignment is efficiency, then it makes sense to build geographically compact, workable sales territories that align both to your biggest areas of opportunity—but the location of your sales reps. This factor will also minimize travel costs and maximize customer coverage and interaction.
Tools to begin: Showing the value of sales territory realignment 
Territory maps
Whether you are assigning territories for the first time as your sales org grows or undergoing a territory realignment, territory maps are an essential visual to designate where each territory is, assign reps, and increase ownership. Use an online solution that updates in real time to ensure that reps always have the latest territories and assignments—you can even attach revenue data to promote some friendly competition between the different teams.
Account maps
As your business grows, you must adapt to new challenges, address better ways to operate, and prepare for the next stage of growth. Restructuring your sales team may become a vital way to respond to growth and increase efficiency across the departments. And this process may need to be repeated again and again as you respond to customer needs and market demands.
Account maps can ease the pain of territory alignment. Often when realigning territories and accounts, information can get lost in the mix during the changing of hands. A dedicated account map allows sales managers to communicate with all sales reps on where a deal stands, eliminating the chance for misinformation and a potentially lost sale.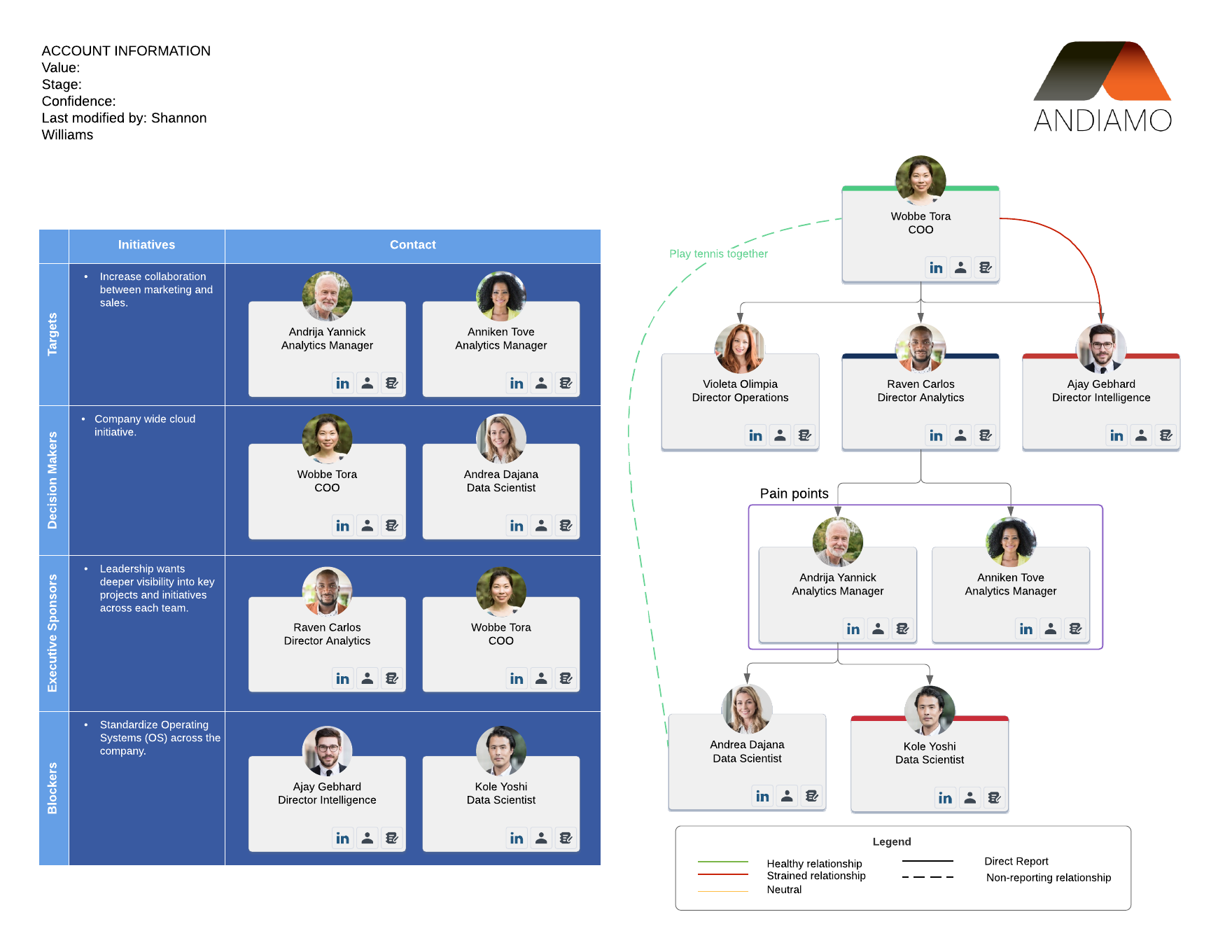 As you scale, territory realignment will become necessary in order to keep up with business growth. More importantly, if you don't effectively map out and visualize how your territory realignment efforts will improve business outcomes, it can be tough for stakeholders and sales reps alike to see the value in the change. Utilizing the right tools will help you effectively map out and save time in your territory realignment efforts.
Account mapping provides even more value beyond easing the complications of sales territory realignment.
See how
Bring your bright ideas to life.