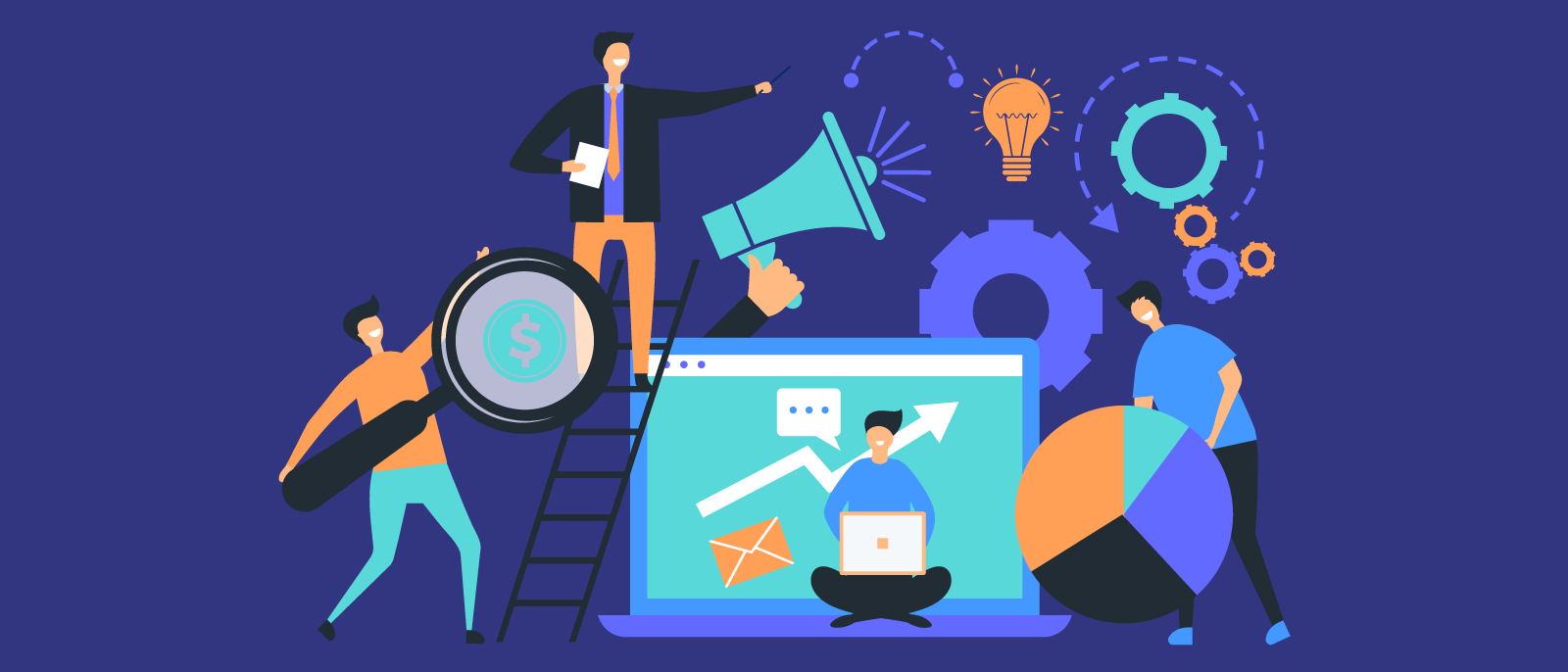 Why you should use a data-driven sales approach
Lucid Content Team
Reading time: about 5 min
Former CEO of Hewlett-Packard, Carly Fiorina, had this to say about the importance of data: "The goal is to turn data into information, and information into insight." 
Whether it's gut instinct, natural charisma, or sheer force of will, most successful sales professionals find themselves relying on at least one innate skill to gain a competitive edge.
However, the ability to predict, observe, or influence customer behavior with any degree of accuracy takes more than sales prowess alone. It requires data. And lots of it. Over the past 20+ years, customer relationship management (CRM) systems like Salesforce have helped companies better focus their efforts on those prospects most likely to become customers.
Before deciding just how much time and money your company should invest in big data, it's important to understand what a data-driven sales strategy is and how it works.
Let's get started. 
Understanding the basics of a data-driven sales and marketing strategy 
A data-driven sales strategy leverages the data and information being collected during every sales interaction to help personalize sales messaging, better anticipate the needs of customers, and create repeatable success with prospects.
With data on your side, you can determine which offers to promote, what day of the week to suggest them, and who the ideal targets for your sales pitch are. Data also helps companies better identify their most loyal customers. With all of this information in hand, companies are prepared to assess where they are losing or gaining market share and predict when (or if) a sales team's quota will be achieved. 
This attention to data is also great for your bottom line. According to a Business Application Research Center (BARC) survey of 559 business and IT decision-makers, data-driven sales increased profits by as much as 8% while simultaneously reducing the overall cost of operations by 10%. 
Welcoming a data-driven sales strategy is one thing. Putting it into practice is another. Even with considerable resources, it will take time, patience, and hard work before your dream of adopting a data-driven sales approach across your organization becomes a reality. However, using big data will ultimately pay off in three critical areas of your sales strategy.
A data-driven strategy for generating new leads and sales prospects 
When it comes to sales, cold calling (soliciting prospects who haven't had prior direct contact with a salesperson) is a common lead generation activity. However, giving a sales pitch to someone whose familiarity with your product or service is likely uncertain at best is not only challenging, but unnerving. Especially for new sales reps.
Fortunately, data-driven strategies can take the guesswork out of cold calling.
Many businesses attract new sales leads through gated content. This type of content can include case studies, white papers, and other exclusive forms of media offered free in exchange for a person's name, phone number, and work email address.
The more valuable (and relevant) your content is to potential customers, the more likely those prospects will share their contact information. If your content also serves to educate your prospects about your product, you can anticipate even better quality leads.
Determining the sales readiness of your prospects also falls under the realm of data analysis. For example, gathering demographic and behavioral data on prospects as they engage with ads and interact with your company's website can provide many actionable insights. Your sales team will know which prospects need nurturing and more follow-up messages.
Data analysis also highlights your most qualified leads, those people who are ready to become customers. As a result, sales representatives become more effective and efficient at their jobs and prospects will begin to feel they're getting the right amount of attention at the right time.
A data-driven strategy for maximizing the value of existing customers
Most everyone has heard the sales maxim, "it costs 5x more to acquire a new customer than it costs to keep a current one." The Bain & Company market study, Prescription for Cutting Costs: Loyal Relationships, suggests that financial companies that increase customer retention by just 5% can actually produce more than a 25% increase in profits.
Having a data-driven sales approach can help you improve customer retention by helping you recognize the behaviors and signals that may indicate that a client relationship is at risk. For example, many Fortune 500 companies rely on the Net Promoter Score, a real-time loyalty metric that measures a customer's likelihood of recommending your product, service, or sales representative to their friends, family, or business associates. Net Promoter Scores can be used to trigger warnings when customer loyalty is at risk (i.e. when the number of Detractor scores by respondents outweigh Promoter scores).
LinkedIn Sales Navigator is another helpful tool for data-driven sales departments. Capitalizing on the power of its 660 million-plus member network, sales professionals are able to find new prospects and build customer relationships with modern selling techniques. 
With LinkedIn Sales Navigator, your team will be able to:
Save every lead and sales account to your CRM with one click.
Stay current on accounts and gather relevant insights.
Take notes to sync back to your CRM for better sales account organization.
Get customized lead recommendations from companies you're targeting.
When it comes to achieving sales quotas and growing your business in a competitive environment, maximizing the value of existing customers is critical. By implementing a data-driven sales approach, the ROI of your sales efforts may prove to be exponential. 
A data-driven strategy for improving the overall customer sales experience 
Of course, data analysis isn't just effective for attracting new customers to your company's website or keeping your best clients from switching accounts to one of your competitors. It also allows you to offer a more personalized, customer-centric sales experience.
From tracking recent sales activity to observing which marketing efforts are the most effective, the active and passive data you collect within your CRM can provide helpful insights about your customers. Using this information, your sales representatives can make product recommendations with greater authority, timeliness, and relevance.
Over time, adhering to a data-driven strategy helps you pinpoint your ideal audience segments, model your lead acquisition accordingly, and boost the effectiveness of your campaigns. With a better understanding of your customers, you'll have the knowledge to update existing service offerings and create new products with more built-in appeal.
Take the next step and learn <strong>how to create a data-driven sales organization</strong>.
Learn how