Event planning 101: Skills and steps to make your next event a success
Lucid Content Team
Reading time: about 8 min
Event planning isn't easy, but with the right skills and preparation, you can turn any event into a memorable one. 
Whether you're an amateur looking for help planning a family event or a professional curious about a career in event planning, use the following event planning tips and our step-by-step guide to learn what it takes to execute a successful event every time. 
5 essential event planning skills 
1. Organization
Event planners are organized, multitasking wizards. They must be detail-oriented with careful people- and time-management skills. 
Throughout the event planning process, event planners have to balance a number of priorities including: 
Keeping vendor schedules and requirements on track
Setting and meeting client expectations
Managing the budget
Coordinating people (including team members, vendors, suppliers, and clients)
Marketing and promoting the event
Directing day-of execution
With so many moving parts and details to keep track of, event planners need to stay organized from day one. 
2. Communication
Strong communication skills go hand-in-hand with organization. Event planners have to communicate with many different people, such as vendors, sponsors, clients, team members, and even government officials (e.g., if the event requires special permits). 
Miscommunication can cause costly mistakes and delays—which could throw off the entire event.  
That is why the best event planners are effective communicators. They are able to convey information clearly so that each person understands their role and responsibility and the event runs smoothly and efficiently. 
3. Budgeting
Whether you're working with a shoestring budget or an extravagant one, your ability to manage event finances will play a critical role in your success as an event planner (and the overall success of your events). 
Event planning often involves multiple vendor proposals, invoices, and general expenses. As an event planner, your job is to not only keep those requests organized and ensure that all parties are paid on time but to also ensure that the event stays on budget and on schedule. 
Simultaneously keeping track of payments and keeping the event on budget can be a tough balancing act, especially when unexpected costs arise or clients or vendors force a change in plans. That is why savvy money management is important—the farther you can stretch your dollar, the better. 
4. Networking
Event planning requires a broad network of event professionals. Most event planners try to work with the same people again after a successful event. So it is important to have solid networking and people skills to build strong ongoing working relationships. 
Networking makes event planning easier over time because you will have good relationships with vendors and other professionals you trust and can rely on to deliver a quality experience at your events. Because a flakey photographer or a sub-par caterer can ruin an event, finding good people is a vital skill that will save time and heartache down the road. 
Pro tip: Good relationships with your network can also help you build your event planning business through referrals.
5. Creativity
Finally, any good event planner needs to be creative and flexible. Despite all the planning and preparation that goes into an event, there will be surprises and challenges along the way. 
Your ability to problem solve and find creative solutions will be indispensable. Learning to set your imagination to work and step outside your comfort zone will help you make each event memorable.   
Change the way you plan events!
See how one user organized her wedding in Lucidchart.
7 steps to planning an event
Whether you're planning a wedding, a corporate conference, or a community event, there are several basic steps to follow when planning an event. 
1. Identify your goals and vision
The first step is to clarify the purpose of the event and your vision for it. As you consider your goals, answer the following questions to further clarify and define your purpose: 
How many people do you want to attend?
Where will it take place?
Will this be a free or for-profit event?
How will you measure success?
While you may begin thinking about possible themes, colors, branding, etc., this step is to outline your broader goals. You can narrow down those other details later. 
2. Estimate your budget 
Whatever type of event you're planning, you will likely have a limited budget. Use that figure to break down a basic budget outline so you can plan your investments and vendor choices effectively. 
Common expenses to consider include: 
Venue rental and insurance
Food and drinks (keep in mind that, if you plan to serve alcohol, there may be additional costs and requirements)
Entertainment 
Decor
Marketing and promotion
Additional staff
Costs can add up quickly, so it's important to map out your rough budget early on so you can manage your expenses wisely and make informed decisions as you negotiate contracts.  
3. Finalize the date, time, and location
With your vision and budget outlined, you can now finalize the three most important details: the date of the event, the time of the event, and the location of the event. 
Depending on the size of the event and the season, you may need to book your venue months in advance. By nailing down when and where you want to host your event, you can make sure your preferred venue location is available and able to accommodate you.
4. Outline a plan
As you get into the thick of event planning, a tight schedule and clear calendar will be crucial to your success. With your budget as your guide, sketch out your plan of execution. 
Your plan should include: 
Event theme and branding
List of supplies and vendors needed
A draft of your event's itinerary
A floor plan or seating chart that shows the layout of the event
List of important contacts
Checklist of permissions or legal considerations
Timeline leading up to the event
Delegation of any assignments or responsibilities
As things come together, consider making a more detailed master plan so that everything is documented and organized. The more detailed your plan, the more effective you will be at juggling all the moving parts and the less likely something will fall through the cracks.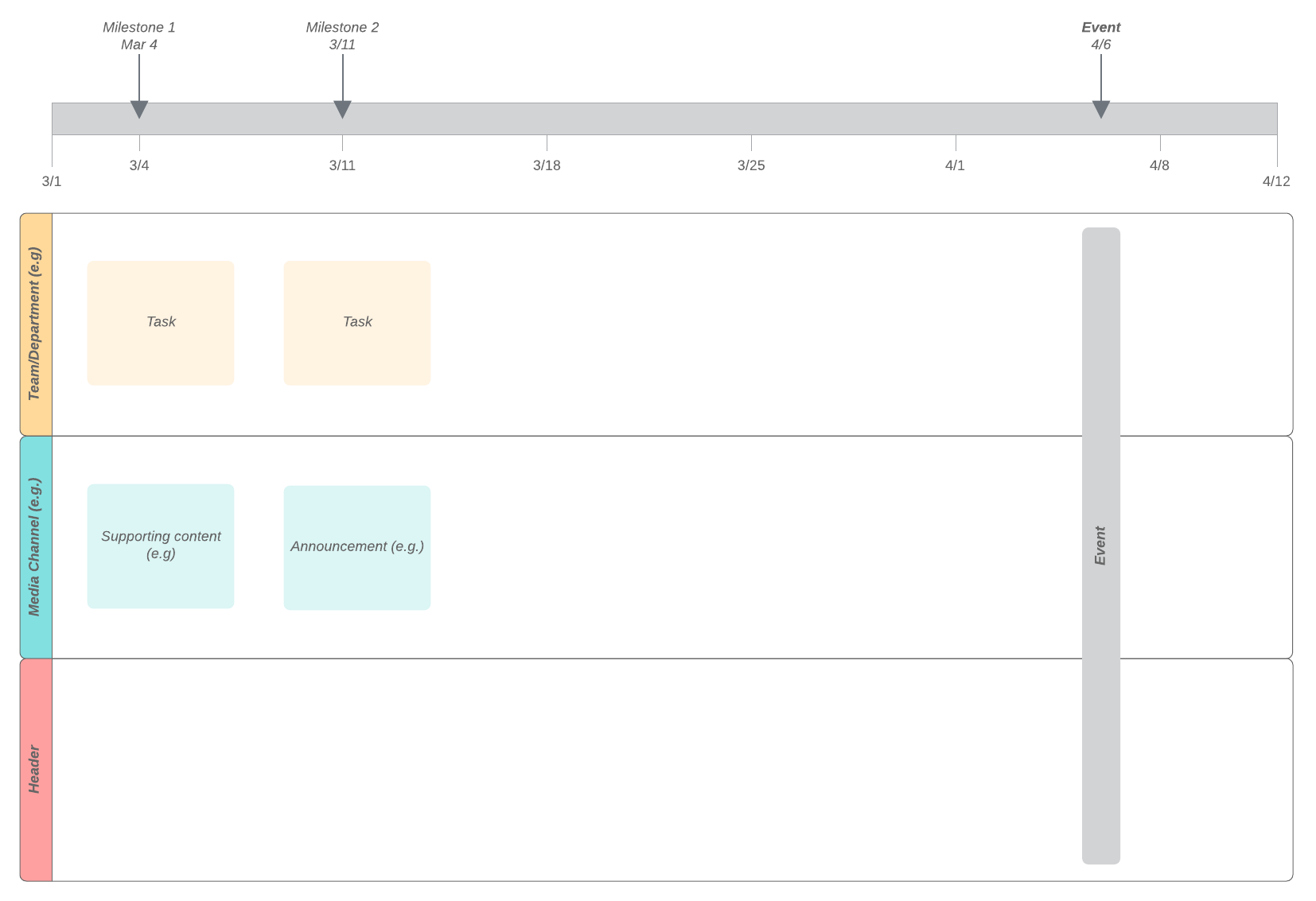 If you're working with a team of people on the event, you might consider creating a dashboard to clarify who is responsible for each task and see your progress at a glance.
5. Source your vendors
You should have a shortlist of vendors you would like to consider for your event. Take time to meet with each one to communicate your needs and expectations and learn how they operate. Keep your budget in mind as you negotiate contracts and payment terms.   
6. Promote your event
Whether your event is private or public, you will need to promote it to ensure people come. Private events may require more simple promotion, such as official announcements, save the dates, invites, and reminders. 
For public events (or larger niche events), you may need to consider broader marketing initiatives, such as: 
Social media ads, invites, and announcements
Email blasts
Flyers
Print ads
Media coverage
You could also seek out partnerships with corporate or community sponsors to help get the word out. 
Whatever strategies you choose, don't leave promotion to the last minute. For larger events, the earlier the better. You need time to reach enough people so your attendance numbers are on track. 
7. Finalize details
The week of the event you need to finalize details and verify that everything is on track. Make sure to:
Check in with your vendors to make sure they are ready and have all the information they need (including final attendee headcounts).
Confirm your set-up plans and timeline with the venue.
Test any equipment (like software or A/V) you will be using. 
Prepare a final itinerary and checklist for your team and all parties involved.
Tie up any loose ends.
While you may still encounter some hiccups in your plan, careful preparation can help you avoid most surprises and ensure everyone has a positive experience. 
By strengthening essential skills and making good use of these tips and templates, your next event will be one for the history books.