Lucidchart Live Training: Become a Diagramming Pro
Lucid Content Team
Reading time: about 5 min
You spoke, we listened. At our last webinar, users requested trainings to learn how to best use Lucidchart to create professional diagrams. No need to twist our arm—we jumped on that idea. Our in-house product pro Taylor Dolbin has been gearing up to kick off our "Lucidchart Live Training" webinar series tomorrow.
We like to think of diagramming in three different stages—creating, collaborating, and consuming. We ensure that Lucidchart meets your needs at each stage and allows you to transition between them seamlessly. Taylor is ready to let you in on all his secrets for mastering each diagramming stage armed with Lucidchart features.
Edit: This webinar has already passed, but you can still watch and perfect your Lucidchart skills!
Diagrams are visuals, and visuals increase understanding and retention—it's a proven fact. When people hear information, they only remember 10% of it three days later. On the other hand, if you add a relevant image to that same information, people retain 65%. Diagrams can also simplify and organize information so it's more easily digestible. If you add a diagram to a presentation, it can catch your audience's attention and keep them on the same page.
So yes, it is worth it to create visuals. But maybe you're worried about creating a diagram worth looking at. Lucidchart was designed specifically for ease of use, allowing anyone (whether you're a diagramming newbie or an expert sick of fighting with your UML diagrams) to create with our intuitive, drag-and-drop functionality. You won't find the learning curve that often accompanies a new software. Just sign up for an account and get started. Here are a few ways we try to make it easy.
Shape libraries
We have over 100 shape libraries available to help you build any type of diagram, whether it be an ERD, UML diagram, wireframe, concept map, network diagram… and the list goes on. Once you choose a library, you have all the shapes necessary to build a specific diagram in one place. Then it's simply a matter of dragging and dropping objects onto the canvas.
Templates
Still not sure how to get started? Let us do the heavy lifting. Instead of starting from scratch, select from one of the hundreds of templates we've built. Then make it your own and customize the font, colors, line styles, borders, etc.
Visio import/export
If you switched over from Visio (smart move), don't waste time recreating your diagrams in Lucidchart. Import all your Visio diagrams. And if you have colleagues who haven't seen the light, you can export your Lucidchart diagrams to Visio so they can see them too.
Hotspots & layers
For our diagramming connoisseurs, we've got advanced features to make your diagrams more interactive. Use hotspots to connect to other pages within your document or to external pages. With the layering tool, you an quickly build multi-layered diagrams to simplify complex and potentially chaotic diagrams.
Automated diagramming
Lucidchart offers tools to make even the trickiest of diagrams a cinch. Use our ERD import tool to map out your AWS infrastructure in minutes. Make a UML sequence diagram from text with our UML Sequence Markup tool. Generate an ER diagram with our ERD automated import feature. Import company data from a spreadsheet to generate an org chart. Don't make things harder than they need to be.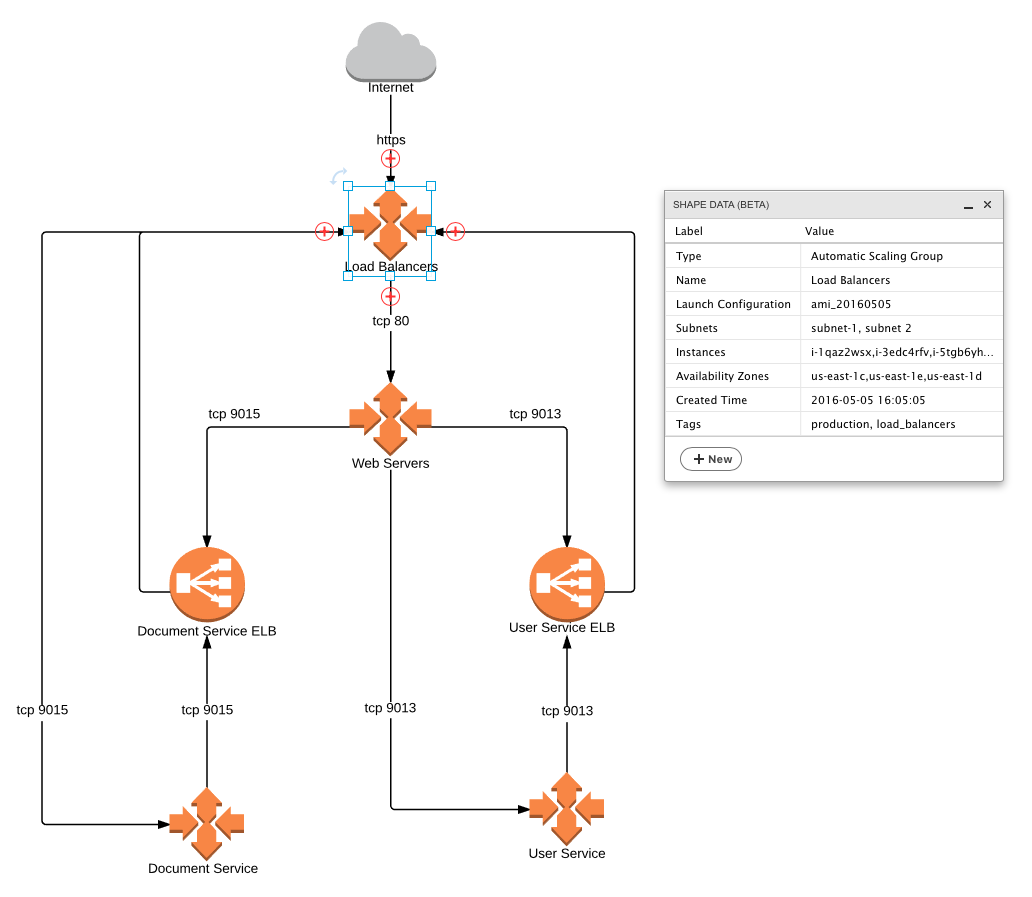 Stage 2: Collaborate
Here at Lucidchart, we believe that no one should diagram alone. So we made sure you can share your diagrams simply. And we don't mean "sharing" in the sense of passing diagrams back and forth via email. That's archaic. We want you to collaborate in real time.
Sharing
Once you've started a diagram, share it with others to get help as you build or to receive feedback on a finished product. You can have as many people as you'd like on the same document working at the same time. But here's the key—you remain in control of your document by choosing whether each collaborator has view-only, commenting, or editing access.
Compatibility
Lucidchart is in the cloud and accessible from any device. We play nice with Mac, Windows, and Linux, so it doesn't matter if you and your colleagues disagree on the ideal operating system. You can also access your diagrams on the go with our Android and iOS apps.
Commenting & chatting
Once you've shared your diagram, you and collaborators can leave comments on specific shapes or on the entire diagram. Use @mentions to alert specific people or invite them to the document. You can also use the chat feature to start discussions within the document so you can collaborate in real time and resolve issues quickly.
Stage 3: Consume
Once your diagram is complete, let others in on the magic in whatever way works best for you.
Present
You don't even need to leave Lucidchart to present your diagram. Use our presentation feature to split your diagram into separate slides. That way, you can control where your audience is focused at a given time. You can also choose to export your presentation to Google Slides.
Publish
Export your diagram as a PDF, PNG, JPEG, or Visio file. Publish it directly to social media. You can even embed your diagram on a webpage or generate a continuously updated link.
Integrate
Allow others to use your diagram where they're already working. We integrate with Google Drive, G Suite, Microsoft, Atlassian, Slack, and more. Put your diagram wherever people will be most likely to see it, whether that's in a Google Doc, Confluence page, Excel spreadsheet, or Slack channel.
There's a lot Lucidchart can do. Join our webinar so you can master all of it. Click below to get a head start and try out Lucidchart today!