The multi-threaded sales approach and why it matters
Lucid Content Team
Reading time: about 7 min
"We don't accomplish anything in this world alone...whatever happens is the result of the whole tapestry of one's life and all the weavings of individual threads from one to another that creates something."

—Sandra Day O'Connor
As anyone familiar with B2B sales will tell you, buying decisions are rarely made alone. At most corporations and large businesses, every major purchase or sale is the result of a consensus-based effort—one carefully orchestrated across different departments.
So, what exactly does it take to build a consensus within the average organization?
In the best-selling book, The Challenge Customer, co-author Brent Adamson suggests as many as 6.8 customer stakeholders are directly involved in the typical B2B purchase—which is precisely why the multi-threaded sales approach warrants your further contemplation.   
Multi-threading in sales
Multi-threaded sales are deals where your sales team has connected with multiple decision-makers on the purchasing side.
If your sales department is not using multi-threaded selling, consider the following:  
Does the possibility of growing (or simply maintaining) any of your largest accounts depend solely upon just one or two key relationships within those organizations? Given how often roles change and employee turnover occurs, basing your future livelihood on the continued loyalty of a few business contacts presents a significant professional risk. Likewise, the contact most involved in the initial sales discussions may not play a role in the final buying decision or in the operational aspects of implementing your solution.   
By employing a multi-threaded sales approach, those risks are alleviated because sales teams work to develop multiple relationships with every client. Surprisingly, a LinkedIn study suggests that only 9% of sales deals are multi-threaded in nature, which also means the true potential of multi-threaded sales is yet to be realized.
With multi-threaded selling, a certain level of discipline and perseverance is expected of your sales team. Sales representatives must continually leverage their own professional networks to grow existing relationships and stay informed about organizational changes.
This drive to cultivate multiple connections shouldn't focus on decision-makers alone. In a multi-threaded sales environment, you should also plan for redundancy on your team. After all, the risk of turnover isn't limited to the client-side of the sales equation. Though it widely varies across industries, annual turnover for sales reps now averages 34.7%. 
Additional data in the 2018 Bridge Report shows that the average tenure for sales reps is 1.5 years. Not bad—until you consider it takes the average sales rep between 3.2 and 5.3 months to ramp up to productivity, further hampering a sales team's effectiveness. If your relationship with a strategic client is contingent on a single sales rep, it's even worse.
As we will explain, multi-threaded selling can offset many of the adverse effects of sales rep turnover associated with the single-threaded approach almost all sales teams use. 
Let's directly compare multi-threaded selling to single-threaded selling. 
Multi-threading vs single-threading  
When you think of the classic sales dynamic, what you're imagining would fall into the category of single-threaded sales. Single-threading in sales is a one-on-one relationship between a buyer and seller. It's contingent upon one sales representative handling an entire account with a single contact, rather than multiple contacts, on the buyer's end.
A single-threaded sales approach has its advantages. It allows a sales representative to form a stronger, longer-lasting bond with their customers. Over time, loyal customers can prove to be powerful advocates—they champion new product solutions while also winning over key colleagues within their own organizations on behalf of a sales representative. 
The simplicity of single-threaded selling has its appeal. By only focusing on a single contact per client company, a salesperson can maximize their efforts and add more customers to their client portfolio. On the surface, it's a less complicated and more efficient process. 
However, single-threading sales has more than its share of disadvantages.  
A single-threaded sales relationship only lasts as long as your champion remains at the company, which in today's world isn't very long at all. In his latest research, renowned HR and talent management strategist Dr. John Sullivan reveals that 70% of people quit their jobs within two years. It's become a part of life—especially among millennial employees. 
Since 32% of employers now expect job-jumping, sales reps and teams should follow suit and plan accordingly, preparing for the effects of turnover at each client company. 
Even when single-threaded selling produces a long-term buyer-seller relationship, you become overly reliant on one person's perspective to advocate your solution internally. Unintentionally, you could be overlooking some of the more influential decision-makers within the organization or even risk having them misunderstand your offer entirely. 
Entrusting the entirety of your sales success on a single person is never a good plan.
You know you need to find multiple contacts at your prospective company—but how do you find the right decision-makers?
See our tips
In contrast, a multi-threaded sales approach ensures you always have another contact at your client's or sales prospect's organization. If your champion leaves at any stage in the process, even during a sales negotiation, there are others ready to take their place.
Multi-threaded selling also provides you with greater insight when it comes to identifying the right time to close the sale. If multiple contacts across different departments within a company signal the time is right, you can move the conversation ahead with confidence.
An often unexpected but welcome benefit of multi-threaded selling is that it forces sales teams to become more proactive with their accounts. Reaching out to several contacts on a regular basis helps ensure opportunity isn't lost once a prospect is ready to buy. 
Although the benefits of multi-threaded selling are obvious, knowing how to successfully implement a multi-threaded sales team can feel overwhelming. However, by asking the right questions and mapping out your client relationships, it becomes that much easier. 
How to apply multi-threaded sales within your organization
Before moving forward, it's critical to identify the stakeholders at any given company. But in order to really be effective in a multi-threaded sales approach, you must understand the landscape of the organization as well. Social selling is all about building personal relationships and visualizing interconnections beyond what can be simply found in the CRM data.
With that in mind, ask yourself and your sales team the following questions:
Who are the decision-makers in the company?
Who else can influence major buying decisions?
What do they care about most (e.g., value, cost)?
Then, instead of simply relying on your connections, individual sales representatives, or CRM as the source of this information, create an account map to document all of this information. A great account map offers a holistic view of an account's organization, identifying key players and the relationships between them. This visual makes your CRM data usable while also providing new insights crucial for moving a deal forward.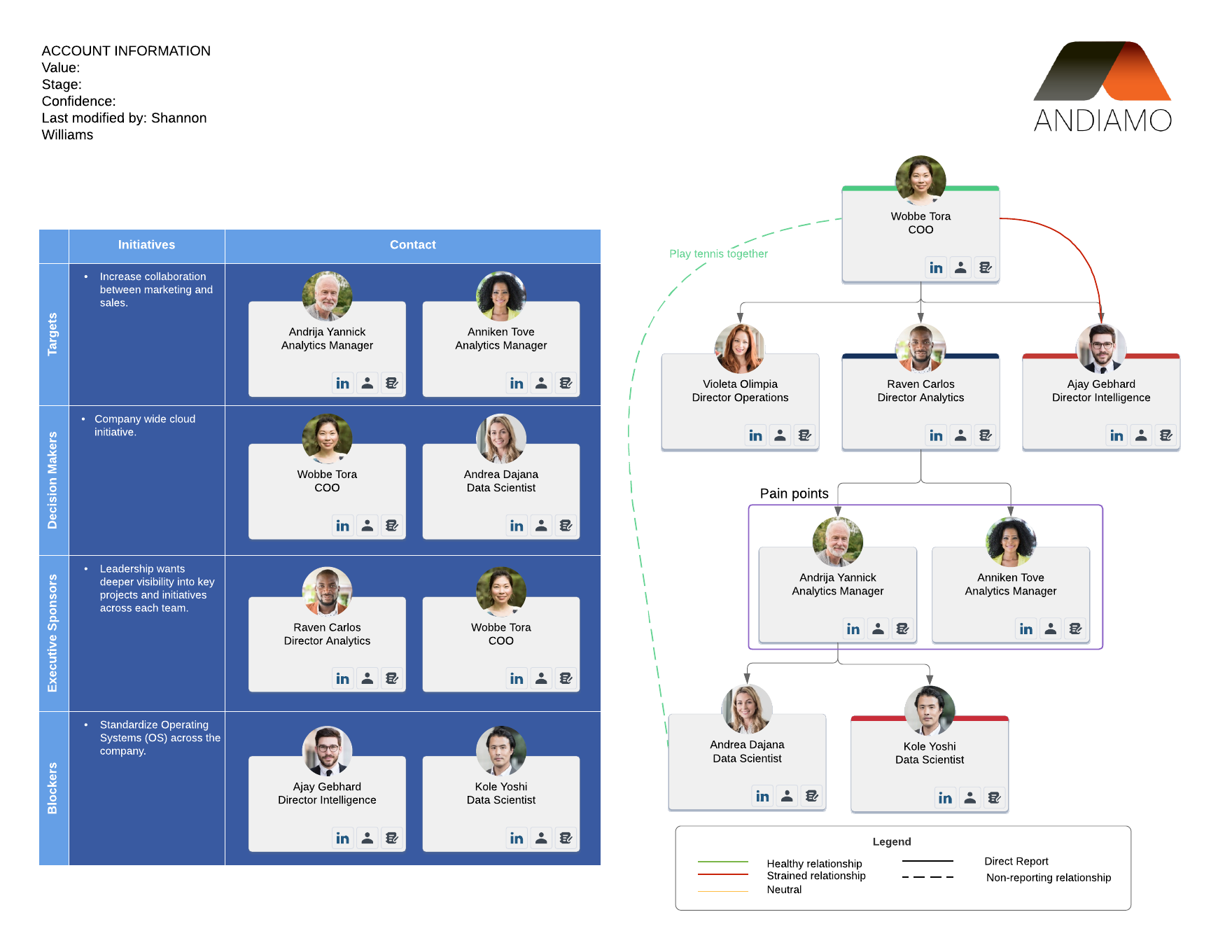 As team members inevitably change roles or leave a company, valuable account information doesn't leave with them. The new account owner can quickly come up to speed and continue building relationships with the prospect. Account maps also provide sales leadership with an overview of an account and its contacts, which allows them to identify areas where they can provide executive support to strengthen existing relationships or form new ones.
Of course, an account map is only effective if it's actually being used. Lucidchart makes it easy to access and share account maps across operating systems—allowing your entire team to easily reference the most up-to-date account information at any time and collaborate on an account map together.
Account maps can made from scratch or quickly put together using a template. Either way, an account map is always a work in progress. It is the responsibility of every sales reps to make updates regarding ongoing sales, personnel changes, and more.  
By getting your team to embrace a social selling mindset, the multi-threaded approach will soon become second nature. With each rep constantly adding to the account map, you will always have a means to adapt to organizational change and close deals faster.
Lucidchart can help you understand internal hierarchies and identify where you have gaps in your buying team.
Learn more
Lucidchart
Lucidchart, a cloud-based intelligent diagramming application, is a core component of Lucid Software's Visual Collaboration Suite. This intuitive, cloud-based solution empowers teams to collaborate in real-time to build flowcharts, mockups, UML diagrams, customer journey maps, and more. Lucidchart propels teams forward to build the future faster. Lucid is proud to serve top businesses around the world, including customers such as Google, GE, and NBC Universal, and 99% of the Fortune 500. Lucid partners with industry leaders, including Google, Atlassian, and Microsoft. Since its founding, Lucid has received numerous awards for its products, business, and workplace culture. For more information, visit lucidchart.com.
Bring your bright ideas to life.