Resources to keep in your sales knowledge repository
Reading time: about 6 min
Posted by: Lucid Content Team
A new sales rep's first few months on the job can be overwhelming, to say the least. No matter how much support your sales org provides for new hires, one thing is inevitable: New reps are constantly bombarded with information. 
And a lot of that new information won't stick, at least not the first time around. You can't expect new hires to remember every detail thrown their way during onboarding. You can, however, expect them to review that information on their own—if you make it easily accessible.
This is where a sales knowledge library (or knowledge repository) comes in handy. Put simply, a knowledge repository is a centralized location for storing information. In this case, information related to your sales org. Anything a new rep might need to reference should be easy to find and access in your sales org's knowledge library. 
"Anything a rep might need"—that list could be endless. And while your sales knowledge repository should be extensive, it should also be carefully curated and updated. Too much content and it becomes impossible to find anything (the opposite of what you're going for!). 
To help get you started building out your own knowledge library, we've put together a list of sales resources that you should include in your repository.
What sales resources to include in your knowledge repository
While a knowledge repository is primarily used by new reps, it can also be a useful sales resource for your most seasoned team members. When a rep is looking for sales-related information, their first stop should be your sales knowledge library—if you've successfully built out this library, it should also be their last stop. 
To ensure your reps, new and old, can find the resources they need, include these materials in your sales knowledge repository.
Process diagrams, flowcharts, and other visuals
Reps are learning and processing a lot in their first few months on the job. The last thing they need is another dense paragraph of text to read. By creating visuals to illustrate various sales processes, you provide crucial information in a digestible, memorable format.
Account handoffs, the steps for qualifying leads, and other aspects of the sales cycle can seem confusing and intimidating when communicated in a text document. A simple process diagram gets the same info across clearly and succinctly.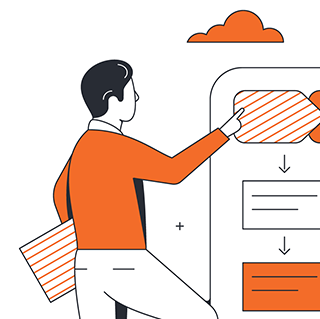 By documenting your sales processes, you can ensure repeatable success. Learn how to build one out.
See the steps
Pitch decks 
At the beginning of the sales cycle, a good pitch deck—also called a sales deck—is a rep's bread and butter. These presentations help reps give potential customers an overview of a company and its product(s). 
In their first few weeks, new sales reps should review pitch decks until they know the info inside and out. To do this, they need easy access to these documents. These decks will also come in handy for veteran reps, whether they're making a pitch or simply brushing up on their knowledge.
Templates for sales documents
Customers want the purchasing process to feel personal. Reps should tailor their approach to each sale according to that specific buyer's pain points. Customizable templates provide reps with an outline or framework for sales documents while also avoiding sending the same generic documents to every customer. For new reps, templates can be especially helpful because the rep only has to fill in specifics rather than generating a brand new document.
Recorded sales calls
Ask any sales rep about their onboarding experience, and chances are they'll mention shadowing sales calls. It's a standard part of most sales orgs' onboarding process. And with good reason. It allows new hires to see what the job is actually like in practice, not on paper. Shadowing calls in person, however, can slow down the onboarding process. Schedules have to line up and there are breaks between calls—observing four hours of calls might take a new hire several days. 
Fortunately, there's an easy solution: Record sales calls and store them in your knowledge library. With a bank of recorded calls at their disposal, reps can "shadow" calls at their own pace. They can also choose calls to best fit their needs: Do they want to focus on first calls or follow an account from the opening call to closing?
Map of the sales cycle
Every sales org has its own unique sales cycle. The general stages of the cycle are the same across organizations, sure, but it's the fine points that change. What is expected of reps during each stage? 
Whether a new hire has sales experience or not, they'll need to familiarize themselves with your org's sales cycle. Keep a visual map of your sales cycle in your sales knowledge repository for reps to reference. This map should break down each stage of the sales cycle: Who is involved? What is expected of them? When do handoffs occur?
Case studies and customer testimonials
Case studies can be used in two ways: as sales training resources and as customer-facing sales collateral. During the onboarding process, reps can review case studies to learn about the product and how it addresses specific customer pain points. As sales collateral, case studies show potential customers the value of your product to other buyers. 
Customer testimonials play a similar role but tend to be more concise. Whereas a case study provides potential buyers with an in-depth breakdown of the implementation and use cases of your product, a testimonial is a soundbite—a brief statement confirming the value of your product. 
Competitor comparisons
Just like case studies, competitor comparisons can be customer-facing or for internal use. To sell your product, reps must understand its features, limitations, and how it stacks up against the competition. Competitor comparisons can help reps quickly cover these bases before hopping on a call.
As a rep moves an account towards closing, they can send competitor comparisons to customers to provide evidence of your product's value. (If your product stacks up well against the competition, that is!)
Account maps
If you had to choose only one type of sales resource to use, it should be account maps. (Luckily you don't have to choose—all we're saying is that account maps are indispensable!) 
An account map is the master plan of any sales account. Each key player, blockers, champions, company hierarchy—it's all documented in the account map. These diagrams allow reps to quickly familiarize themselves with a customer's company and choose the best path to sale. 
Get started with our templates and step-by-step instructions.
Learn more
How to manage your knowledge base
It probably goes without saying, but just to be sure we're going to state the obvious: Your sales knowledge library should be cloud-based. What's the point of gathering these sales assets into a centralized location if nobody can access it? 
Reps should be able to access these resources anytime, whether they're in the office or not. With a cloud-based knowledge repository, reps can also easily add materials, keeping things up to date and encouraging collaboration.
With so much information stored in one place, things can easily get cluttered. (And digital clutter can be harder to sift through than physical clutter!) You have a knowledge library for one primary reason: to make sales resources easy to find and access. If your repository is bogged down with outdated documents, you're stepping on your own shoelaces. Keep materials current and relevant. A knowledge repository requires maintenance—don't just dump file after file into it and call it good!
With Lucidchart, you can create easy-to-understand visuals in one central location for your sales reps to reference.
Sign up now
Start diagramming with Lucidchart today—try it for free!
Sign up free
About Lucidchart
Lucidchart is the intelligent diagramming application that empowers teams to clarify complexity, align their insights, and build the future—faster. With this intuitive, cloud-based solution, everyone can work visually and collaborate in real time while building flowcharts, mockups, UML diagrams, and more.
The most popular online Visio alternative, Lucidchart is utilized in over 180 countries by millions of users, from sales managers mapping out target organizations to IT directors visualizing their network infrastructure.