Would you rather get a phone call or an in-person visit from your best friend?
Unless your relationship has currently hit a rough patch, the answer is likely the latter. With technology today, a sales rep can easily communicate with a customer across the globe without ever leaving his office chair. Email, Skype, phone calls—we have so many tools at our fingertips that make communication easier than ever before.
But think back to our best friend scenario—sometimes you can't beat traditional face-to-face communication. Which is exactly why outside sales is very much alive and well today.
What is outside sales?
Outside sales describes sales teams and team members who spend the majority of their time interacting face-to-face with their primary audience. Also referred to as field sales, an outside sales role requires frequent traveling for meetings with target buyers, relationship building, in-office visits, and product demonstrations.
The 6-step outside sales process
There are six easy steps that make up an effective outside sales process.
1. Research
Determine your target audiences to decide where you should focus your selling efforts. In addition to researching who your potential customers are, you'll need to generate leads. Sales leads can be generated in many ways, including referrals, ads, and lead generation forms. Whatever method you use, spend some time sifting through your leads and categorizing them by relevance:
Strong lead: Customer has the necessary budget, and a need for a solution exists.
Bad lead: Customer is in the wrong industry and the budget too low.
Lead's too big: Customer is in too many locations, and operation needs are too high.
2. Prospect
Approach potential customers and establish a relationship. Ask open-ended questions to find out what challenges their business faces and how your solutions and products could be the answer. This step is important because you are attempting to qualify this prospect and determine if they have the potential to become a sale. When possible, speak directly to decision makers and those in positions of authority.
Make sure you're working with the right person with an account map from Lucidchart.
3. Discover
If you feel confident that your product will help resolve an issue for your potential customer, schedule an office visit. Tell the customer you want to meet their team and get a better understanding of how their business runs. You'll also be looking for ways you can customize your product to fit the customer's needs. At this point in the process, you are attempting to qualify the prospective customer as someone who has the potential to purchase.
4. Connect
The fourth step is to schedule an appointment and make a face-to-face connection with the potential customer. You should set aside enough time to sit down and speak with the customer to understand their needs and explain how your product can solve their issue(s).
5. Demonstration
Using the research you've conducted on your client's business, demonstrate the value your product delivers and how it solves their unique challenges. Focus on concrete value propositions like savings on operating costs and cutbacks on customer waiting time. Your goal is to convince the client they need your product.
6. Objections and close
Even if you've done everything right and your potential client loves what you're selling, you will still probably encounter objections before a close. Nothing in life worth having comes easy! Factors like budget and contract length can be sticking points, so be prepared to overcome objections and close the sale.
Practice your outside sales process as often as possible and refine as you go. In addition to the above steps, a few additional tips include the following:
Take detailed notes during your client interactions.
Rely on a CRM to help manage your client relationships.
Lean on technology such as Skype meeting and, Cloud systems when possible.
Dress the part and match the client's office culture
Don't give up on tough leads/contacts—work the relationship.
Inside vs outside sales: What's the difference?
The difference is simple and all in the name: Inside sales team members work in an office and focus primarily on inbound calls or cold calls. In contrast to an outside sales position, inside sales people are on-call, meaning they are available to clients at a moment's notice. To be successful, inside sales people must have the ability to sell over the phone without relying on a physical product.
Those who do best as self-starters (who set and maintain their own schedule) tend to be better suited to outside sales. Because you travel to visit your clients, your day can be very unpredictable—cancellations, car trouble, weather,traffic delays, and any other number of unavoidable factors can disrupt your schedule. The ability to be flexible and think on your feet is important for someone in an outside sales role.
When to use an outside sales process
Choosing an outside sales process over an inside sales process can depend on the product you're selling. Products such as machinery or specialized equipment usually must be seen in person before purchasing, whether the salesperson travels to the client or the client travels to an office or showroom.
Thanks to advances in technology, there are instances in which remote demonstrations or product videos can fill the role of a face-to-face visit. However, most businesses feel more comfortable working with a salesperson who takes the time to come into the office. The travel and time investment required by an outside sales process also makes it more expensive than inside sales.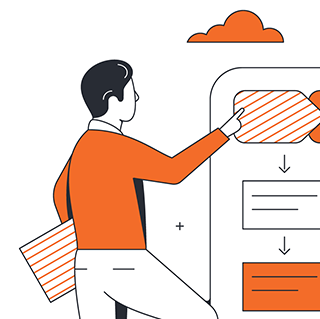 Once you determine your process, learn how to document it so you can continually improve and standardize best practices.
Read now