How to maintain transparency in the workplace from afar
Reading time: about 7 min
Posted by: Lucid Content Team
With 2020 more than halfway over, COVID-19 continues to dramatically change how business is conducted, how the workplace is defined, and where employees can work.
Even as stay-at-home restrictions begin to ease and people slowly return to the office, a survey from CNBC and Change Research states that 24% of the U.S. workforce hopes to keep working from home. Another report from Global Workplace Analytics shows 80% of workers want to WFH at least some of the time. And top tech companies like Google, Twitter, and Facebook hope to oblige them.
But without transparency in the workplace, this shared dream of working remotely on a permanent basis could quickly become a nightmare for employers and employees alike.  One where teamwork suffers, burnout increases, and engagement gives way to apathy.
In this article, we will explore the importance of transparency in the workplace and see why a transparent management approach is such a powerful tool for business success.
The importance of transparency in the workplace
Simply put, transparency in the workplace is a mindful effort by employers to maintain an open, honest, and often frank dialogue with employees about company operations.
Workplace transparency means that information regarding the performance, revenue, sales, and financial health of the organization is freely shared. Difficult but necessary conversations about profit loss, layoffs, or other obstacles are expected, not avoided. 
Businesses that cultivate a culture of transparency are better positioned to earn the trust and loyalty of their workers (and fulfill their obligations to shareholders and customers).
How do you create a transparent culture?
Maintaining transparency in the workplace requires dedication and constant communication. And doing so in a remote-work environment where interactions are limited to video conferencing, messaging apps, and group emails can be particularly difficult.
Consider the example of IBM, a company once acclaimed for its remote-work program. Over a decade before COVID-19, IBM initiated its own vast remote-work experiment, saving nearly $2 billion in office space expenses alone by allowing 40% of its 386,000 employees to WFH. Yet, profit loss would eventually eclipse those cost savings. 
Why?
Not every workforce (or team) is equipped to thrive in a remote-work environment.
Citing 20 years of research, Judith Olson, UC Irvine professor and distance-work expert theorizes that proximity boosts productivity. Working together in the past, sharing similar work styles, and familiarity with remote technology also help to encourage collaboration.
Without proximity and collaboration, workplace transparency becomes difficult (but not impossible) to sustain. Get started with these tips.
Make your virtual all-hands meetings more engaging
Sharing information encourages a transparency culture. Using videoconferencing tools can be an effective way to keep your company's entire workforce updated and informed.
If your business already advocates transparency in the workplace, recurring stand-up meetings and company-wide updates are nothing new. Zoom or another video conferencing tool is only a change in format.
Unfortunately, a videoconference isn't always a place where team members feel at ease in raising their concerns or speaking candidly about workplace issues. The format itself makes it easy for employees to become disengaged observers, not active participants.  
To make your virtual all-hands meetings more engaging for your employees:
Give attendees multiple ways to join: Make the meeting accessible from a desktop, from a phone, or by dialing in from a conference room. This added flexibility can increase attendance. After all, transparency is about inclusion, even more so from afar.

Offer more chances for engagement: Want to increase viewer participation? Vote using live polls, solicit employee questions in chat, and let people respond with GIFs. 

Control how content is shared: Use "follow host view mode" to go from a shared screen to video of the CEO's lively Q&A session for a more personal experience. This step is critical when it comes to fostering deeper bonds with remote teams.  

Balance transparency with discretion: Provide a safer environment for more sensitive discussion by signing into a specific Zoom domain using authentication profiles. When leaders and teams continue to speak frankly, everyone benefits.     
Getting everyone together for a virtual all-hands meeting is no small task, so make the most of it. Share your agenda ahead of time to allow participants to plan accordingly, just like you would for an in-person meeting.
Hold regular standups to check in with employees
To maintain a healthy team dynamic, managers should set aside one or two times each week for a recurring stand-up meeting. Although informal in nature, the structure of these meetings should include a rundown of current projects (along with status updates) and an opportunity for each team member to talk about what tasks they've been working on.
Think of these videoconferences as moments to check in (not check up) with the team.
If you choose to host a second virtual stand-up meeting, schedule it at week's end. This is the ideal setting for employees to talk about weekend plans or share outside interests. Often, it's these spontaneous moments in a traditional office setting that form lasting relationships.
Keeping transparency alive means fundamentally rethinking how remote teams interact.
Learn how to better manage remote teams beyond 1:1s and standups.
See our tips
Use the available technology to coordinate your efforts
Within a culture of transparency, trust, communication, and the constant flow of ideas are what unite teams. But how can these standards be preserved in a remote setting? By keeping workflows transparent and tasks shared among team members.
Documentation and processes are already transparent among teams who use common workplace technologies like Google Docs, Teams, and Trello. It really becomes a matter of using those tools to their full potential to coordinate your team's efforts. 
For example:
To capture a particular person's attention or specifically ask for their input, use the @mention notifications to include them in the conversation.
Detail and provide your feedback through comments. Tag specific team members to lend expertise as needed.
Try to limit your reliance on email. Instead, put together small meetings in Teams or Zoom. Share documents on screen to help encourage teamwork and ideation.
When hosting virtual meetings, make a point of only inviting the people who understand why they're invited and are expected to contribute to the discussion. Inviting everyone is a surefire way to decrease overall participation or frustrate those who don't feel useful.
Use visuals to create transparency through interaction
Think back to the time before COVID-19 when most everyone at your company worked together in the same building. What was it that made the shared workspace so special?
More than likely, it was all the face-to-face interaction. Not just the actual meetings. But the impromptu conversations. The ability to bring others up to speed on any project by outlining ideas on a conference room whiteboard, a paper easel, or a collection of Post-Its.
With Lucidchart, your team can collaborate in real time in a much more dynamic way.
For example, you can create a virtual whiteboard that's accessible (and shareable) with others. Invitations can be extended to team members, with edit access for collaborators to add content to your canvas or with view-only access to maintain control of your work. Sticky notes are another great way to quickly and easily add ideas to a shared canvas.
Your company can also create process maps and flowcharts to keep team members informed about important events, including upcoming process changes, a new project that requires input and timely feedback from others, or the latest return-to-work timeline.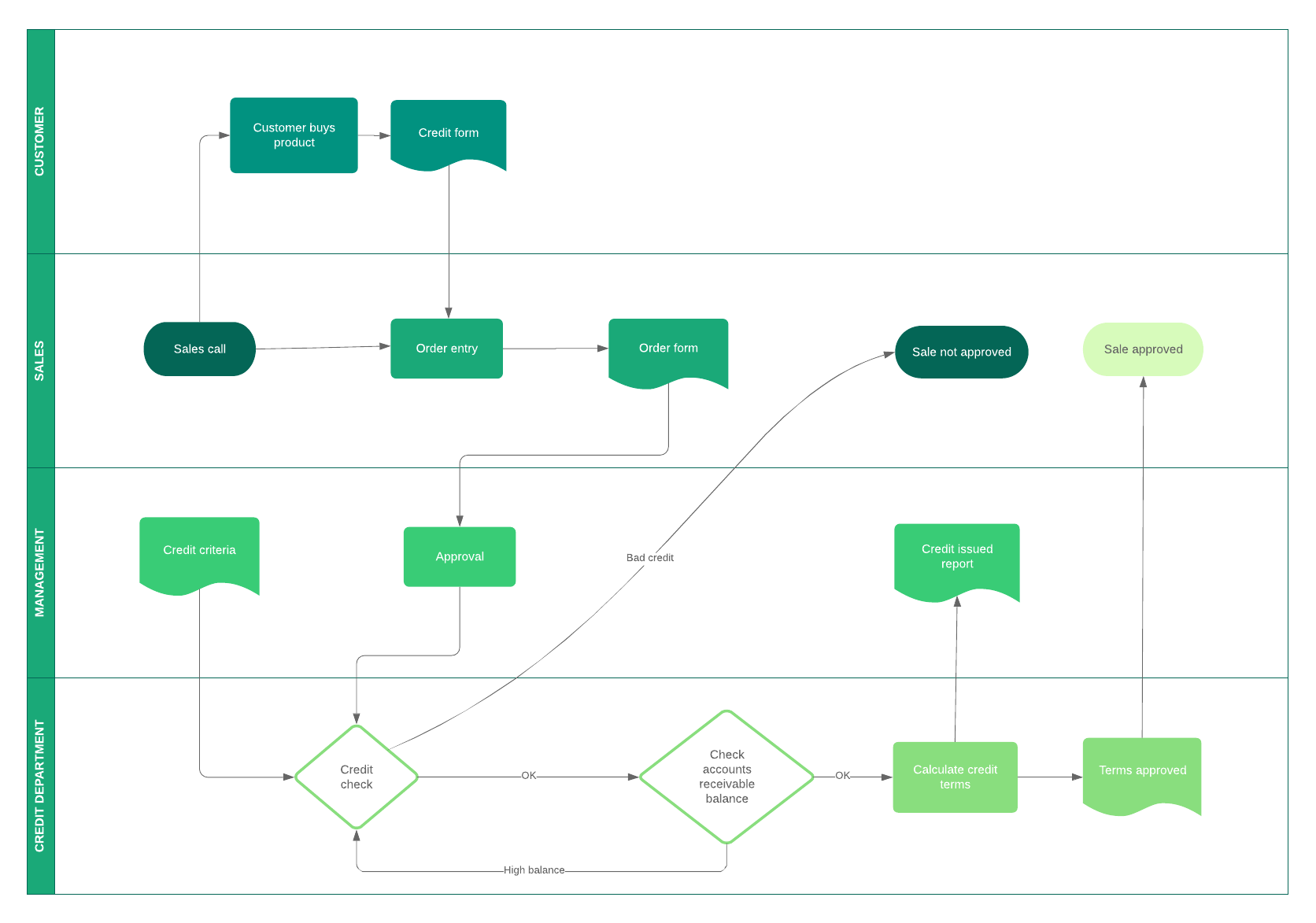 Best of all, Lucidchart is cloud-based and available on all devices and browsers, further increasing collaboration and compatibility without the need to install expensive software.
Within a culture of transparency, teams learn to solve problems faster and work smarter together. However, sustaining this transparency can be difficult with a remote workforce.
Leaders should set forth the precedent for transparency in the workplace by making the most of every employee and team interaction, providing new opportunities for open and honest communication, and finding effective ways to collaborate and share information.
All of which will serve to build trust and foster loyalty throughout your organization.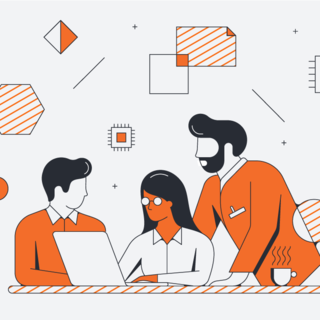 See how Lucidchart can be a powerful solution for staying aligned while working from home or separate office locations.
Learn more
Start diagramming with Lucidchart today—try it for free!
Sign up free
About Lucidchart
Lucidchart is the intelligent diagramming application that empowers teams to clarify complexity, align their insights, and build the future—faster. With this intuitive, cloud-based solution, everyone can work visually and collaborate in real time while building flowcharts, mockups, UML diagrams, and more.
The most popular online Visio alternative, Lucidchart is utilized in over 180 countries by millions of users, from sales managers mapping out target organizations to IT directors visualizing their network infrastructure.