According to Marketbridge research, a connected marketing and sales funnel drives a 14.5% increase in sales productivity. No matter how you sell, online via e-commerce or person-to-person connecting with qualified leads, understanding how a sales funnel works connects you with your customers at every stage of the purchasing process and enables them to make the right decision—to buy from you.
What is a sales funnel?
As shown in the diagram below, the sales funnel resembles a funnel in the real world, wide at the top and tapering smaller and smaller until it reaches the bottom. Unlike a real-world funnel, not everything that goes in the top comes out the bottom, but what the funnel does throughout the buyer's journey is narrow down a wide audience, over stages, to the most qualified customers. These customers then make a decision to purchase from your company.
The 4 stages of the sales funnel
While there are a few different conceptions of the sales funnel floating around, the most widely-accepted sales funnel definition divides it into four stages, or levels. The most potential customers and widest audience exist at the beginning—or top—of the funnel, with fewer and fewer customers making it through each stage until the end of the funnel with the purchase.
If you're trying to figure out how to create a sales funnel for your company, you should understand what goes into each of the sales funnel stages and how you can best connect with your potential customers at each level. Here are some questions to help you start thinking about each stage of the funnel.
1. Awareness
Building a sales funnel begins with the awareness stage. In this phase of the sales funnel, your potential customers or buyers (often referred to as "prospects") become aware of your company and its products or services. Making potential customers aware of you is no mere feat—a lot of work goes into the awareness stage to even bring customers into your sales funnel.
How you bring customers into your funnel will differ depending on your industry, but the principles are the same whether you own a brick-and-mortar store, an e-commerce website, or an in-person or phone sales organization. When customers buy a product or service, they're typically looking for a solution to a problem. In the awareness stage, you must let people know that you have a potential solution to their problem.
2. Interest
Once a customer is aware of your company, you must pique their interest. Just because they know your product or service exists as a potential solution to their problem doesn't mean they are automatically going to choose you. In the interest phase, the customer actively researches products or services that will solve their problem.
Nowadays, that research is often conducted via Google, so you'll want to make sure your website appears high in search results. Customers also tend to look at review sites like Yelp and ask their friends on social media, so you want to make sure your interactions with customers—who might write those reviews and make those social recommendations—put you in a positive light.
If the majority of your customers find your products and services online, you'll also want to make sure that you have pages on your website that serve customers in the awareness, interest, and decision stages. Awareness pages should lead into interest pages, etc. In Lucidchart, you could add swimlanes to this sitemap to determine where each webpage fits.
3. Decision (or desire)
After the customer has done their research, they enter the decision phase. Many decide not to purchase your product or service—or make any purchase at all. It's not easy to get your customer to make the decision to act, let alone to purchase what your company offers, but there are six sales principles used by many successful organizations to turn potential customers into actual purchasers.
The principle of reciprocity: Delivering the value that you promise as a reward for their time spent researching your particular solution.
The principle of commitment and consistency: Getting a potential customer to commit to an offer—a free trial or email signup—that puts you consistently at the front of the customer's mind, making you a likely first choice when it comes to a purchase.
The principle of liking: Being likable and relatable to develop a favorable relationship with your customer.
The principle of authority: Establishing authority so your customers believe you will solve their problems.
The principle of social proof: Developing a noteworthy reputation in the social space, be it online through reviews and recommendations or by word of mouth.
The principle of scarcity: Offering the only solution to a particular problem or using messaging that conveys urgency (e.g. "Only three spots left. Sign up now!")
4. Action
Once your customer has made a decision and is ready to act, you want to make it as easy as possible to purchase. If they are buying online, make it easy to purchase in just a few clicks. If you're running a brick-and-mortar store, make it easy for customers to come in, locate what they want, and buy without any hassle. If you're selling in person or over the phone, make it quick and comfortable for customers to buy.
After the sale
While the sales funnel technically ends with a purchase, a customer going through the process from awareness to action, there is still work to be done after the sale—especially because a loyal customer is much easier to sell to again than a new customer who might not already be aware of you. A customer who has made a purchase is already a step ahead in the sales funnel with knowledge of your company—and you can take advantage of that through the additional stages of reevaluation and repurchasing.
Reevaluation
Continually delivering a good product or providing a good service is the best advertisement for customers who have already purchased from you. Not only will they be more likely to recommend you to friends and family—via the principle of social proof—but they will also become potential customers with a built-in affinity when you develop new products or services.
The reevaluation phase also applies when it comes to subscription services. When the time comes for a customer to renew, they will take a look at the value your product or service provides. If you are providing a solution to their problem, then they'll buy again without having to go all the way through the sales funnel a second time.
Lucidchart can help you develop a plan to stay in contact with past customers through regular emails. Scheduled emails will keep you at the top of customers' minds when they are considering new purchases.
Repurchasing
If your company performs well in the customer's reevaluation phase and has provided a worthwhile product or service that solves the customer's problem, repurchasing is likely. Repurchasing benefits your company greatly as you are getting the sale without having to lead a new customer all the way through the sales funnel.
Visualizing the sales funnel with Lucidchart
Though the basic stages of the sales funnel remain the same for most industries, building a sales funnel specific to your industry and the products and services you provide will help you attract and maintain a qualified customer base. Use Lucidchart to create a custom sales funnel diagram or use a sales funnel template to visualize your ideas.
Sign up today to get started and learn how Lucidchart can help you—and maybe take a journey through our sales funnel.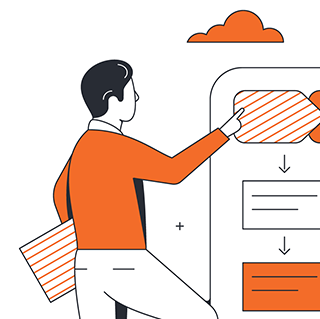 Ready to visualize your sales funnel? Try Lucidchart to document your entire sales process.
Sign up now