Why 70% of Process Improvement Initiatives Fail
Lucid Content Team
Reading time: about 6 min
"Without change, there is no innovation, creativity, or incentive for improvement. Those who initiate change will have a better opportunity to manage the change that is inevitable."

—William Pollard, Physicist
Learning to avoid the mistakes often made in a process improvement initiative is a proactive way for your business to maintain its edge in today's highly competitive corporate landscape.
For most organizations, the steps to process improvement begin with taking an honest look at your company and identifying which business processes need improvement most. Then they involve figuring out how to reduce friction with existing processes and learning how to do things better.
In spite of a few measurable achievements early on or encouragement by leadership, progress toward your improvement initiative starts to fizzle out. Project teams meet less often or disband altogether. Within months, even the plans that were completed become too difficult to sustain.
Unfortunately, work process improvement ideas fail more often than people would like to admit. Research by McKinsey and Company suggests that 70% of complex, large-scale change programs fail. Regardless of industry or size of your organization, the most difficult part of work process improvement isn't figuring out what to do. It's figuring out how to do it.
In this article, we will explore four pitfalls to avoid when tackling a process improvement initiative and help you determine where your team should focus its attention and resources instead.
1. A tendency to make process improvement too complicated
Embarking on a new process improvement plan can be an exciting endeavor.
Even before the plan is launched, subject-matter experts are quick to explain what they do and how it should be done. Additional steps are quickly added to process workflows—endlessly expanding upon your organization's earlier improvement efforts without the requisite context or reason.   
In the rush to make drastic change or correct a failing system, we often mistake overly elaborate solutions for a sound improvement plan. Without a solid understanding of how to proceed, doubt and suspicion often take over. People are less inclined to act. And nothing gets accomplished.
As legendary life coach Tony Robbins once said, "Complexity is the enemy of execution."
Although most improvement initiatives may require a substantial reset of prevailing mindsets and learned behaviors, it is often best to simplify your process. Even if that means sacrificing a certain degree of precision or forgoing absolute adherence to your plan's steps along the way.
For your organization, simplifying means taking a more critical look at the overall process improvement initiative, determining which elements are the most important, and completing them first.
2. A lack of ownership and responsibility for the overall plan
A process improvement initiative seems straightforward enough. So, you embark on a plan.
Motivated, you and your co-workers get approval to invest time and money in an improvement initiative. A promising methodology is put into motion to improve a process. Soon, project teams are assembled. Employees are trained to implement the agreed-upon work improvement ideas.
Plans are finally underway. Process enhancement seems inevitable. Then it happens.
At the onset of a process improvement initiative, the solution is often dictated by someone in authority. Sometimes, process owners are assigned to specific steps to improve a process.
Other times, key aspects of the process improvement ideas are left with implied ownership.
This absence of responsibility within the improvement initiative can be catastrophic.
In their game-changing book, Extreme Ownership: How U.S. Navy SEALs Lead and Win, retired Navy SEAL officers and authors Jocko Willink and Leif Babin outline the mindset required for a team to identify weaknesses, overcome challenges, and constantly push standards higher.
"When setting expectations," Willink explains, "no matter what has been said or written, if substandard performance is accepted and no one is held accountable—if there are no consequences—that poor performance becomes the new standard. It starts with the individual and spreads to each of the team members until this becomes the culture, the new standard."
Before committing to an improvement plan, first ensure your team is committed to improvement. Then, provide them with the context to see how each individual process relates to one another.
3. An inability to adjust or modify the plan when needed
Not every process improvement initiative is foolproof. In fact, the undertaking of change itself comes with the expectation to measure progress. Recognize failures and still move forward.
Unfortunately, our human nature gets in the way. Many process owners adhere to the plan's roadmap without reevaluating if the objectives continue to align clearly with corporate goals. As leaders, we should constantly scrutinize our performance metrics and adapt accordingly.
It's a strategy familiar to Willink as a military officer. And today as an executive coach.
"Leaders must face the facts through a realistic, brutally honest assessment of themselves and their team's performance. Identifying weaknesses, good leaders seek to strengthen them and come up with a plan to overcome challenges. The best teams anywhere, like the SEAL Teams, are constantly looking to improve, add capability, and push the standards higher."
At every stage throughout your initiative, ensure that routine project reviews are taking place.
By doing so, you will become better equipped to recognize bottlenecks or inefficiencies in your organization's plan. It also offers stakeholders more opportunities to make corrections on the fly.
Remember to operate with a certain degree of humility. Admit to mistakes or miscalculations, and strive to overcome unforeseen challenges to ensure success for the plan. And your team.
4. A failure to communicate key details of the plan to others
For a process improvement plan to take shape, everyone involved must understand the inherent value of the initiative at hand—from senior leaders and process owners to front-line employees.
Unfortunately, many work process ideas become implemented without a solid understanding of desired outcomes of the plan from all of its participants. Without focus and a sense of purpose, it becomes increasingly difficult to produce tangible results or maintain enthusiasm for the plan.
And you're left wondering where everything went wrong. Sound familiar?
It's never simply one thing. Typically, the failure to improve a process is a myriad of missteps or oversights that occur just as you felt the overall process improvement initiative was going well.
So if you seek to better communicate your plan's intricacies to others, map them out visually.
Once every team member can see the big picture and understands their role in the process, it becomes easier to uncover where there's potential for refinement, elimination, or cooperation.
Whether you're outlining a revamped sales process for your regional field representatives or diagramming the flow of goods, services, and information inside and outside the organization, the Lucidchart template library offers all the resources needed to help you get started.
Lucidchart also makes it possible for you to provide your team with instant access to real-time updates and changes—linking all of your organization's process documentation in one place.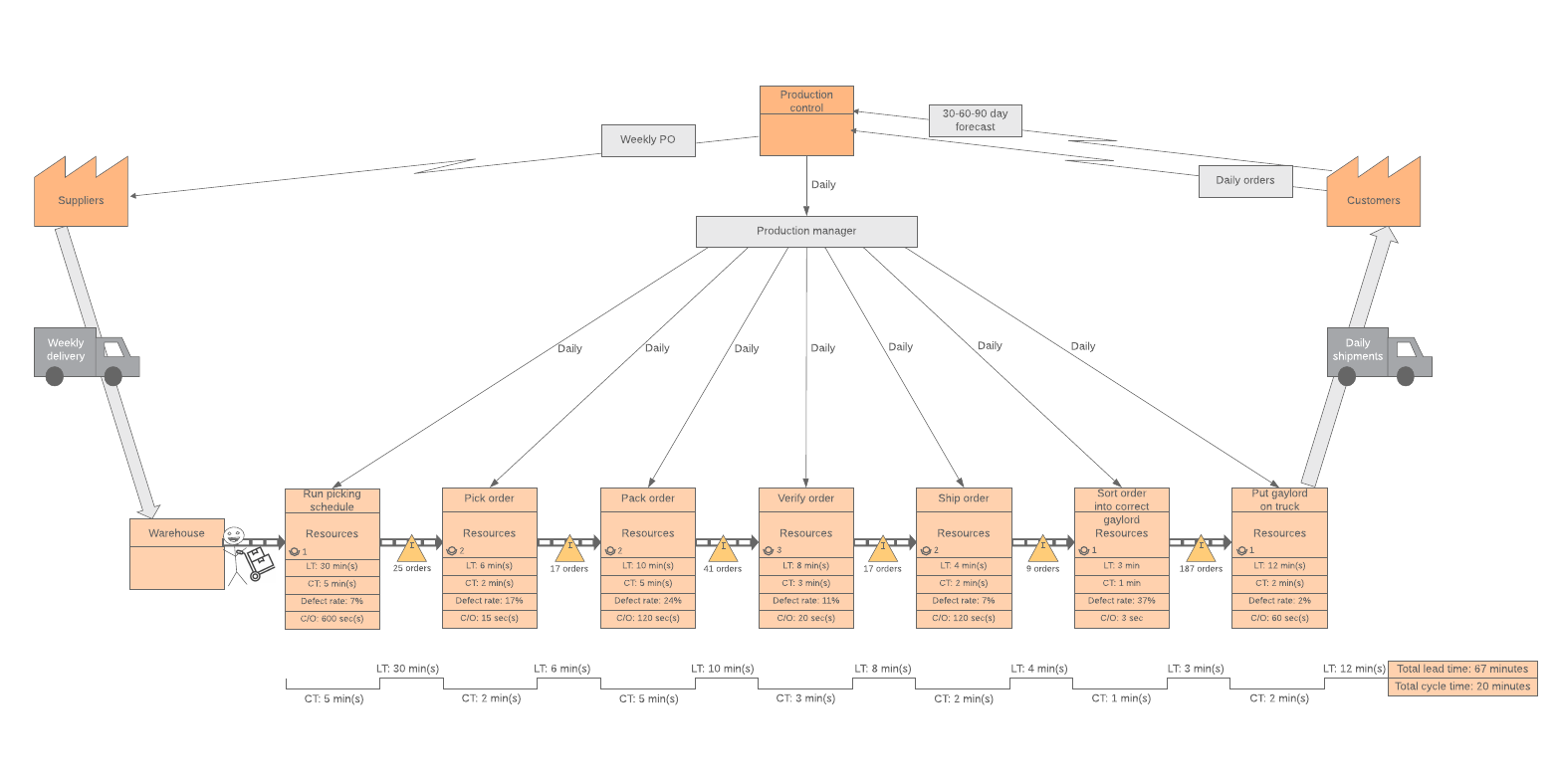 Streamline your process improvement plan with Lucidchart
Lucidchart offers you a more intuitive way to guide team members through every step of your organization's process improvement plan. More than a visual diagramming tool, it's a proven way to clarify responsibilities, ensure objectives are being met, and keep your plan on track.
Whatever improvements you're hoping to initiate, Lucidchart can help you generate a detailed visualized plan to make it happen. Sign up for your free account today.