Family tree maker
Lucidchart is an intelligent diagramming application that makes creating a family tree easy with drag-and-drop shapes, ready-to-use templates, and more.
Make a free family tree
See why millions of users across the globe choose Lucidchart.
Easily import data and collaborate on your family tree
Use our family tree maker to import your own information, collaborate with others, and share your findings with your entire family.
Start with a template and import your data
Drag and drop shapes onto the canvas or begin with a template to make your family tree as unique and intricate as your ancestry. Link a spreadsheet with your family data to automatically create a visual connecting all your designated relationships across generations. With data linking, our family tree generator lets you update specific information in your data set like dates, locations, and images directly within Lucidchart to automatically refresh your family tree chart.
Collaborate with family members
Compile your family history and work on the same family tree diagram with others at the same time in Lucidchart. No matter the device or time zone, you can work in the same document while seeing any changes made to your family tree online in real time.
Easy-to-use Presentation Mode
Present your family tree chart conveniently using Presentation Mode. Effortlessly create slides to showcase the relationships and connections within your family history without ever leaving Lucidchart. At the click of a button, you can display your family tree chart in full, then deep dive into specific family members and branches to showcase the journey of your ancestors from the past to the present in a stunning visual arrangement.
Work anywhere
Our cloud-based diagramming makes it easy to start diagramming anywhere, no matter the device, browser, or operating system. Because your work is stored in the cloud, you and your collaborators will always have access to the latest version of your visuals.
Share notes and ideas
Third-party reviews
Lucidchart has hundreds of five-star reviews from satisfied customers all around the globe on trusted third-party apps like Capterra, G2, and TrustRadius.
Master the basics in 3 minutes
Create a family tree chart from a template, blank canvas, or by importing data.

Customize your family tree by adding shapes, lines, and text.

Adjust styling and formatting within your diagram.

Use Feature Find to locate anything you need.

Share with your family and start collaborating.
Family tree maker templates
Get started with our family tree generator with these templates from our gallery.
Lucidchart integrations
Connect Lucidchart to your favorite industry-leading apps.
See why teams use Lucidchart as their family tree builder
Diagram, visualize data, and collaborate all in one platform.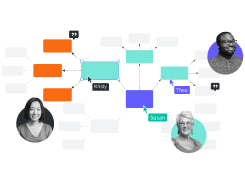 Collaboration
Use our family tree maker software on any device with ease. Lucidchart helps teams collaborate in real time from anywhere in the world. Enhance productivity while working with your team to achieve your goals.
Clarity
Lucidchart brings clarity to the complex. Intelligent diagramming allows you to quickly visualize projects and processes from start to finish.
Alignment
Drive alignment with your team by collaborating in the same space. Quickly map out processes and ideas together in real time so that you never miss a beat.
Better together
The Lucid Visual Collaboration Suite transforms the way you work from ideation to project completion. Brainstorm and plan in Lucidspark, then map it out in Lucidchart. Create a living blueprint of your organization.
What is a family tree?
A family tree is a visual representation of a person's lineage, tracing relationships to common ancestors. Visually similar to an org chart, this diagram is usually presented in a tree structure, starting with one individual as the root. From the root, lines representing branches conclude in boxes representing leaves. Each leaf represents individual family members and includes information such as birth, marriage, and death dates. A family tree diagram or genealogy chart makes it easy to record the people, places, and events that make up your family history and share it with others.
How to create a family tree in Lucidchart
Gather information

Research your ancestry and organize your family history research to be added into your family tree. Include information such as names, dates, geographic locations, and pictures.

Start from scratch or choose a family tree template to modify

Customize a family tree template or create your own family tree by dragging shapes onto the canvas for each family member. Click the shapes to add or modify text and information displayed.

Use lines to show connections between family members

Add lines and text to show connections between family members as you build out generations. You can format the overall styles, colors, thickness, and endpoints of your lines to designate different types of relationships.

Collaborate with family members

Fill in historical gaps and ensure your family tree is accurate by collaborating with other family members. They can leave comments or edit the diagram in real time for immediate feedback.

Share and present your family tree

Give your family members a chance to reflect on their genealogy by sharing your family tree chart via email or published link—or embed it on a family website for widespread viewing.
Frequently asked questions about family trees