Family tree generator
Lucidchart is a visual workspace that combines diagramming, data visualization, and collaboration to accelerate understanding and drive innovation. 
Watch the Video
Record your ancestry with our family tree maker
Track history or use for educational projects

Family trees serve as an important link to the past, connecting current and past generations in a meaningful, visually organized manner. Our intuitive family tree chart creator allows you to easily create thorough and ordered family trees that shed light on the people, places, and events that make up your family history. Use your customized family tree from Lucidchart as a historical reference, educational project, or keepsake for your personal archives.

Customize templates to fit your family

Use our genealogy chart maker to make family tree diagrams as unique and intricate as your own ancestry with customizable templates and a variety of drag-and-drop shapes. Drag a line from each shape to easily establish relationships between individual relatives and generations. Lucidchart makes it simple to add specific information for each family member, like dates, locations, and professions. Upload and add family pictures, a family crest, or other relevant images to further illuminate your lineage.

Collaborate with family members

Compile your family history into one central Lucidchart family tree diagram to allow others to contribute their own research—from any device, at any time. Work in the same document simultaneously with real-time updates or leave comments on individual pieces of the family tree. Using dynamic sharing options and Lucidchart's integrations with leading applications like G Suite, you can email, embed, or export your family tree. Create customized permissions to control viewing and editing privileges.

Display instantly with presentation mode

Present your family tree diagram in the classroom or at a family gathering with our convenient in-product presentation mode. Our pedigree chart maker's easy-to-use presentation mode makes it easy to display your family tree on the go from your computer, laptop, tablet, or phone. Within Lucidchart, you can create slides around specific family members or time periods to highlight different points of your family's history.
How to make a family tree online using Lucidchart
1
Gather information
Compile and organize your family history research to go on your family tree. Include specific information for each person, like dates, names, pictures, and geographic locations.
2
Start from scratch or choose a template
Customize a template or create your own family tree by dragging shapes onto the canvas. Start with the youngest generation, and then add lines and text to depict relationships as you move to older generations.
3
Add details about your family members
Insert text boxes throughout your family tree with the information that you gathered earlier in the process to make your family tree as thorough and detailed as possible.
4
Collaborate with family members
Fill in historical gaps and ensure your family tree is correct by collaborating with other family members. They can leave comments or edit the diagram in real time for immediate feedback.
5
Distribute your work
Give your family members a chance to reflect on their genealogy by sharing your work via email or a published link, or embed it in the family website for widespread viewing.
Make a family tree chart
Frequently asked questions to help you create a family tree online
How can I make a family tree in Lucidchart?
Do you have any family tree diagram templates in Lucidchart?
Can I import data to create a family tree in Lucidchart?
How to use our family tree generator to capture your family history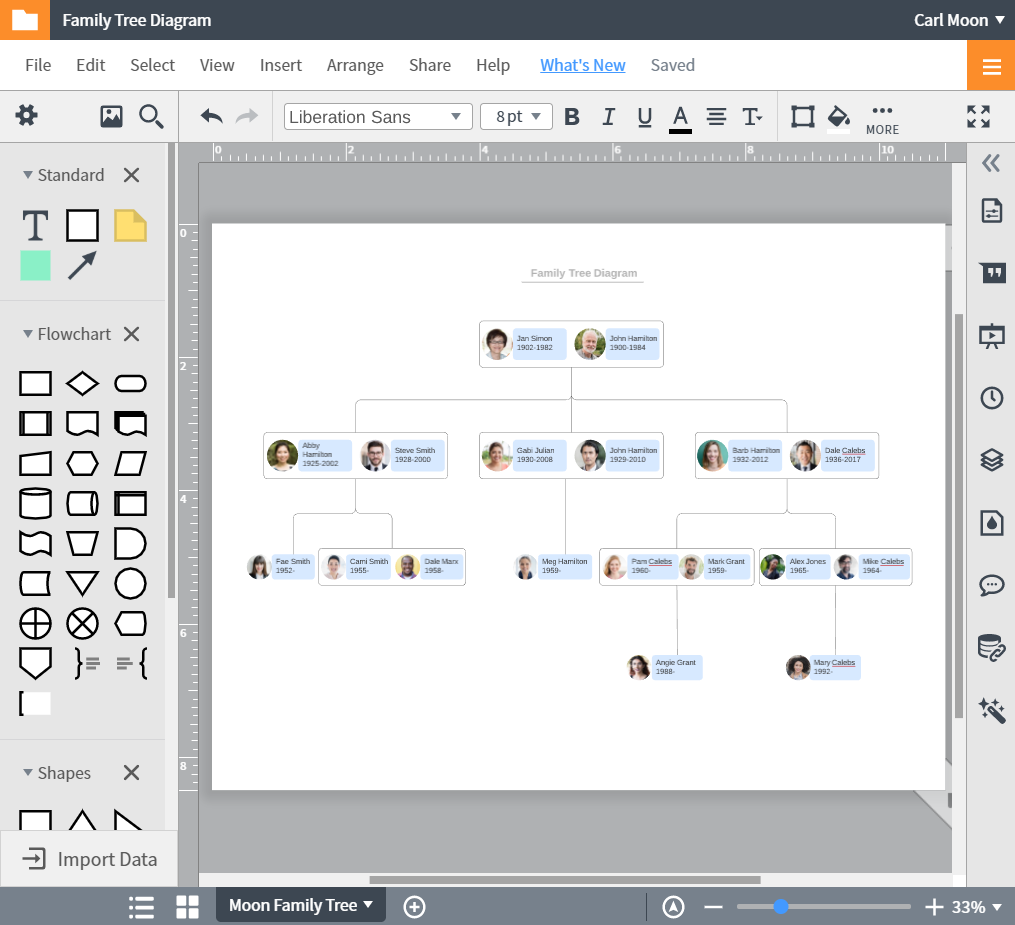 Browse family tree templates