ERD (crow's foot)
This hockey ERD template can help you: - Understand how entities relate to each other within a system using crow's foot. - Design or debug relational databases. - Share ideas and collaborate with colleagues. Open this template and add content to customize this hockey ERD to your use case.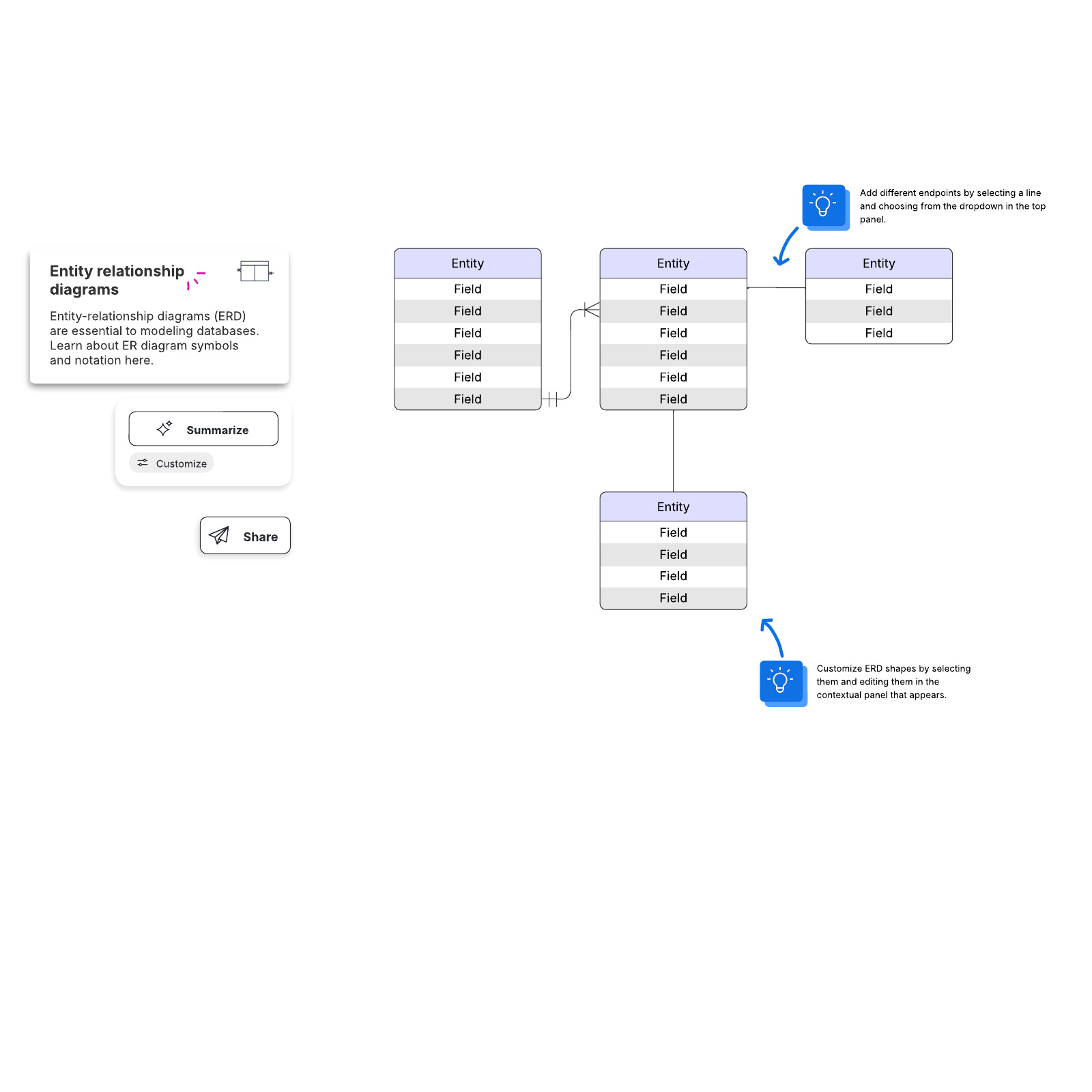 Accurately map out your system using entity relationship diagrams
Complex systems have a lot of moving parts. Whether you're talking about a software program or your company's party-planning committee, these many moving parts affect the system comprehensively.
If you need to visualize a system as a whole, an entity relationship diagram (ERD) could be just the tool you need. ERDs, also known as ER models or crow's foot diagrams, are flowcharts that illustrate how the entities in a system—whether they are people, programs, objects, functions, or concepts—relate to one another.
ERDs are most commonly used for applications such as software programming, business information systems, education, and research, but they can be used in any scenario where you need to visualize how things relate to each other within a given system. Doing so can help you more easily identify any issues, better organize information, and collaborate and share ideas for improvement with your colleagues.
The ERD template in Lucidchart can be accessed anytime, anywhere, so it's great for aligning hybrid teams. Whether you need to design a system or debug one, you can rely on this free resource to help you accomplish the job.
Use the ERD (crow's foot) template in Lucidchart
To use the ERD (crow's foot) template, open the template. You can use it as-is or customize according to your needs. Feel free to add more fields and relationships to illustrate your system. You can also import data from another source to use in your template by clicking "Import Data" on the bottom left.
As you work with the ERD template, you may want to familiarize yourself with some of the guidelines governing ER models and the best ways to apply them. ERDs use a standardized shape library so you can identify entity and relationship types at a glance. Learn more about these under "Helpful Resources" in the tutorials box to the right of the document.
As you master the ER model, you and your team will benefit from a collaborative resource that can stay relevant as you map out and improve your systems.