RAID log template
Track your project's active risks, assumptions, issues, and dependencies. Mitigate high priority threats using this RAID log project management template.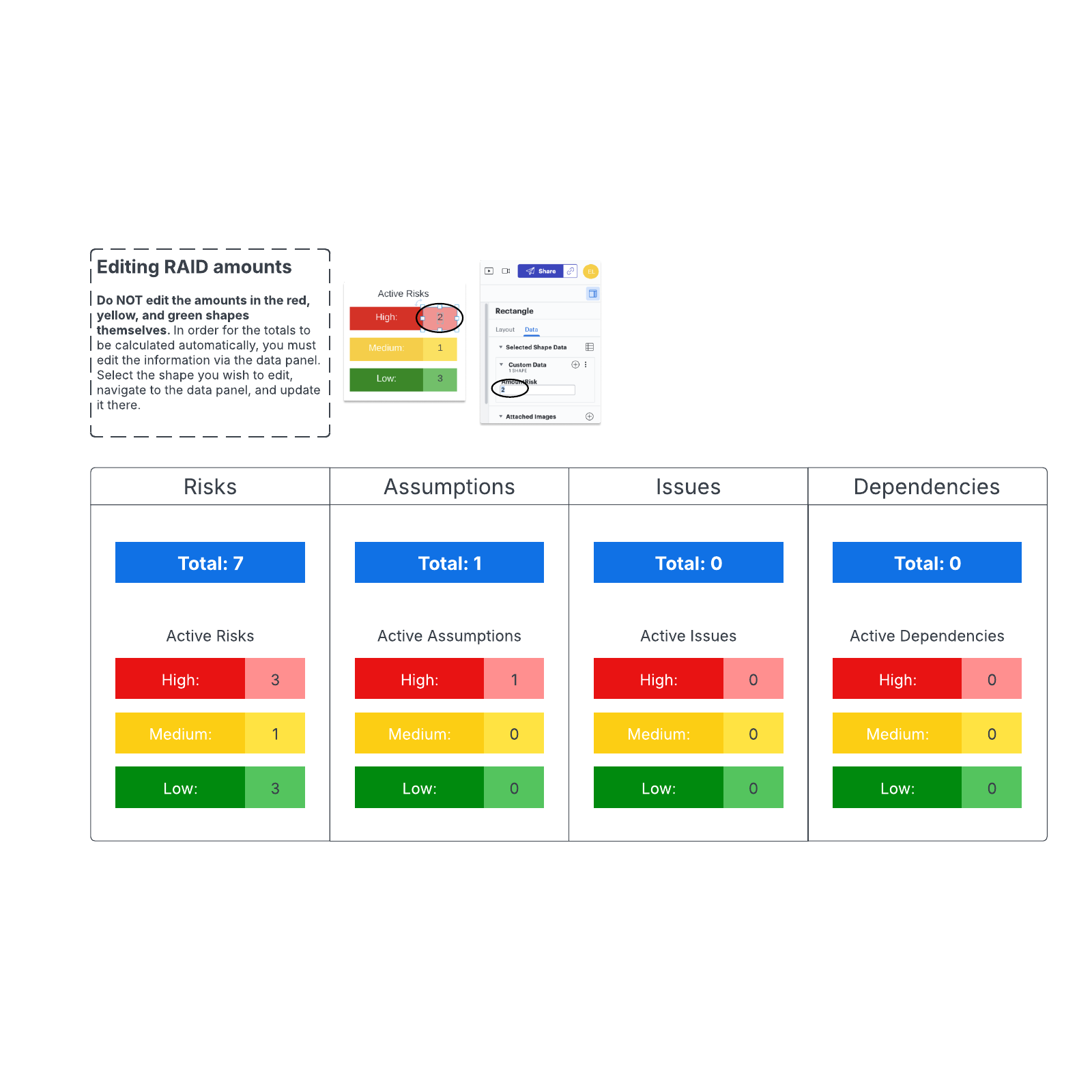 What is the RAID log template?
A RAID log is a project and program management tool. It helps you document problems that arise during an ongoing project. RAID stands for:
Risks. These are the problems you foresee that could hinder your project. Identify them beforehand so you have a contingency plan.
Assumptions (or actions). If you're using the RAID log primarily for planning ahead, the assumptions category contains things that you expect to happen but might not. If you're managing a current project with lots of moving parts, the action category might be more helpful, which tracks what needs to get done, by who, and when.
Issues. Keep track of problems that arise during your project here.
Dependencies (or decisions). Dependencies are the tasks that rely on something else being done first, like getting a project back from another department. You could instead use this category to track decisions you make along the way, along with who made the decision and why.
Use this free Lucidchart template to guide you as you create a RAID log.
Benefits of using the RAID log template
As your project progresses, you can use the RAID log template to track active risks, dependencies, and issues. By keeping a close eye on what problems come up, you'll be able to mitigate high-priority threats quickly instead of letting them fester.
Lucidchart helps you share your RAID log at the click of a button, which helps you keep your team aligned, even if you're a hybrid or distributed team. This helps the log stay a source of truth instead of risking someone working on outdated information.
How to use the RAID log template in Lucidchart
When you open the template, go to the top right corner of the screen. Click the "Contextual Panel" button. From there, you can edit the amounts in each shape in the data panel, which keeps the log working correctly. Don't edit the data directly in the buttons themselves—this will break the formatting in the template.
As you use your RAID log template, customize colors and headings or add more personalization to make it useful for your team.