Use Case Diagram for Hospital Management System (UML)
A use case diagram can do many things, but its main purpose is to represent users' interactions with a system. Lucidchart can help you build a use case diagram of your own to better understand its nuances. Start diagramming now!
Streamline communication in your organization with better software. Lucidchart is accessible from nearly any operating system, browser, or device; it's time to see what all the fuss is about!
Demo now
Sign up free
---
UML Use Case Diagram for Hospital Management System
No matter where you are, the process of getting medical attention can be confusing. Hospital administrators can improve the experience by using diagrams to chart relevant details. For example, this use case diagram for hospital management system (UML) shows how the receptionist, records system, and doctor work together to file insurance claims, prescribe tests, schedule patient appointments, and much more. To make a use case diagram in Lucidchart, you can simply drag and drop elements onto the canvas and rearrange as necessary. The examples below will provide further inspiration!
---
Hospital Management System Use Case Diagram Template
Click to Demo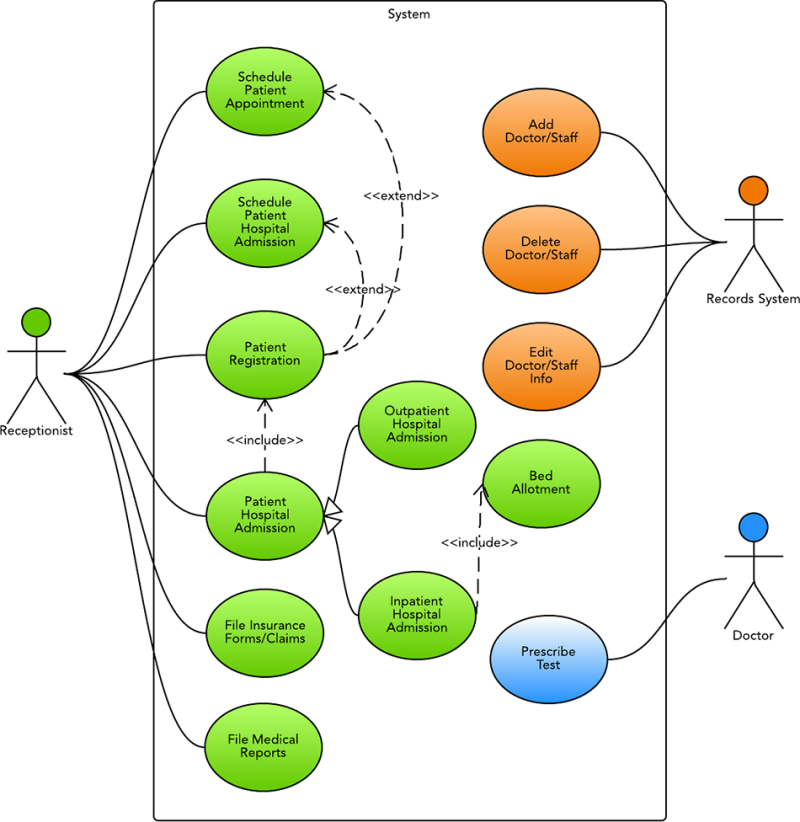 ---
More Use Case Diagram Examples in Lucidchart
Use case diagrams are typically used to model circumstances where your system or application interfaces with outside entities, which are known as actors. Your team can also employ use case diagrams to express or define the scope of a system. With Lucidchart, it's easy to create diagrams and solicit feedback for optimal results. Try our real-time collaboration to work simultaneously with clients or colleagues, or experiment with text and video chat in the editor. The template below are a perfect UML starting point!
Banking system use case diagram example
This document is an excellent example of use case diagramming. You can see that several actors, including the customer, bank manager, and cashier, all work together to accomplish certain goals of the use case.
See our banking system use case diagram example in full here.
Website use case diagram example
All of our templates are fully customizable. Click this website example to view a model of common website user interactions, from logging in to downloading documents. One click lets you share your chart online.
Event planning use case diagram example
Ordinary tasks like planning an event become simpler when you chart them out. This event planning diagram can help you organize a group of contributors and explain their tasks for the event.
---
Lucidchart is ideal for UML use case diagrams, whether they're modeling a hospital management system or the details of a wedding. Drag and drop element onto the canvas, import your own images, then publish to a variety of file formats.
Demo now
Sign up free