Venn Diagram Worksheet
If you're a teacher or business professional looking for a Venn diagram worksheet you can edit, try one of Lucidchart's Venn diagram worksheet templates. It's easy to set the dimensions you need, edit the circle size or color, and then print it out or share it electronically!
Whether you're a teacher, student, or professional, Lucidchart is the ideal Venn diagram maker. Collaborate with colleagues in real time, and share your diagrams by printing them out or sharing a custom link.
Try it now
Sign up free
---
Venn diagram worksheet
This Venn diagram worksheet is easy to read and share with students. Students and teachers can request a free educational upgrade to get more templates in Lucidchart. You can print off as many copies as you need for your class. Customize this worksheet by adding color, changing the font, or rearranging elements.
---
Customizable Venn diagram worksheet
Click to open
---
Venn diagram worksheets in Lucidchart
Lucidchart is an ideal worksheet creation tool. It's simple to change the dimensions of any diagram to be letter size. Under Page > Page Settings, you can choose portrait or landscape orientation, and Letter or A4 size. Try modifying these Venn diagram examples to fit your needs.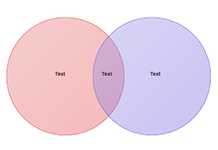 2-circle Venn diagram example
This is the most basic Venn diagram example. Use this template of two overlapping circles to build a worksheet you can edit, print, and distribute. Try double-clicking the text boxes to customize the text for your classroom.
3-circle Venn diagram example
This diagram is perfect for a worksheet related to literature. You can edit the book titles to reflect your curriculum. What other categories would you include? Titles outside Venn diagram circles are part of the universal set.
Fast food Venn diagram example
This Venn diagram uses real-world fast food chains to reflect the tastes of three surveyed employees. Each circle represents one person's preferences. Think of the possibilities for market research—or simply for optimizing your team's next lunch!
---
Lucidchart is not limited to making Venn diagram worksheets. You can use our collaborative tools to create UML flowcharts, floor plans, wireframes, and more. Start exploring the diagramming possibilities with a premium trial.
Try it now
Sign up free