10 Marketing Lessons From Hollywood's Best Movie Quotes
Lucid Content Team
Reading time: about 6 min
Maybe it's just another way to justify the time I like to spend snuggled up on the couch when I should be on a run or scrubbing toilets, but I've been telling people for years that good movies are educational. To prove it, here are ten of the best-known movie quotes from Hollywood and the lessons they teach us about effective marketing.
1. "What we've got here is failure to communicate." (Cool Hand Luke)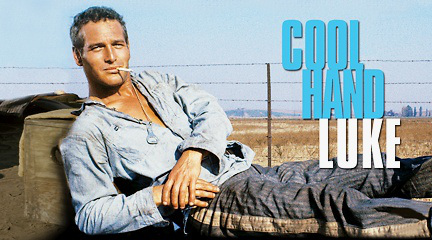 Most human problems ultimately boil down to insufficient or ineffective communication. In marketing, everything we do should be informed by user needs, which makes communication with users absolutely essential. At Lucidchart, we do a number of things to keep the dialogue with our customers open:
We created a help center and user community where customers can ask questions, find answers and make feature requests. When done right, your help center will develop into an important source of sales leads. More on how to do that here.
With every registration, we provide user onboarding to make sure that customers know how to get the most out of their Lucidchart experience. This has been an important aspect of converting users to paid subscribers. Our dedicated customer success team also spends time providing face to face training for Lucidchart teams.
When possible, we conduct surveys to better understand the needs of our customers. More on how to create the perfect survey here.
2. "Round up the usual suspects." (Casablanca)
All marketers hope to increase their market share and expand their user base, but efforts to reach new target audiences should not come at the price of ignoring the groups that are already devoted to a product. Whenever you are planning your marketing strategy, be sure to include ways to reach your most loyal users. This means you should know who your core users are. If you haven't taken the time to identify the groups that use your product and how and why they do, drop what you are doing and make a plan to nail that info into the ground. Try using Lucidchart to organize your thoughts.
3. "Pay no attention to that man behind the curtain!" (The Wizard of Oz)
From one of the most impactful and iconic movies in American cinema, this is a lesson in what not to do in marketing. When Dorothy and her crew originally meet the wizard with his falsified face and dramatic pyrotechnic effects, neither she nor her friends leave especially well satisfied. It isn't until their second visit when Toto reveals the man behind the curtain and Dorothy sees the wizard for what he really is, a shy, kindly hot air balloon enthusiast, that she finally finds a way to make it home.
Unlike the wizard of Oz, make sure to be authentic when representing your company or product to your target audience. By all means, play to your strengths, but be forthcoming about what you are and what you are not when a product or feature is called into question. Just as it wasn't the wizard with his mirrors and smoke that got Dorothy home, but the bumbling balloonist backstage, you may be surprised to find that your customers prefer your brand as it is rather than as you think they want it to be.
4. "Just keep swimming." (Finding Nemo)
Part of marketing is to just keep pushing on. Some days are better than others, and some campaigns don't end the way you want them to, but the best marketers know that tomorrow is a new day with new potential.
5. "Roads? Where we're going we don't need roads." (Back to the Future)
Be a trailblazer! One of the best parts of marketing is getting to try ideas that haven't been thought of before. Some end up better than others, but you never know what will take off until you put it to the test. Just make sure to be consistent with your brand image. For examples of creative campaigns that worked, check out Denny's Flap Hacks or Apple's "Shot on iPhone 6" Campaign.
6. "To infinity and beyond!" (Toy Story)
In conjunction with #5, think big and be positive about your goals. Studies show that our self-talk and mental imagery can have an impact on personal and organizational performance. And even if you're not a believer, positive people are easier to work with and generally promote creativity. To get your creativity flowing, try making a mind map in Lucidchart.
7. "Show me the money!" (Jerry Maguire)
Remember that the ultimate goal of marketing is to move potential users through your sales funnel. One of the most effective ways to increase the impact of your marketing campaigns is to make sure that your decisions are informed by data. At Lucidchart, we rely on the scrappy stats ninjas of our growth team to determine everything from how we engage viewers on our website to the best flow for our email marketing campaign. With their help we run hundreds of A/B tests each year and have discovered that some of our preconceived ideas were actually not correct. Don't let your biases stand in the way of your next marketing win. Test your big ideas before you launch. For more information about effective A/B tests, check out this article.
8. "Houston, we have a problem" (Apollo 13)
What do you do when marketing goes wrong? While we all hope this never happens to us, the reality is that with so many pieces to juggle (email, SEO, ABM, content etc) one day, something may fall through the cracks. If this ever happens to you, make sure to open communications with the appropriate stakeholders in order to resolve the problem as quickly as possible. You may find it helpful to diagram your thoughts or a faulty process using Lucidchart. Read about one of our marketing fails and the lessons we learned here.
9. "Why so serious?" (The Dark Knight)
While excessive joviality may not be appropriate for some brands, integrating an appropriate level of humor or entertainment into your marketing is an effective way to engage potential clients. One of our most successful campaigns, the Songtacular Flowdown, did just that. No matter what stage your marketing team is in, your marketing friends at Lucidchart wish you the best of luck. Which brings me to #10...
10. "May the Force Be With You." (Star Wars)