4 steps to build a sales process flowchart and boost revenue
Peter Chun
Reading time: about 4 min
After years of working with diverse sales teams from fledgling start-ups to large enterprises, I have learned there is one thing that all sales teams have in common: We rely heavily on process to accomplish our goals. Even the "lone-wolf" sales rep who doesn't update the CRM because "everything is in their head" can consistently hit their sales goals if they follow some sort of process.  
Since a process is defined as a series of actions or steps taken to achieve a particular outcome, a sales process refers to the series of steps that your sales organization follows to close a deal. For this reason, a sales process is essential to your success, regardless of your role on the team. As former HubSpot CRO, Mark Roberge, stated, "Trying to scale your business without a sales process is like driving in the dark."
Now that we've established the importance of having a sales process, it's alarming to note how many sales professionals don't have an up-to-date sales process flowchart or even have a process diagrammed at all! As the old saying goes, "A picture is worth a thousand words." In sales, a well-diagrammed process could prove to be worth millions in revenue.
Chances are, you're missing an important piece in your sales process. Whether you're a sales leader running multiple teams or a front-line contributor looking to smash your personal quota, when trying to improve sales performance, taking the time to make a flowchart will help you identify where you need to focus in order to optimize sales performance.
Use this simple process as a guideline.
1. Start with a tried-and-true example
It helps to see how other organizations have approached this process. Start with this basic example I created in Lucidchart (or take a look at the many templates that are available) and add or remove steps to modify it for your team. It's free to create a Lucidchart account to view and create your own sales process flowchart.
If you get stuck, observe recently closed deals along with deals that are currently in the pipeline. Clearly define the actions that will move your sale to the next stage. Be mindful of the process from the buyer's perspective and consider what causes them to progress to each step.
2. Ask your sales reps to identify what makes them successful
If you're in a leadership or support role, have each of your sales reps also map out their own processes. Remember the lone-wolf quota crusher I mentioned earlier? This is where you can identify what they are doing to be successful. For your superstar reps, you might discover key steps that you should standardize across the team to effectively close more deals. If you're a frontline contributor, it's helpful to have a teammate map out their process so you can compare diagrams.
See how one of our SDRs at Lucidchart doubled his opportunity creation by taking a close look at his KPIs and making a dashboard.
Learn more
3. Measure the results
Now that you have a sales process flowchart, you're ready to begin measuring results at each stage of your process. Metrics should be reviewed on a regular basis so you can quickly identify trends.
If you have been using Lucidchart, you can link data to your diagrams to see how each stage of your sales process is performing in the appropriate context.
4. Adjust as necessary
Observe closely and don't hesitate to make adjustments to your process map as needed based on feedback from your team members and/or customers. Keep in mind that your sales process is much like a living organism that will continue to evolve.
You will see that understanding and communicating a process through a flowchart is much easier than using words alone. Mapping out your sales process provides the visibility necessary to accurately pinpoint where in the process you need to focus to improve. Even before any analysis is conducted, the mere exercise of mapping out your sales process helps increase awareness of inefficiencies or other related issues that could be hindering performance.
Now that your sales process flowchart is complete, you're well on your way to creating a sales process that is scalable and predictable.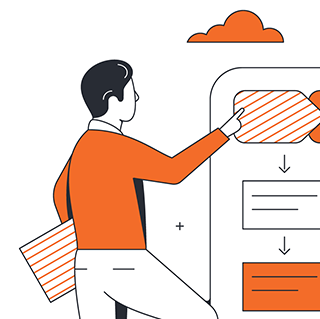 Build out your sales process in Lucidchart—it's simple and free to get started.
Sign up now
About the author
Peter Chun has successfully built and scaled multiple sales organizations and is currently the Vice President of Inside Sales at Lucid Software. He is passionate about increasing sales productivity by combining the art of sales methodology with the science of a data-driven approach. Peter has established himself as an expert and thought-leader by bringing cutting edge process development and hands-on coaching to sales professionals throughout the industry. You can connect with him on LinkedIn and follow him on Twitter.
Lucidchart
Lucidchart, a cloud-based intelligent diagramming application, is a core component of Lucid Software's Visual Collaboration Suite. This intuitive, cloud-based solution empowers teams to collaborate in real-time to build flowcharts, mockups, UML diagrams, customer journey maps, and more. Lucidchart propels teams forward to build the future faster. Lucid is proud to serve top businesses around the world, including customers such as Google, GE, and NBC Universal, and 99% of the Fortune 500. Lucid partners with industry leaders, including Google, Atlassian, and Microsoft. Since its founding, Lucid has received numerous awards for its products, business, and workplace culture. For more information, visit lucidchart.com.
Bring your bright ideas to life.