5 phone sales tips for closing bigger and faster
Reading time: about 3 min
Posted by: Lucid Content Team
Sales is a tough profession—and it only gets more difficult when you're depending on phone/cold calls in order to get your face-to-face meetings. However, knowing how to engage someone over the phone without face-to-face interaction is crucial, and it's a skill that takes time and patience to develop. Wondering how to sell over the phone more efficiently? Check out the suggestions below.
1. Demonstrate value
Don't sell features, sell value. Make it easy for your prospect to understand the benefit your product/service provides. 
Stop talking and actually listen to the customer. When you do, you can better understand the problem to be solved so you know how to position your product/service. Then use storytelling to effectively sell the value.
2. Develop customized phone sales techniques
Remember the adage "the road to hell is paved with good intentions?" Same goes for the "tried-and-true" scales script your predecessors left behind when they found a better job.
Why recycle the same thing? Take initiative by developing your own client-centric scripts for various products/services. Customize your templates to speak candidly to audiences who actually want to hear what you have to say.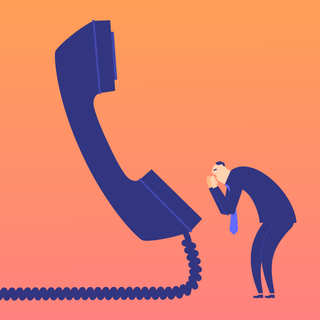 For more tips, read our blog post on cold calling and develop a powerful sales script of your own.
Learn more
3. Seize the power of positive thinking
It may surprise you, but studies show that positive attitudes and excitable tones can dramatically increase the success of over-the-phone sales. One of the best phone sales tips is to simply examine how you come off in conversations with prospects.
Be enthusiastic, passionate about your product/service, and confident. Start the conversation with a positive comment, and don't be afraid to have a sense of humor. Remain polite, honest, and personal throughout the conversation.
Even in sales, people don't buy products and services—they buy relationships with businesses. A little positivity can go a long way in establishing successful relationships.
4. Do not trash-talk your competition
While it may seem like a savvy positioning tactic, avoid speaking ill of competitors during your sales call. Besides running a risk of being accused for libelous slander, it actually just makes you look as bad as your competition.
Remember the playground comebacks of "it takes one to know one" and "I am rubber, you are glue"? Research shows that due to a psychological phenomenon called spontaneous trait transfer, when you badmouth your competitor, your prospect puts those same traits back on you.
Instead, when a prospect asks about your competitors, say something inoffensive like "I can't speak to what they do—I represent [your company] and this is what we offer."
5. Do your homework first
This last tip is probably the pinnacle of all phone sales techniques: ensure that you're prepared for every call. Prepare mentally by defining the purpose of your call, crafting and reviewing your script (use the template below to get started), and coming up with a routine so you're comfortable on the call.  Practice your tone—you might even want to record yourself so you can make notes of where you can improve.
Qualify each lead, find out who the decision-makers are, and prepare your statistics. You can use account maps to map out the entire organization and determine your blockers, champions, decision-makers, etc.
Learning how to sell over the phone has a steep learning curve. Lucidchart can help streamline the process, and just remember that practice makes perfect! Sign up for an account now to document best practices and keep track of decision-makers in our intelligent diagramming application.
Start diagramming with Lucidchart today—try it for free!
Sign up free
About Lucidchart
Lucidchart is the intelligent diagramming application that empowers teams to clarify complexity, align their insights, and build the future—faster. With this intuitive, cloud-based solution, everyone can work visually and collaborate in real time while building flowcharts, mockups, UML diagrams, and more.
The most popular online Visio alternative, Lucidchart is utilized in over 180 countries by millions of users, from sales managers mapping out target organizations to IT directors visualizing their network infrastructure.