Top 5 ways HR can evolve to be more agile
Lucid Content Team
Reading time: about 7 min
With a reliance on strict controls and standards, HR may seem an unlikely candidate for an agile model—yet agility may just be the key to unlocking a more human approach to human resource management.
According to HR analyst Josh Bersin, "The Agile Model of HR states that human resources' job is not just to implement controls and standards and drive execution—but rather to facilitate and improve organizational agility. This changes HR's mission and focus. Driving agility means driving programs that create adaptability, innovation, collaboration, and speed."
So what does agile HR look like, and how can organizations adopt agile HR practices?
Below we'll cover what agile HR is and five ways you can develop a more agile HR approach.
What does it mean to be agile in HR?
The Agile methodology started as an approach to software development and project management. It focuses on iterative and collaborative practices to deliver product solutions faster through incremental steps—this approach allows teams to test ideas and concepts as they go and respond to changes quickly.
When applied effectively, agile management results in greater innovation, faster implementation (or product release), and higher efficiency. 
Traditional HR vs. agile HR practices
So how does the Agile method apply to HR and people leadership?
Traditional HR practices focus on rules and standards within a more strict hierarchical structure. Agile HR shifts the paradigm to a simpler and faster approach that prioritizes collaboration, feedback, and innovation.
Agile allows companies and their people leaders to develop programs and initiatives that empower and engage their employees.
Benefits of an agile approach to people leadership
An agile HR model helps organizations and their leaders meet today's modern business challenges, such as:
Developing leaders at all levels 
Managing a younger workforce with new and different demands 
Low employee engagement
High competition for top talent  
Lack of technology integration
C-suite leaders who want HR to solve talent problems
Deloitte's 2017 Global Human Capital Trends explains, "As organizations become more digital, they face a growing imperative to redesign themselves to move faster, adapt more quickly, facilitate rapid learning, and embrace the dynamic career demands of their people."
Agile HR practices help companies rise to the needs of the current business and employment landscape and attract, retain, and develop great talent.
Tips for adopting a more agile HR model 
Agility sounds great in theory—but how can HR organizations and other people leaders apply those principles to their teams and company?
Use the following tips to transition to a more agile HR model. 
Look beyond traditional organizational hierarchy
The first step to an agile HR model is to rethink your organizational structure and bridge gaps between traditionally siloed teams and structures. Agility in leadership and decision-making relies on creating cross-functional, collaborative teams across the company.
An agile HR organization should be small and nimble, working with leaders from across the company to solve organizational challenges. This approach focuses less on strict demarcations of roles and job titles and more on the skills each player can bring to a project. 
The result is an HR organization that is more integrated, transparent, and flexible—and an org that's able to help the rest of the company adopt similar practices.
Instead of just relying on a standard org chart, it can be helpful to be able to see employees grouped by their expertise and skill sets, cross-functional projects they've been assigned to, tenure, performance, or a wide variety of factors so that it's easy to identify the right people to put on ever-evolving projects. 
This type of visual can also help you identify skills gaps within cross-functional teams and understand who would be good candidates for different training or coaching.
Adopt an agile approach to compensation
Organizations that pay their employees fairly and equitably will have a happier, more engaged workforce. As the employment landscape changes quickly and the skills gap tightens competition for top talent, it makes sense for organizations to regularly and frequently assess their payment structures and compensation plans. 
An agile HR approach thus moves away from traditional annual raises to more frequent market evaluations and ongoing performance measures and feedback. 
Regularly assessing your pay structures, benefits, and compensation packages can help organizations identify and reduce pay gaps, protect against wage discrimination lawsuits, and personalize compensation plans to attract and retain employees effectively. 
Visuals can help you understand the current state of compensation throughout your org and conduct a pay equity analysis to pinpoint opportunities to improve. Quickly identify pay disparities when you combine your employee data (e.g., employee tenure, demographics, and performance) with your compensation data and then take action. 
When employees are paid fairly, they are more likely to feel valued by the company and engaged with their work.
Move towards a continuous feedback model
Traditional HR practice focuses on rules-planning and performance management based on long-term organizational goals. This is most clearly exemplified in the employee annual review process. 
Here employees are assessed on their yearly performance and measured against goals that are often imposed or structured around broad organizational initiatives. The main outlet for employee feedback to the organization is in a once-per-year review. 
The agile approach upends this model to prioritize continuous employee feedback and team-focused performance management. As individuals increasingly work on shorter-term projects, with greater cross-functional collaboration, one-time performance reviews and feedback just don't make sense. 
Agile performance management allows employees and teams to course-correct, learn through iteration, and improve communication and understanding between teams and leadership through multidirectional feedback.
Agile HR organizations can work with people managers to solicit regular feedback through employee surveys, project reviews, one-on-ones between employees and supervisors, and open communication.
Increase frontline decision rights
Agile HR is all about facilitation and engagement. Empower your frontline people to make decisions, take ownership of their work, and learn from their mistakes. 
Develop an agile team culture by implementing processes like retrospectives that help teams constantly assess their work and improve. A retrospective is a team meeting typically held after a project or iteration to review how the project went. The goal is to understand what worked well, what didn't work, and steps to take moving forward. 
Retrospectives are a great way for teams to evaluate their decision-making process, identify opportunities for improvement, and have real ownership for the results. This template can be a great place to start a retrospective—you can access it with your team and edit it together in real time to celebrate your achievements and improve.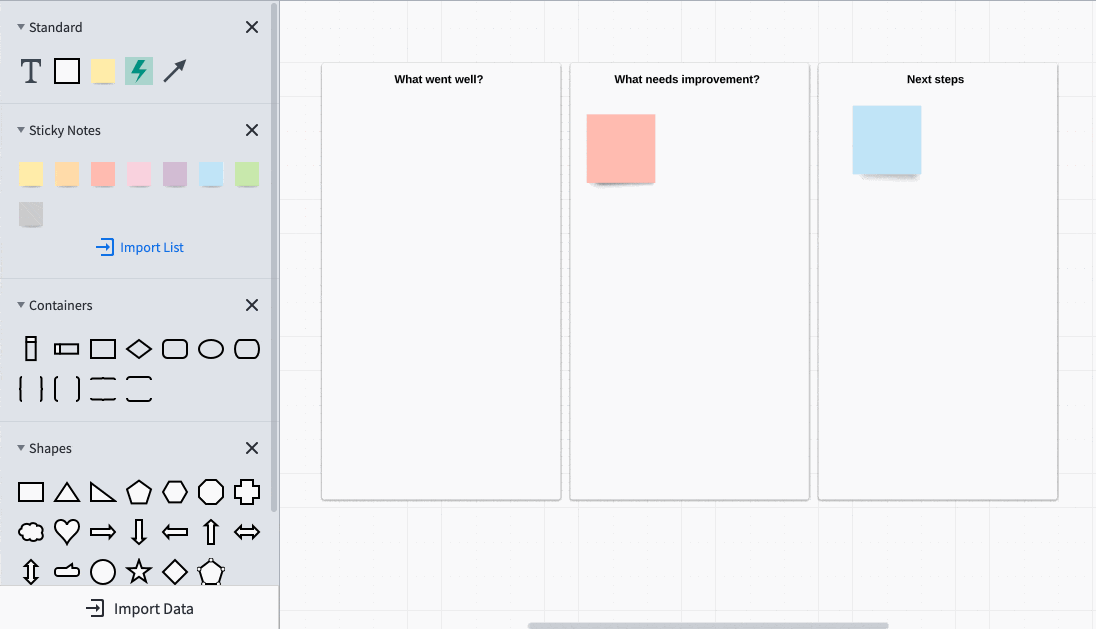 Develop your managers' coaching skills
Traditional HR focuses on individuals and their goals, performance, and needs. Agile HR shifts the focus to groups and teams. To ensure high performance and effective collaboration, agile organizations should prioritize coaching skills among their people leaders. 
Instead of controlling teams and projects through strict structures and standards, agile HR organizations facilitate and enable teams to do their best work. To do this, teams need skilled coaches who can guide projects with confidence. 
Teams working under effective agile coaches are empowered to work together to create, execute, and set tasks and goals, track their own progress, assess leadership, and identify how to improve. 
Help your managers coach and develop successful teams by teaching them to recognize these key insights, and giving them the support they need to make decisions and act on feedback.
Keep on learning
Agile is built on the idea of continuous learning and improvement. Transitioning your HR organization to an agile model will take time. Embrace the learning curve and don't be afraid of failure. Apply agile principles to adapt and adjust as you discover what works best for your company and unique culture. 
As you do, you will see an increased capacity to address and respond to employee needs, measure and improve performance, and solicit and act on feedback—all of which will lead to a happier and more engaged workforce.
Build out cross-functional teams, gain insights for better people planning, and become more agile.
Learn more