How to digitally walk the sales floor with actionable account maps
Lucid Content Team
Reading time: about 5 min
In the last month, the day-to-day dynamic of many sales teams changed overnight. Teams accustomed to daily standups in the common area, team lunches at Chick-fil-A, and afternoon ping-pong breaks are suddenly faced with Zoom meetings, virtual lunch dates, and a clear lack of ping-pong partners. And since these changes, there hasn't been much time to breathe, since the pressure to hit revenue numbers has only intensified.
As a sales leader, it can be overwhelming to feel like you no longer have a constant pulse on how deals are progressing. But, even though you might not be able to simply walk up to Emily and ask how things are going with the Nike account right now, there are still ways to "digitally" walk your sales floor so you can manage deals at scale and stay up to date on the team's progress.
Make account maps your single source of truth 
In the world of remote work, customer documentation is more critical than ever before. It's the only way you can feasibly come up to speed on the hundreds of deals your team is working—and be able to do so at a moment's notice. But beyond simply having it, this documentation needs to be compiled in an easily accessible location so you can get a pulse on a deal in minutes.
Encourage your reps to build account maps with Lucidchart, and have these visuals be the central location where all account information is stored. Rather than having documentation scattered across note-taking apps, your CRM, a rep's brain, and who knows where else, you have one place to look and quickly understand the health of a deal.
An account map looks similar to an org chart—but it visualizes the buying team and the customer relationships that are key to closing a deal. These visuals are often paired with other account information, such as a company overview, the implementation path, and a customer success plan. Lucidchart account maps are easily accessible from a button located within the corresponding Salesforce account, and the visual nature of an account map makes it easy for you to digest the information it includes. 
Having these account maps can also give you confidence that even though your reps can't sit next to each other, the handoffs between team members can still be seamless. Sales engineers, customer success managers, and others can come in prepared with the material they need to hit the ground running. 
Create consistency
Make this single source of truth consistent—you'll save yourself a lot of headaches. Instead of having account maps in the form of ad-hoc PowerPoint presentations, Excel sheets, and Word documents floating around, Lucidchart allows you to build a custom account map template for reps to complete for every deal they work. Having a standard template reduces manual work for reps, and it saves you time in reviewing documentation.  
Adapt the template to fit your sales process and methodology so that it aligns with a rep's current workflow. By taking the time to create this template, you ensure that every rep documents the information you know is most critical for a deal—eliminating the hassle of chasing a rep down virtually for what you need. You'll also be able to keep up on your team's progression without either of you feeling like you are micromanaging.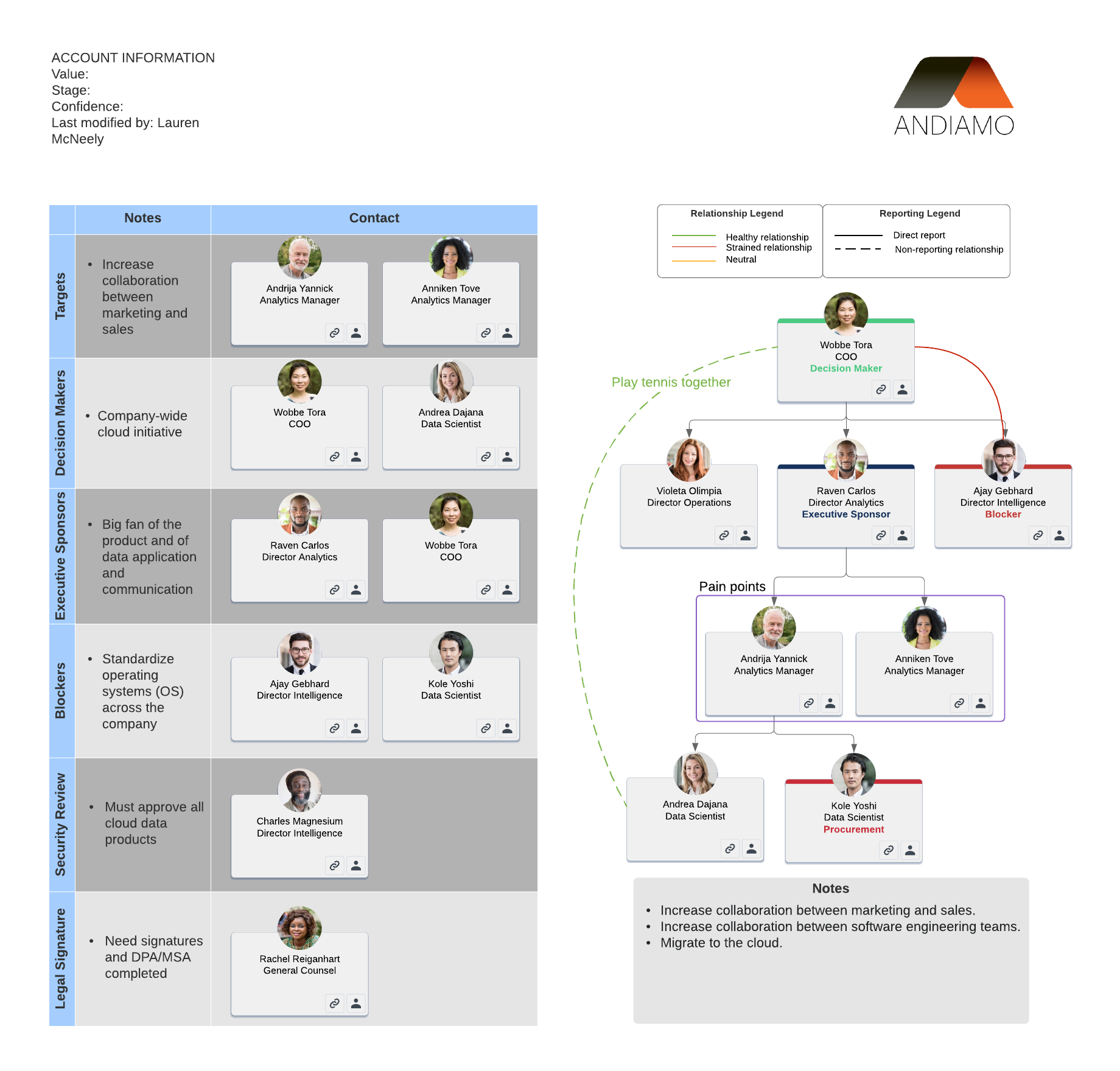 Overcommunicate
86% of senior executives, managers, and junior staff at U.S. companies experience communication breakdowns that lead to losses in productivity, missed project deadlines, and sales deals that don't close. Communication only becomes even trickier with remote teams, so it's key that you streamline internal communication processes so none of these negative repercussions bring your team down. 
While Slack conversations and Zoom meetings are great for maintaining culture and boosting morale, it can get messy if internal collaboration on an account is spread across these various channels. Lucidchart streamlines collaboration by allowing you to have those important conversations in one place, within the context of your account map. 
You can make comments on specific aspects of an account map and @mention people to solicit their feedback within the document. Using the chat feature, you can message back and forth without ever leaving Lucidchart. Reps can leave notes within the account map to provide additional info without cluttering the visual. By collaborating within the account map, your conversations never lose the context of the deal, and you can easily refer back to previous interactions.    
Coach to the gaps
Let account maps guide your coaching. You can see which deals have the biggest gaps, schedule time with the corresponding reps to determine their confidence on the deal's likelihood to close, and then coach accordingly. Decide which accounts need your executive sponsorship and then review the account map to see where you might have connections that can help. Account maps bring structure to your coaching, and once again, they keep all relevant information for these 1:1 sessions together. Reps don't have to take time away from selling to compile information for meetings with you if they've kept their account map up to date. 
While a remote sales team doesn't allow for in-person water cooler chats or impromptu meetings, you don't have to feel like you're flying blindly as a sales leader without those day-to-day interactions. Yes, it can take a bit more concerted effort. But by using account maps to house documentation, create consistency, communicate effectively, and determine where support is needed, you can still stay on top of things. 
Walk through your account maps, and you'll feel like you're back walking the sales floor and moving towards that revenue number.
Lucidchart serves as a dynamic roadmap to help your team close bigger deals faster.
Learn more