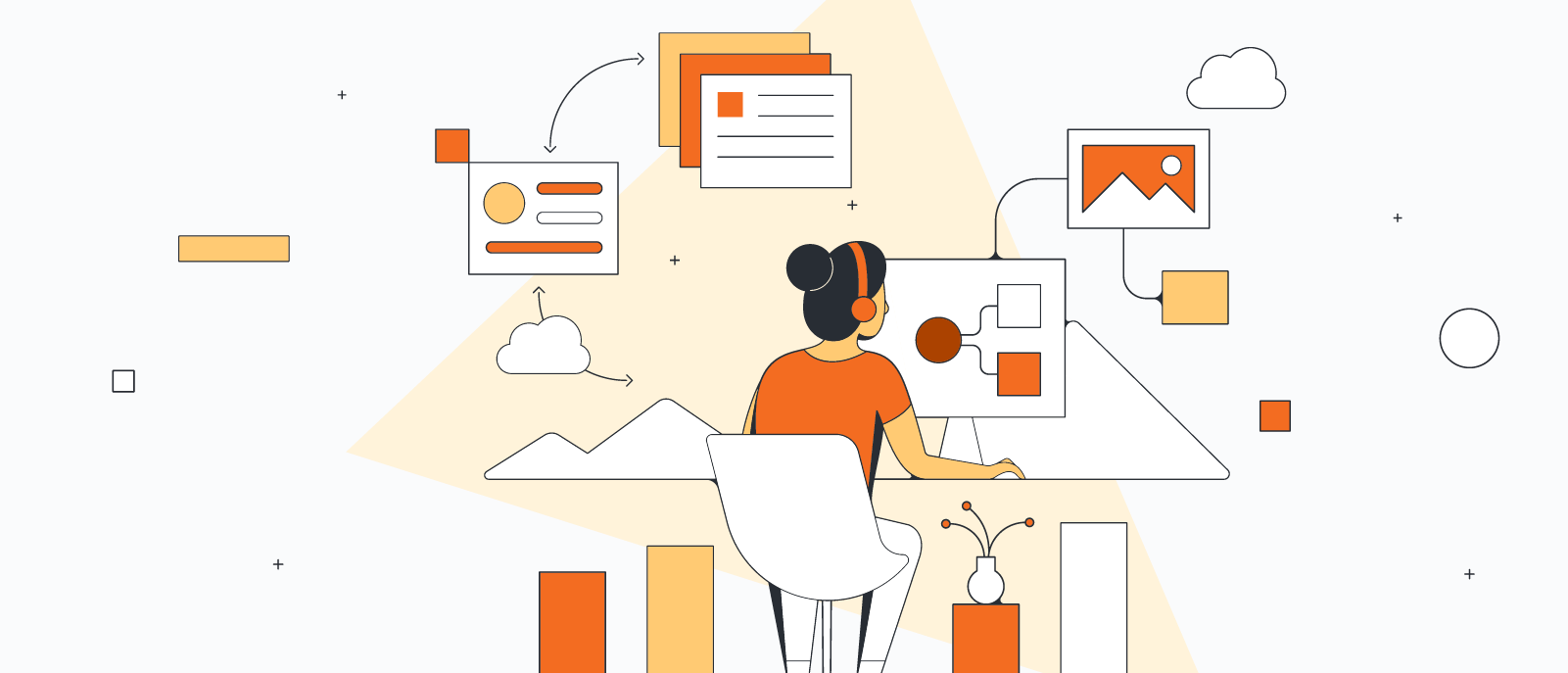 How to effectively implement business process change
Reading time: about 7 min
In business, you can always count on the following: current processes will change in the future, and there will be resistance to proposed process changes.
Executives and managers are always looking for ways to improve business processes to help employees be more efficient, make fewer mistakes, increase output, and get products to market faster. But you might find it difficult to implement the improvements.
Why is it so hard to implement changes?
In this article, we'll discuss why implementing business process changes can be challenging and how you can identify areas where improvement is needed and pivot your processes efficiently. 
Why is it important to continually improve business processes?
Companies use processes to design and build quality products that will satisfy customer needs and expectations. Smart companies understand that there's always room for improvements to processes and procedures.
Of course, you should have a valid reason behind every proposed change. It doesn't make a lot of sense to change things in the name of improvement simply because you haven't made a change in a while. You should only make business process changes if you can show how they can help the company to achieve its goals.
At the same time, it doesn't make any sense to continue using dated processes because you've always done it that way. You'll run the risk of falling behind your competition as they find ways to streamline processes and get their products to market more quickly. It's a good idea to have an open mind about new technologies and new ways of doing business to ensure that your company remains competitive and relevant.
So you should continually monitor and manage your processes. This helps you to understand what's working and what needs to be tweaked. Planning and implementing well-defined process improvements can help your business: 
Increase customer satisfaction
Improve employee morale and job satisfaction
Consistently produce high-quality products
Remain in compliance with industry standards
Work in collaborative and agile environments
Increase customer loyalty
Why is it hard to implement process improvements?
If process improvements are good for business, then why is it difficult to implement changes and get people to follow those new processes?
Basically it's because we don't like being told what to do. It's something that's hardwired into our brains from an early age. Psychologists call it "psychological reactance." It's your brain's reaction to perceived threats to your freedom or when you think your choices are limited. When rules or guidelines are put into place, it can make you feel annoyed, anxious, or angry. Even if you know that what you are asked to do will be beneficial, your immediate reaction might be "don't tell me what to do."
Other factors that might explain resistance to change include:
Fear that it will impact current work and productivity
Belief that process improvement means more work
Lack of confidence in the people who communicate the changes
Doubting that process improvement is needed
Experience with previous, less-than-successful process implementations
Feeling like there is a loss of control over one's area of ownership
Understanding the root cause of resistance will help your team come up with a process improvement plan that is more collaborative and ultimately more successful.
How to implement business process change
When planning to implement a new process, involve everybody who will be working with that process. This will help to reduce resistance and give those directly impacted by the change a chance to voice valuable feedback. 
Here are some other suggestions that could help you to implement process improvement more efficiently.
Audit processes for effectiveness 
Before making any changes, you first need to identify what is working well and what isn't. Monitor current processes to see if there are any bottlenecks or areas that might need to be updated.
A simple way to do this is to create a current vs. future state flowchart. This will give you visual step-by-step documentation that makes it easy to see where there might be areas for improvement and explain them to others. 
In addition, talk to the people directly involved in the process. Including team members shows you value their ideas and gives them a hand in improving the process—which not only improves buy-in down the road but also leads to better results. Their feedback can give you a more clear picture of what needs to change, and you'll be less likely to overlook important steps and substeps. 
Looking for a process improvement template where you can gather feedback and brainstorm business process changes?
Try this one
Identify the process goals 
You need to understand the outcome of the process—what you expect the process to do. This means that you need to know where you are starting from and where you want to end up. 
Use the process in its current state as a baseline for defining the goals you want to meet through process improvement. For example, your audit of the current process might find that some steps are redundant or unnecessary. So your goal might be to streamline and increase productivity by removing unnecessary steps.
Check out these tips from Alec Sharp, senior consultant at Clariteq, for taking business processes from "as-is" to "to-be."
Read more
Identify team strengths
Because you want to efficiently and quickly implement process improvements, you want to involve the people who have the skills to perform specific steps and tasks. The team should be cross-functional so that the process can be seen from more than one perspective. These different perspectives from people across departments can help you to create a better plan for streamlining and implementing changes. 
Determine what can be automated and where you can leverage software 
According to a McKinsey report, about 60% of all occupations have at least 30% of activities that could be automated. Automation can increase productivity, improve performance, and decrease human error. The right technology stack can help you to automate some functions and give you a more streamlined process.
Map and document your new business process changes
Redesign your process, eliminate the problem areas, identify where automation will go, and clearly define each step and substep. To do this, you'll want to bring together all of the key players. As a team you can collaborate and share ideas as you build a process that will enhance productivity, produce high-quality products and services, decrease time to market, and ultimately increase your customer base and profits.
Use visual collaboration software like Lucidspark and Lucidchart to bring together all team members no matter where they are located to collaborate and plan. 
Use Lucidspark to brainstorm and capture ideas on a virtual whiteboard. Then evaluate each idea and determine which can feasibly translate to a real-life context.
After you have determined which ideas are the best for the improvements you want to make, use Lucidchart to document the process using flowcharts, process maps, and other visual aids.
Share the new process with the team
As mentioned, you will probably get some pushback when you try to implement the changes. Even the people who helped you plan and design the process improvements might want to delay it to another date so their current work isn't impacted.
Clear communication throughout the brainstorming, planning, and redesigning process is essential to help alleviate any resistance or concerns that your team members have. The most important thing is that they understand the purpose of the change and how you plan to implement it without negatively impacting current work. Make sure that there are no surprises so you get buy-in from everybody and the transition runs smoothly.
Ask for feedback  
After implementing the new process, ask the team to give you feedback so that you know how it's going. Does the process produce the desired outcome? Does it work as expected? Are there any areas that aren't working like you thought they would?
Clear communication is key at this stage as well. You want your team to understand that this process is not set in stone and that you value their feedback and are open to new ideas.
Start documenting your business process changes with a current vs. future state flowchart template.
Go now
Start documenting your business process changes with a current vs. future state flowchart template.
Go now
About Lucidchart
Lucidchart is the intelligent diagramming application that empowers teams to clarify complexity, align their insights, and build the future—faster. With this intuitive, cloud-based solution, everyone can work visually and collaborate in real time while building flowcharts, mockups, UML diagrams, and more.
The most popular online Visio alternative, Lucidchart is utilized in over 180 countries by millions of users, from sales managers mapping out target organizations to IT directors visualizing their network infrastructure.