The basics of documenting and analyzing your as-is process
Reading time: about 7 min
Companies rely on solid processes to efficiently and effectively meet objectives. But without strong processes, your business could be losing money, talent, and even clients.
That's where as-is process analysis comes in.  
Studying your current state helps organizations document, track, and optimize processes for better performance, greater efficiency, and improved outcomes. 
Here's how you can take your business to the next level by documenting your as-is process.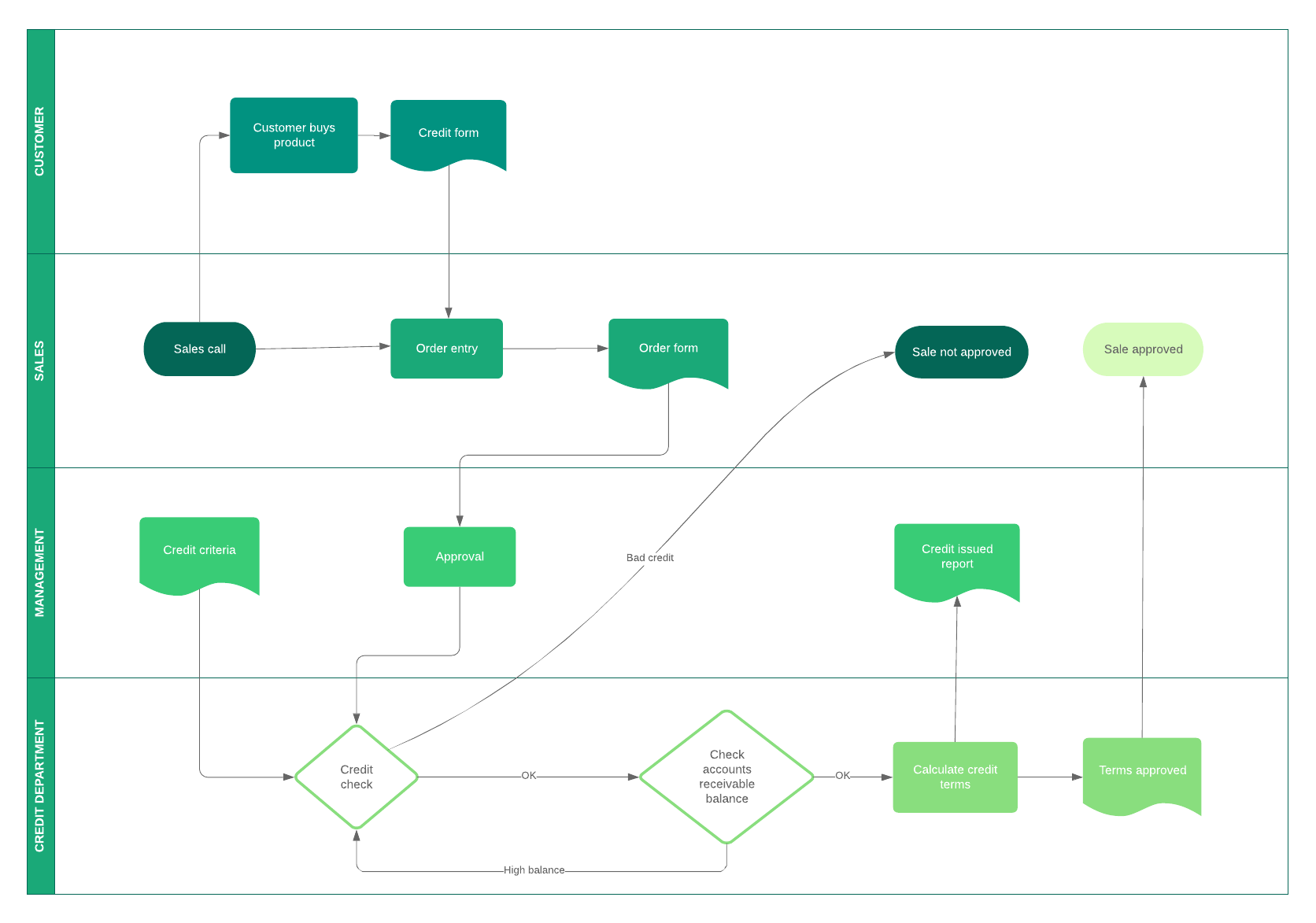 An As-is Process Flow is a process management strategy that documents how business processes are currently implemented. Usually an As-is Process flow is made for companies to track procedures that are organized step by step. This process flow can later be analyzed and optimized when the business creates a To-Be Process.
What is as-is process analysis?
As-is process analysis or current state analysis is a process management strategy that identifies and evaluates a business's current processes.
Current state analysis can focus on an entire business organization or on one or more specific processes within a department or team.
There are several key goals or motivations for implementing current state analysis, including:
Saving money
Improving existing processes or creating new processes
Increasing customer satisfaction
Improving business coordination and organizational responsiveness
Complying with new regulatory standards
Adapting processes following a merger or acquisition
The number-one reason businesses cited for using a process management system was to save money by reducing costs and/or increasing productivity followed by the need to improve customer satisfaction to remain competitive, according to a 2020 survey conducted by BPTrends.
Current state vs. future state process analysis
Current state and future state process analysis go hand-in-hand when you are evaluating business processes. Simply put, as-is maps where your processes are and to-be maps where you want them to be.
The as-is phase outlines the current state of your processes and any gaps or issues with the current mode of operation. Once you have that mapped out, you can enter the to-be phase of process management.
To-be process mapping documents what you want the process to look like. Using the as-is diagram, you work with stakeholders to develop improvements to the current process and outline those changes on your to-be map. Lucidchart facilitates collaboration through easy sharing and commenting features. Stakeholders can quickly view your current and future state documents, easily providing feedback through each iteration.
Pro tip: Keeping records of both current and future state documents will help everyone in the organization maintain process consistency and track progress and outcomes more effectively.
Use layers in Lucidchart to document and visualize both the as-is and to-be processes. Hotspots let you toggle between the layers so you can clearly see the differences between the two and easily present your documentation to others.
Benefits of analyzing your as-is process
The main advantage of as-is process analysis is creating a solid foundation in an organization's processes. As-is analysis allows a business to evaluate the current state of its processes and identify opportunities for improvement.
Without this fundamental information, it is difficult to manage and improve processes. In other words, if you don't know where you're starting from, you'll have a hard time getting to where you want to be.
By conducting current state and future state process reports, businesses can also expect to:
Align operations with the business strategy.
Improve process communication and training.
Increase operational efficiency.
Increase control and consistency across the organization.
Gain a competitive advantage.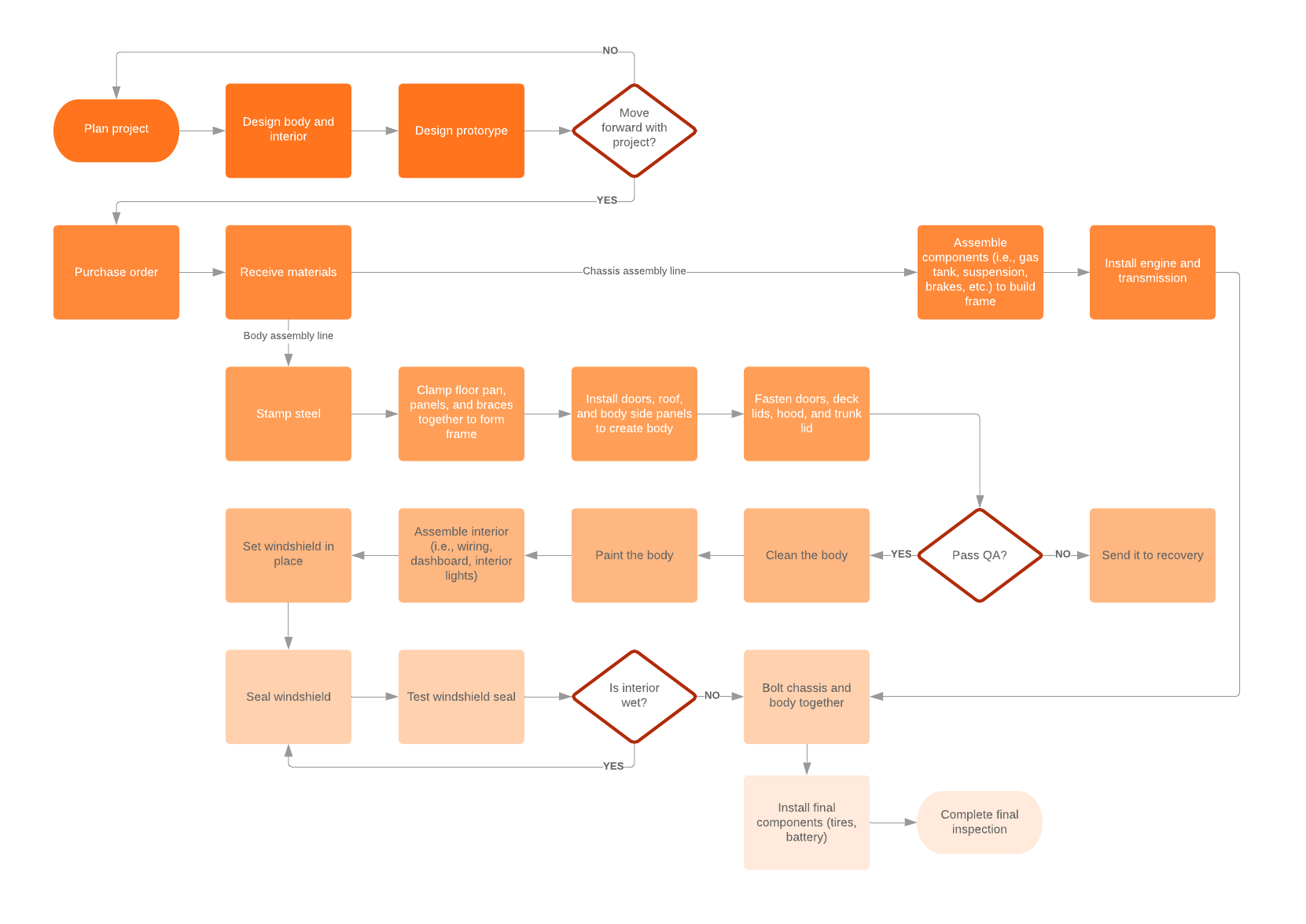 Steps of as-is process analysis
As-is process analysis consists of three primary phases: research, document, and analysis.
1. Research
For a full current state analysis of a business, you'll need to get an overview of the company's main products and activities.
Start by compiling a list of all products and services to get a clear outline of the business's value chain. Then, identify all processes that the company uses to generate those products and services at each level and order them chronologically. (Some processes may occur in parallel.)
Be sure to note when each process starts and ends and identify which teams or individuals are involved in (or responsible for) those processes.
Higher-level stakeholders and managers can help you with the broad outlines, but you'll need to connect with the people directly performing and overseeing each individual process to create a full and accurate report.
Take a look at a few of the ways you can collect the information you will need:
Personal interviews
Interview stakeholders who perform each process as well as the managers or other subject matter experts involved in the process. Personal reports can confirm processes that are working well (or not) and illuminate steps in the process that you might not otherwise be aware of.
However, while personal interviews are valuable, interview multiple people (where possible) to ensure a more complete picture of the process. Be careful not to make conclusions based solely on any one person's report.
Direct observation
In addition to interviewing the people on the ground, take time to directly observe processes in action. Take note of the people involved at each step, as well as any systemic support functions and resources available and/or utilized.
Surveys
Send surveys or questionnaires to process participants to collect formal written responses. Surveys allow you to ask specific questions that you may not have found answers to from observation or interviews.
Surveys also give you the opportunity to get feedback and answers from participants to questions that arose during other information-collecting tactics (like observation).
Group meetings
Finally, consider holding a group meeting of relevant stakeholders to outline the processes and confirm previous findings with process participants.
The goal is to meet several times to document the process together. Schedule these meetings after you conclude other research (e.g., interviews and observation) so you can outline everything you've learned and then collaborate with participants to identify any gaps and confirm your findings.
2. Document
Once you've collected the process information, you'll need to document it clearly in a process map.
Most process managers use the Business Process Model and Notation (also known as BPMN) to diagram their current state processes. BPMN is the standard process modeling system designed to streamline process documentation and make it easy for all stakeholders to understand. Industry best practice defaults to the current BPMN 2.0 process notation.
Lucidchart makes it easy to apply BPMN 2.0 methodology with its BPMN shapes library. Simply drag and drop the shapes onto your document and format as needed.
Use this guide for a refresher on how to use BPMN 2.0 standard notation and symbols.
Learn more
While BPMN is a popular process diagram, your processes can also be outlined in other types of diagrams, whether you need to outline DevOps process flows, design your ITIL/ITSM processes, create account maps, or visualize your customer's journey.
No matter your process or diagram type, at its core, your as-is process map should document all process inputs, systemic support functions, detailed descriptions on performing the process, and all process outputs.
3. Identify gaps, bottlenecks, and weaknesses
Before you build a future state diagram, you need to take a hard look at your current state. Analyze your current processes and look for the following:
Bottlenecks
Determine where there might be stalls in your processes and what's causing them. A bottleneck might look like too many meetings or too many people involved in an approval process.
Gaps
Look for potential gaps in your process that hinder your desired performance/outcome. For example, you may need to add another step in your process or even hire another person.
Weaknesses
You might have the right process in place, but look for weaknesses in your existing process. For example, maybe you could afford better communication and handoffs.
Discover more ways to streamline your processes.
Learn how
After you identify where your as-is process is lacking, you can then start to plan your to-be states and discover how you can improve your processes. You can use Lucidchart hotspots and layers to plan and toggle between your current and future states, so it's easy to tell what changes are needed and how to achieve your to-be process.
Lucidchart simplifies how you build and track documentation, ensuring a smooth transition from as-is process mapping to to-be management.
 
Document your business processes with one of our templates and start improving your processes today!
Learn how