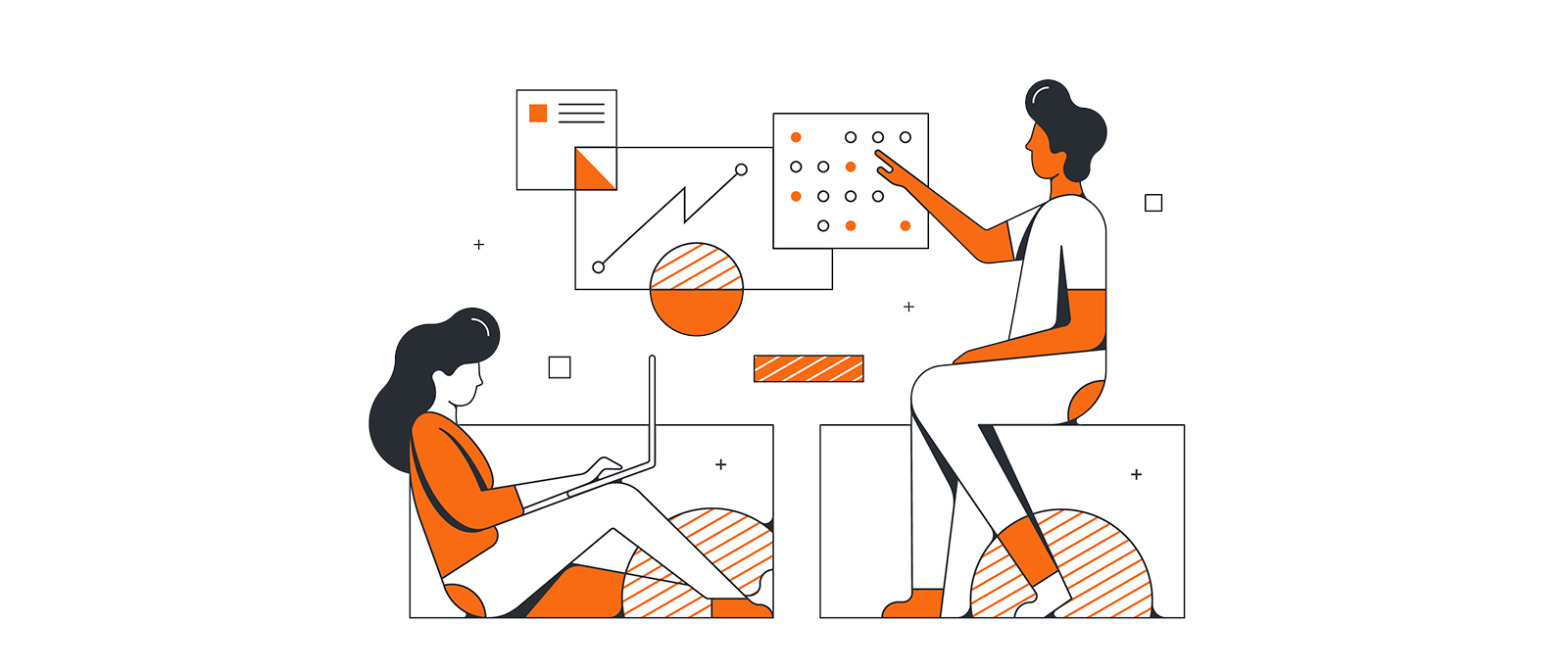 How to keep processes efficient across hybrid teams
Reading time: about 7 min
Years ago, many managers balked at the idea of dispersed or hybrid teams. The dominant sentiment was that employees must be onsite to monitor productivity, foster effective collaboration, and ensure that everyone stayed on the same page. 
The pandemic effectively upended that all-or-nothing mentality and proved that business continuity is not necessarily dependent on everyone being in the same place. Sure, some companies struggled to adapt to remote work. Still, companies that made it work discovered managing hybrid teams is not only doable—it can uncover huge benefits for the entire organization, including more diverse workforces, better work-life balance for employees that lead to improved engagement and longevity, and cost savings in the form of commute benefits and office space rental fees. 
Of course, making sure that team members have the resources they need and are comfortable communicating with other teams is vital to ensure processes are efficient and projects get completed. Leading a team that's dispersed across multiple places can create a unique set of management challenges. However, by establishing expectations and holding teams accountable, hybrid teams can work efficiently together. 
Companies that are intentional about providing resources and tools to encourage distributed teams will help prevent lapses in productivity and engagement and continue to see success and improvement. 
Setting expectations and accountability for hybrid teams
A hybrid team refers to a working model where some employees work remotely while others work in the office. As many teams have been given more flexibility within the past year to choose their work environment, it has pushed project managers and those who hold management positions, to find ways to close the communication gap and ensure processes are carried out effectively. 
4 tips for managing a hybrid model
The key to managing a hybrid team is to make sure employees are focused on the right objectives and understand how their work contributes to the company. Those two pieces of information are the foundation for keeping teams engaged and aligned. Beyond that, here are a few actionable tips to help ensure your hybrid teams move forward in the right direction.
Foster a remote-first culture
Many companies across the globe are now 100% remote or remote-first—and proud of it. For example, Zillow, Twitter, and Spotify have taken their workforces to hybrid or fully remote environments to take advantage of the benefits. A recent Accenture study found that hybrid models are used by 63% of high-growth companies, and according to a recent Mercer study, 94% of employers say productivity has remained the same or increased compared to pre-pandemic levels.
You can foster a remote-first culture by ensuring that the technology and processes are in place to accommodate onsite and remote workers. For example, placing key objectives, project plans, and assignments in a virtual collaboration space ensures a single source of truth for the whole team. Teams can easily access this information no matter where they are.
Check out these tools for remote collaboration.
Learn more
Employees also need to feel that they can access managers, team members, and essential information when they need to. That kind of dependability helps remote workers feel fully supported and engaged, and it's a signal that the company expects remote and onsite teams to contribute equally.
Trust your employees to fulfill expectations
If the last year taught us anything, it's that direct, visual managerial oversight is not imperative to productivity or business success. The hybrid model, however, does require more trust between managers and employees.
Many managers are accustomed to "just stopping by the desk" to ensure employees are working, focused, and on task. With hybrid teams, impromptu check-ins are less feasible, and you don't have the benefit of seeing exactly what someone is doing at any given moment. It's also likely that some employees have shifted when they work, and so you may see productivity ebb and flow at different points in the day. 
Fortunately, there are other signals you can use to determine employee engagement and ensure the work is getting done. Pay attention to performance indicators such as if employees are meeting deadlines. Are they responsive to inquiries from you and other team members? Is the quality of work as expected? These aspects of employee performance can help you determine if team members are meeting expectations while still giving them space to fulfill expectations independently.
Regularly offer and solicit feedback
While the impromptu check-ins may be a thing of the past, regular 1:1s are now even more important in a hybrid work environment. Commit to spending time each week with direct reports individually so that there is dedicated space for offering and receiving feedback. This time allows you to emphasize team goals, highlight individual performance, and clarify expectations. It's an opportunity for team members to raise any questions they may have about work or key objectives and to identify places where they may need additional support from you.
Provide opportunities for social connection
Engaged employees are happy employees. While employee happy hours or team-building activities are more difficult to pull off among hybrid teams, collaborative technologies make it easier to host events that keep your teams acquainted with each other and provide welcome respites from work. A couple of pro tips, though: Make sure whatever activity or event you host provides time for actual connection—Zoom-weary employees won't find much fun in yet another video meeting. Also, whenever possible, host these events during normal working hours. 
How to keep processes more efficient across hybrid teams
With hybrid environments, there's a risk that efficiency will go down as some employees return to the office and processes adjust accordingly. But there are some things you can do to ensure continuity as your team makes the switch.
Invest in technology 
Technology is your best friend in a hybrid work environment because it can align teams from all locations quickly and efficiently. Take, for example, visual collaboration tools. Features such as project management timelines, virtual whiteboards, and communication maps can help steer teams on project priority and keep them accountable on deadlines. They can do the heavy lifting of keeping teams on track throughout the arc of the project.
Formalize collaboration policies 
Team members both onsite and remote will feel much more oriented during the shift to hybrid if they know there is a plan for which team members to reach out to, how to reach them, and which platforms are available for outreach. A communication plan can help you map out these details, and it can also help you think through any adjustments you may need to make to the collaboration process as your team transitions to hybrid.
Build a strong team culture 
One of the benefits of remote-only was that everyone was remote, so the team culture accommodated remote workers. As some team members go back into the office, teams will need to be intentional about looping in remote coworkers on developments and collaborations that happen onsite. 
Team-building exercises should be constructed to be easily accessible by remote teams to ensure they can contribute and benefit fully from the experience. Managers should schedule something even as simple as a team lunch in advance to allow remote team members to join in person if desired.
Ensure equal opportunities
As a manager, it might be tempting to locate all of your major events onsite. But that can sometimes limit the opportunities that your remote team members have to showcase their work, take advantage of training, or learn from other team members. Try to maintain a virtual component to whatever major presentations, events, and learning sessions you organize so that all team members can benefit from the experience.
Set expectations and create accountability 
Businesses, and their goals, constantly evolve. As a manager, it's your responsibility to communicate those goals to team members and ensure they are on track to meet them. With a hybrid workforce, it's best to take a remote-first approach to set expectations and establish accountability. 
You can start by employing virtual tools and platforms that can serve as a single source of truth for your team objectives and a convenient channel for measuring accountability. From there, leverage 1:1 meetings and team events to solicit feedback on what support the team needs to continue to work well together.
The benefit we have in the Next Normal is that we don't have to transition our workforce overnight. Use the time you have to think through how your processes, communication, and collaboration need to change to ensure your teams make a smooth transition. With a remote-first approach, you can help your teams maintain their productivity gains while adjusting to a post-pandemic world.
About Lucidchart
Lucidchart is the intelligent diagramming application that empowers teams to clarify complexity, align their insights, and build the future—faster. With this intuitive, cloud-based solution, everyone can work visually and collaborate in real time while building flowcharts, mockups, UML diagrams, and more.
The most popular online Visio alternative, Lucidchart is utilized in over 180 countries by millions of users, from sales managers mapping out target organizations to IT directors visualizing their network infrastructure.