How to Use Lucidchart More Effectively in HR
Reading time: about 6 min
Posted by: Lucid Content Team
Paige Allen, a Lucidchart Product Pro who has spent over 1,500 hours working in Lucidchart, is an expert at helping professionals manage the most important part of an organization: its people. Paige hosted a webinar on using Lucidchart for documenting and mapping various aspects of HR, and her advice was so compelling that we'd be remiss if we didn't share it once more in our blog.
See our recap below or watch the full webinar on-demand to start leverage Lucidchart for all of your HR needs.
Improve and align your HR processes
Whether you're trying to improve your onboarding process or establish a new campus recruiting strategy, flowcharts can help you easily design, execute, and iterate on these workflows. By documenting your HR processes, you can have hiring managers and co-workers give their feedback on how everything's working (because sometimes how processes are supposed to work and how they're actually working are two entirely different scenarios).
To develop your own HR process flowcharts:
Drop shapes into your diagram, and use auto-prompts to add arrows and additional shapes to create a workflow. Don't forget that you can customize shape colors, line styles, and fonts, which can help you delineate roles and responsibilities. 
Hold down Alt + Option to quickly duplicate shapes in your chart.
Add container shapes or swimlanes to create columns showing different stages or participants within your process.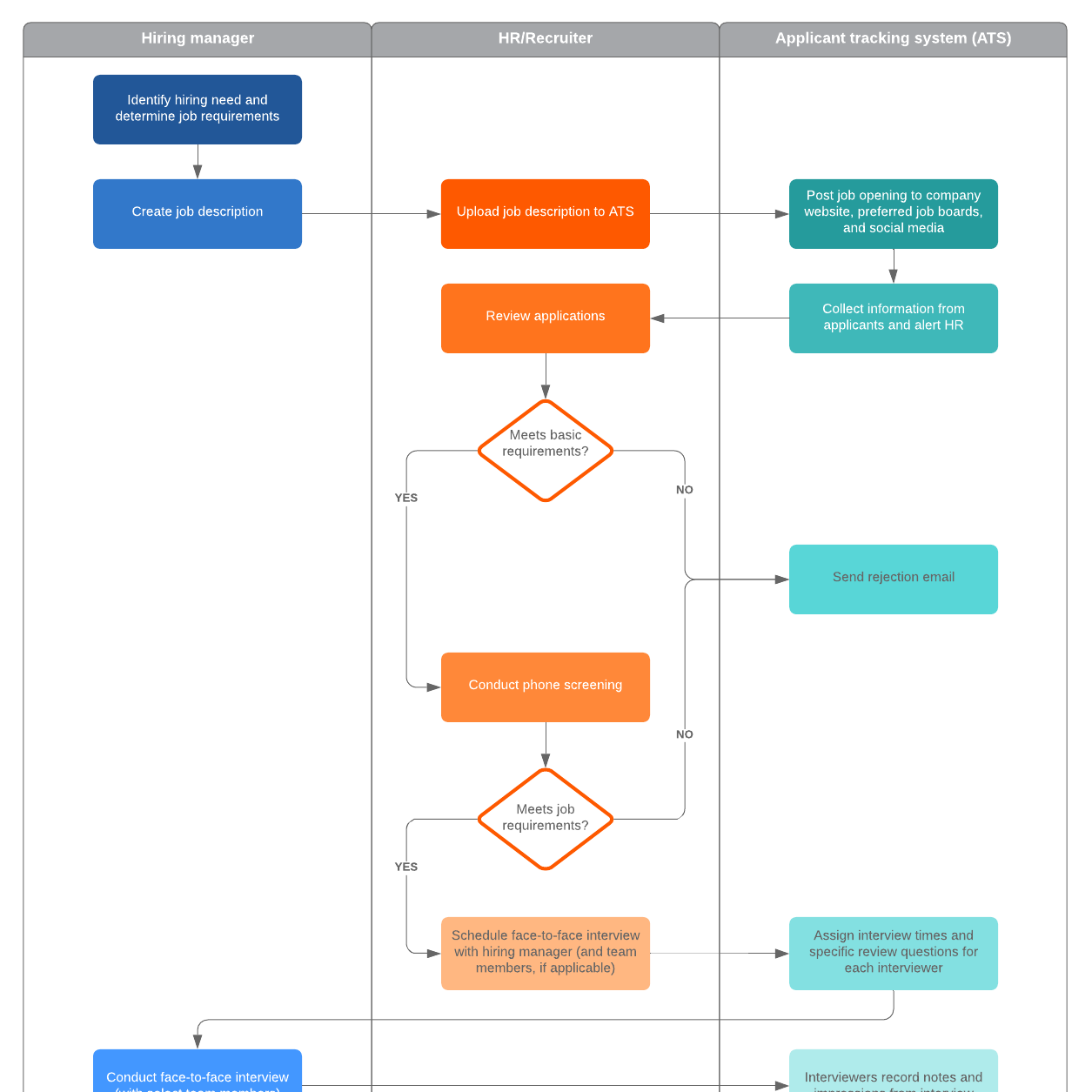 Get started even faster with this recruitment process flowchart or other options from our template gallery.
Open the template
Automate org charts
Org charts are a useful tool to help you understand the current state of your organization, plan for future hires, and place the right people with the right skill sets on the right teams.
If you're used to manually creating org charts and then manually updating them every time there's a change in your organization, you know what a giant drain on time that can be. Plus, with org charts created manually, there are bound to be various outdated versions shared across the organization—after all, the second there's a new hire, the old org chart is obsolete. 
With Lucidchart, org charts can be made automatically when you import employee data from BambooHR, a Google Sheets spreadsheet, an Excel document, or a CSV. Then these documents can be easily updated and easily accessed by everyone.
To automatically build an org chart:
Add the org chart shape library (press M to open the shape manager).
Select "Import data" and choose the data source you'll be importing from.
Follow the prompts to import the employee table (it will ask whether you identify supervisors by ID or title, etc.). You'll have the option to separate by departments or create one org chart for the entire organization.
Change the layout and spacing to your needs and customize shapes, images, and colors. You'll also be able to select which employee fields are shown and in which order they're displayed.
Drag and drop shapes to change the order of individuals and easily add new individuals to your org chart as positions change.
Once you have generated your org chart, you can group your teams by skill set, location, or other criteria to assign people where they are needed most. See how it works with the video tutorial below.
Lucidchart also allows HR professionals and people managers to overlay org charts with employee metrics so they can evaluate pay disparity, track employee retention, and make other data-driven decisions. Follow these steps:
In the org chart data panel, click the Manage Data icon.
Select "Overlay New Data Set."
Follow the prompts to import a new data set and merge it with your existing data set.
With conditional formatting and icon sets, you can quickly highlight and identify trends within your organization.
Create a single source of truth
Paperwork is a giant part of HR, and sometimes the amount of data that needs to be collected at various touchpoints in the process is overwhelming. With Lucidchart, you can make one flowchart for the entire department, and then link to the appropriate documents and break down each process into greater detail. 
To link to a document:
Connect your shape to an external resource. Just right-click the shape, select Add Action > Web, and link to an external URL.
To link to a different page that details a step in the process:
Right-click the shape, select Add Action > Page, and select the page you want to link to. 
Make clickable shapes look clickable. Add a finger icon and a drop shadow to transform clickable objects into "buttons" and convey their interactivity to the viewer.
To share your document:
Since Lucidchart works across all platforms and all browsers, it's super easy to share your single source of truth. Hit the orange "Share" button, and enter the email addresses of the people with whom you'd like to share your chart, granting them edit, comment, or view-only access.
Don't worry if you need to share the process with someone who doesn't have a Lucidchart license. Select File > Publish to create an interactive diagram, a PDF, or just a selected selection of the process. You can also easily add Lucidchart to Confluence or any other internal wiki with our integrations.
Create a curated presentation
There are so many incredible ideas you'll hear from your team during meetings or brainstorms, but it's difficult to gather those ideas and then easily share them along with important processes and org charts—until now. Now, you can create a presentation within Lucidchart and have the ability to share many different visuals in a single place. You can even curate the visuals so your viewer sees exactly what you want, when you want.
Brainstorm more efficiently
Lucidchart's built-in mind map feature is handy for arranging ideas and displaying them cleanly. Add the mind map shape library, drag out a starting shape, and use the keyboard shortcuts to fill in the mind map with compelling ideas.
You and your team can also take advantage of the sticky notes shape library. Different team members can drag out different-colored sticky notes or quickly convert a list into sticky notes so your team can consider and group everyone's thoughts.
Present it
Build a presentation to display several processes in one space.
Select the document you'd like to share.
Choose the Slides icon to the right of the editor, and click "+Slide" to divide content into steps of your presentation.
Turn off tiling, grid maps, and line connections to control how and what your viewer will see.
Layer it
Show the current state and future state of org structures without clicking back and forth between PDFs. Lucidchart allows you to add layers to an org chart that can show the progression of your organization over time.
In each layer, add the additional positions that will augment the org at a future date. Now, you can click through each layer to see your current state and your future state. You can show, hide, or toggle layers and select which layers are shown throughout your presentation.
With Lucidchart, HR professionals can now optimize organizational structure, create consistent processes for hiring, onboarding, and various other responsibilities, and easily share this information within a single source of truth. Jump into Lucidchart and shape your business now.
Start diagramming with Lucidchart today—try it for free!
Sign up free
About Lucidchart
Lucidchart is the intelligent diagramming application that empowers teams to clarify complexity, align their insights, and build the future—faster. With this intuitive, cloud-based solution, everyone can work visually and collaborate in real time while building flowcharts, mockups, UML diagrams, and more.
The most popular online Visio alternative, Lucidchart is utilized in over 180 countries by millions of users, from sales managers mapping out target organizations to IT directors visualizing their network infrastructure.