How to Write a Winning Job Description
Lucid Content Team
Reading time: about 7 min
Hiring the perfect candidate is a tricky prospect from start to finish. Out of all the steps to the hiring process, though, the job description process is most often taken for granted. And that's a shame because, while the interviewing process can give you a lot of information about the candidate is critical and the onboarding process is crucial to decrease turnover, it's impossible to find the right person for the job if your job description isn't attracting good candidates in the first place. There's definitely an art to the job description creation, and it may take some practice to get right.
Here's how to write a job description that will get the right candidates in the door so you can find your perfect job match.
Who writes job descriptions?
While it may seem a foregone conclusion that someone in HR is responsible for writing job descriptions, that's only part of the truth.
To create a job description, the HR department (most likely one of its recruiters) needs to consult with the supervisor or manager of the role that needs to be fulfilled, and they may also need to consult the team that includes this role to better understand the team's needs.
HR often won't be as familiar with the intricacies of the job. For instance, many technical positions have highly specialized needs, and unless the recruiter or other HR professional is highly familiar with coding languages or similar job requirements, they'll need to ask for clarification.
If a job description for this role already exists, it's still important to consult the hiring manager and team involved to ensure that the job description still accurately reflect what is expected from this employee.
Steps in the job description process
Developing a job description requires more than just listing the role's responsibilities. A solid job description describes the role, including what's expected of the applicant and how the role fits into the hierarchy of the company, and tells recruiters what they should be looking for in a new hire. Here's how to get started:
1. Perform a job analysis
Do your research. Analyze what job descriptions for similar roles in other companies include and what they don't include. Out of the job descriptions you research, notice which ones stand out and which ones seem most compelling. Talk to the hiring manager to get as much info as possible on the job's duties, and if needed, talk to other employees who know about the job and/or would be working with the new hire.
2. Choose the correct job title
This step sounds easier than it is: Choose the wrong title, and you'll attract the wrong candidates. Look through the descriptions of similar job titles and see if the job description sounds like the role you're attempting to fill.
3. Enumerate required skills and competencies
Make a bulleted list of things that are absolute requirements for applicants to have and a list of points that are "nice to haves." Then, define what success would look like in this particular position. In other words, how would your ideal candidate succeed? It's important to write with this goal of success in mind and to clearly define it both in the job description and throughout the entire recruitment process.
4. Clarify reporting lines
This clarification works in conjunction with the job title to eliminate any confusion about the responsibilities of the role and to whom the new hire would report. It helps separate senior positions from entry-level ones. (If you're unsure what your reporting lines are, Lucidchart can help you create an org chart by importing employee data.) Also, describe which teams the new hire would be required to work with so applicants know which relationships they will be expected to develop.
What makes a good job description?
There's an art to writing a good job description. Well-written job descriptions need to be specific, but not too specific, and make the company seem appealing. In fact, the entire job description is a reflection of your company as a whole. If it's too silly, candidates won't take you seriously. If it's too dull, candidates are likely to see the company as rigid and boring. Follow these guidelines on what to include as part of your job description.
Give it a specific title. Don't rely on internal lingo or ridiculous-sounding titles. Instead, make the job title clear, concise, and industry standard. Ambiguity here is just a waste of everyone's time, so be sure you're specific.
Start with a summary. This summary should be an elevator pitch giving a concise, compelling overview of the job as a whole. This is your first step to weeding out candidates that are definitely not a good fit while inspiring other candidates to keep reading.
Show off your company. You're not just hiring someone: You're also convincing the right person why they should come work for you. This is your chance to tell what your company's vision is and what working at your company is like. You want your job candidate to have a feel for your company before stepping foot in the building.
Outline core responsibilities. This doesn't need to be an exhaustive list of every single thing your candidate will do on a daily basis (obviously checking email is going to be a part of the job), but it will need to be detailed enough for your candidate to know if he or she can adequately fulfill the job requirements. This is your chance to add in responsibilities that may be unique to the company. For instance, the definition of a "content manager" or an "editor" varies greatly company to company; detail what the job entails in your company.
Show where the position fits. Your candidates need to know how junior or senior a role is and if it matches their experience level. But aside from that, knowing where the job fits into the organization as a whole helps your candidates picture a career path and know how this job will impact the company as a whole.
List skills. Basic descriptions include experience, education, certifications, and technical skills. But you may also want to include "soft skills" (like "creative mindset" or "great at multitasking") into the description. It's important not to go overboard here because—aside from non-negotiable skills—hitting every single requirement in a list truly doesn't matter as much as finding a candidate who fits your company culture, is talented and eager to learn, and is a true asset to the company.
Avoid gender-specific language. In an effort to be quirky, many job descriptions rely on adjectives like "rockstar" or "ninja" or "wizard." Please don't. Not only are these descriptions tired, they also send a subtle message that the company is skewed toward hiring gender-specific candidates. Even words like "active" and "headstrong" attract more male candidates. For a list of gender-biased vocabulary, please refer to this list.
Should a job description include a specific salary?
Listing a salary on the job description is a quick way to weed out candidates. If this is an entry-level job that only pays a modest wage, it may be worthwhile to note that in the description to avoid candidates with more experience and greater wage requirements.
However, be careful when listing salaries on job descriptions: Current employees will know approximately how much money the new employee makes, and that could lead to resentment. Plus, if you find the perfect candidate but he currently makes a higher salary than is advertised in your job description, you may be able to negotiate with upper management to give the candidate a wage that is greater than or equal to what the candidate currently makes.
What happens after the job description is posted?
Congratulations! Now you know how to develop a job description and you can start looking at candidates. The recruitment process is quite involved, but we have blogs to help with every step. If you're new to the recruitment process, we recommend developing a recruitment process flowchart (see our step-by-step directions).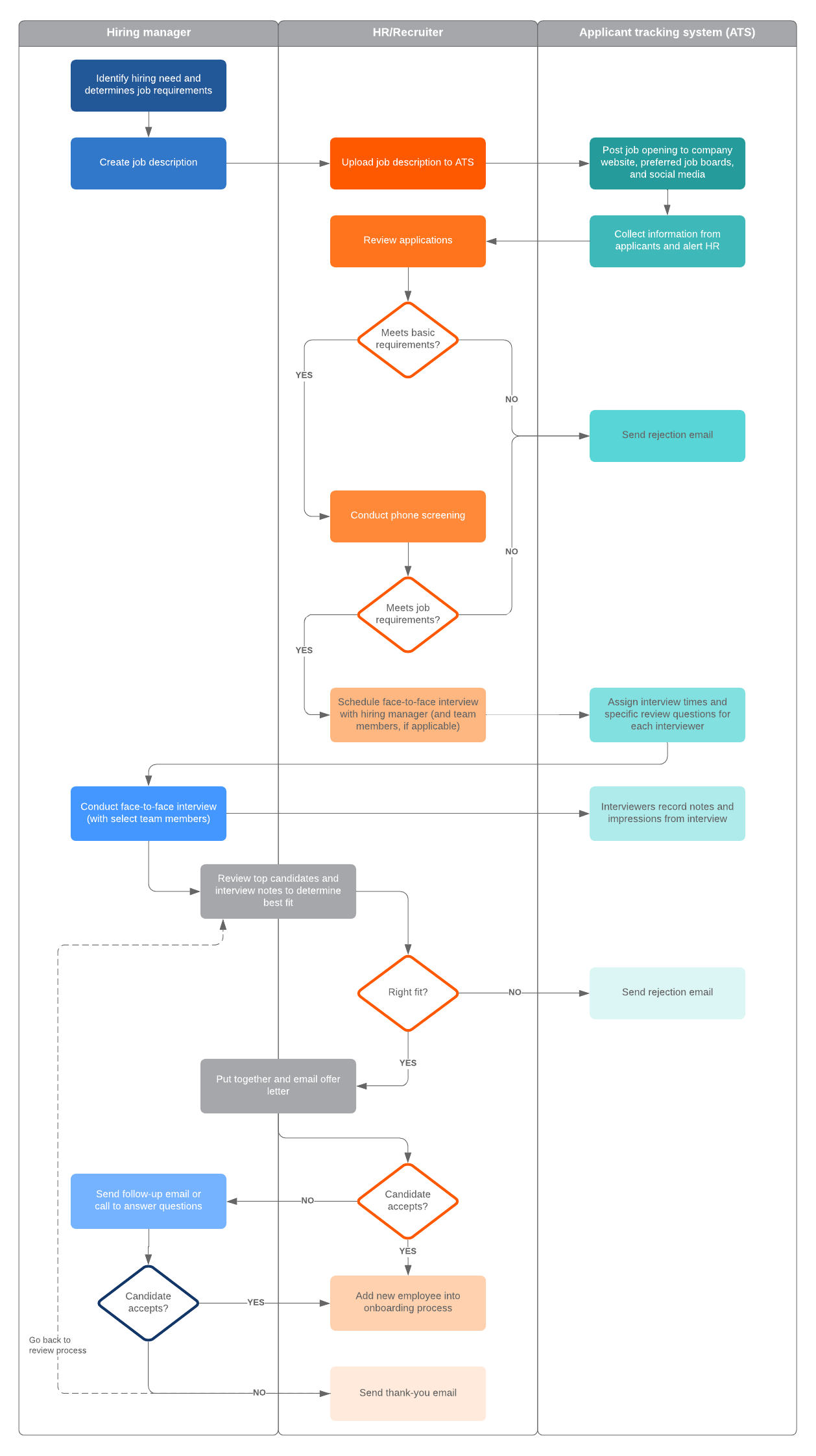 You'll know you've written a great job description when you start attracting applicants who fit the criteria of the job responsibilities as well as the culture of your company. And you'll know you've really mastered the job description when you get so many great candidates applying, you want to hire them all.
Lucidchart
Lucidchart, a cloud-based intelligent diagramming application, is a core component of Lucid Software's Visual Collaboration Suite. This intuitive, cloud-based solution empowers teams to collaborate in real-time to build flowcharts, mockups, UML diagrams, customer journey maps, and more. Lucidchart propels teams forward to build the future faster. Lucid is proud to serve top businesses around the world, including customers such as Google, GE, and NBC Universal, and 99% of the Fortune 500. Lucid partners with industry leaders, including Google, Atlassian, and Microsoft. Since its founding, Lucid has received numerous awards for its products, business, and workplace culture. For more information, visit lucidchart.com.
Bring your bright ideas to life.