How to use Lucidchart for remote sprint planning
Lucid Content Team
Reading time: about 4 min
With recent events mandating social distancing on a global scale, remote work has seen a dramatic surge, leaving many organizations scrambling to maintain productivity. 
Even before social distancing, however, remote work has experienced a steady incline in the advent of personal computers, Wi-Fi, and collaborative platforms. According to the Federal Reserve, the percentage of the American workforce working from home has tripled since 2005. 
With the right processes in place, your team can make the switch to remote work without missing a beat in your sprint planning. Here are our recommendations for using Lucidchart to keep your team aligned and productive, whether you're working from home temporarily or looking for a permanent remote solution.
Tips for remote sprint planning in Lucidchart
Lucidchart makes it possible for your team to complete each phase of your two-week sprint remotely. With real-time updates, in-editor chat, and @mention comments, your team can plan and carry out your sprint as needed. Here's how to get started.
Map out task dependencies using imported data
Before you begin your sprint, you can map out dependencies to avoid bottlenecks and ensure that you assign tasks to the right people at the right time. Within our visual workspace, you can even import data from Jira or other project management tools to quickly capture all the work that needs to be completed.
With our data linking feature, you can easily add your data to specific shapes, giving you the flexibility to play around with various what-if scenarios. With this view, you can better align your product and engineering teams on priorities and clarify task ownership.
We recommend the following formatting for mapping task dependencies, but you can easily adapt these suggestions based on your team's needs:
Solid lines are used for strict dependencies, with dotted lines for potential dependency.
The shape outline depicts backend work vs. client-facing work or both. You may want to give priority to certain client-facing items based on client needs.
Conditional formatting and icon sets show task status, resolved/closed tickets, and task priority.
Fill colors could also depict task status (not shown in example). Yellow indicates "in progress" tasks, grey indicates "closed/resolved" tasks, dark green indicates "spikes," and light green indicates "ready for development."
Create a high-level timeline to see your plans at a glance
Timelines make it easy to get a quick, high-level overview of your sprint. In Lucidchart, use swimlanes to separate sprints and teams, and color-code different epics/stories to differentiate between various groups. 
With your tasks and sub-tasks mapped out according to deadline and task owner, your entire team and any stakeholders can monitor past and future deadlines at a glance. Keep your timeline updated with completed tasks and current deadlines to ensure that your team is up to speed on what's due and when.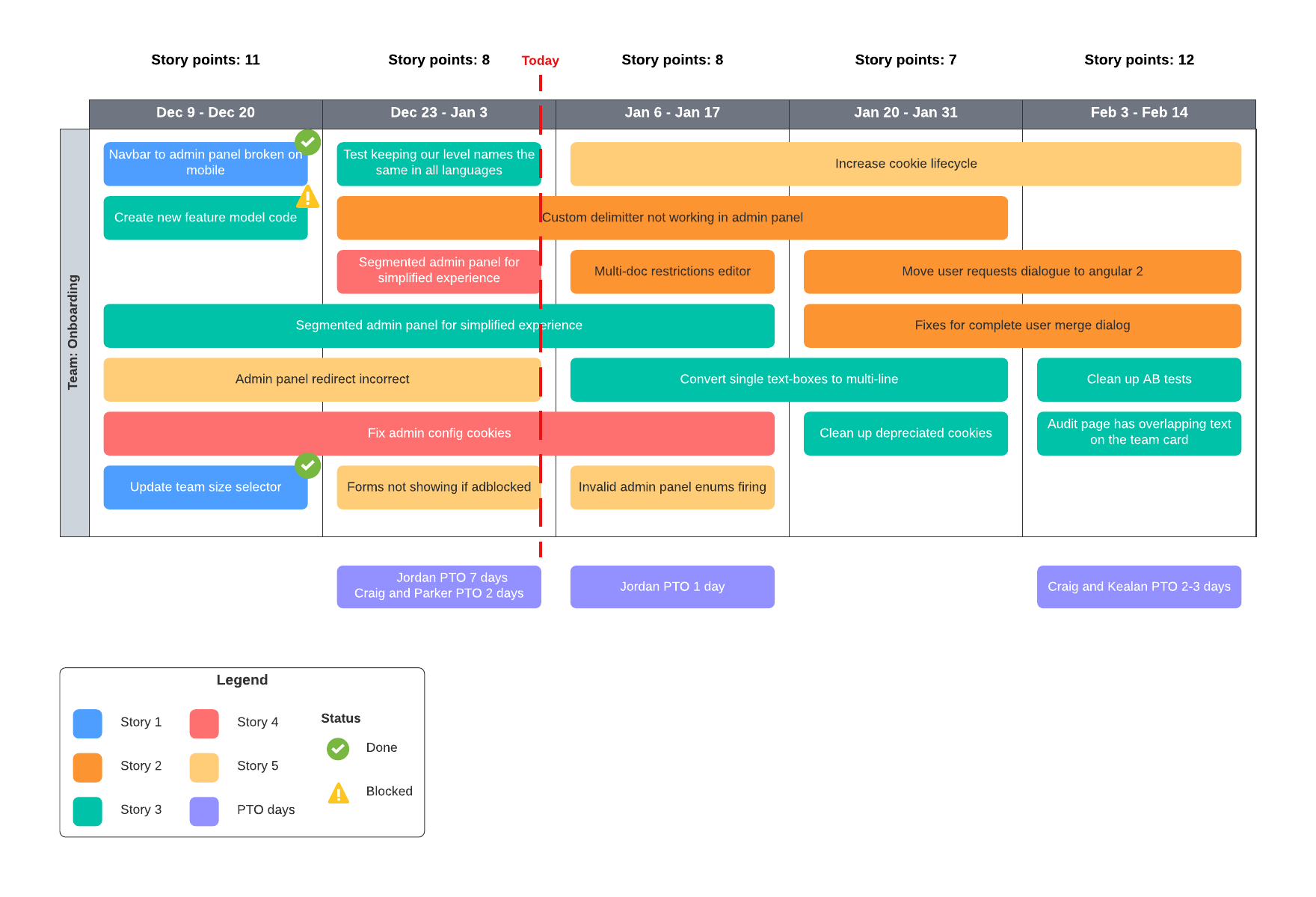 Use Smart Containers as a sprint board to assign tasks and track progress
Smart Containers are ideal for taking larger strategies and breaking them down into smaller, trackable tasks. Rather than relegating your sprint information to a static spreadsheet, Smart Containers let you visualize and organize your data in an easy-to-manage environment.
Get the most out of Smart Containers with these tips:
Label your containers according to sprints, and then drag your imported tasks into the appropriate sprint. With real-time collaboration in Lucidchart, you can invite team members to join the document and help you move and assign tasks.

Use conditional formatting within your Smart Containers to prioritize tasks in different sprints.

Set up your Smart Containers as a sprint board to show each team member's progress. Using Dynamic Shapes and linked data, you can even set up a mini dashboard for a quick glance at what work is completed. 
Assess what went well—or wrong—with a virtual sprint retrospective
Lucidchart is also the perfect digital whiteboarding solution for analyzing previous sprints. Choose from several templates based on sprint retrospective methods, such as the four L's, starfish, or stop/start/continue.
With sticky note import, team members can quickly type their thoughts into a list and generate sticky notes to drag into the various sections of the sprint retrospective.
Plan and track your sprint using Lucidchart
Lucidchart's diagramming features and real-time collaboration are ideal for facilitating effective sprint planning, no matter where your team is located. Log in (or sign up for a Lucidchart account if you haven't already) to keep your remote sprint planning on track with the web's most intuitive visual workspace.