How to design an org chart with new employees in mind [+course]
Reading time: about 3 min
Org charts are critical for the success of a business, and with Lucidchart, developing your own is a snap.
Org charts help everyone understand their own role within the company and how their reporting structure works, so employees know who needs to be informed of what. This can be especially helpful for new employees who are just joining your organization. Names, roles, and reporting structures all pose a significant challenge for a new employee. An org chart designed specifically for new employees quickly communicates the most helpful and important information at a glance. 
This blog post walks through a few key points from the Getting Started with Org Charts course in Lucid Training Labs. Let's dive into a few tips for creating org charts in Lucidchart that set up new employees for success.
Open the org chart side panel
Double-click on an existing org chart to reveal the org chart side panel. From the side panel, you can choose a shape style, employee fields, and more. 
Shape style: Choose a style from the toolbar. If you choose a style with a photo, you can easily upload a photo from the toolbar or point to its URL.
Employee fields: Choose which fields you'd like shown in each employee shape. Add or omit location, role, name, email address, employee ID, and other fields by checking or unchecking.
Add employee to the correct place in the org chart
Hover over an employee card while the org chart shape is highlighted, then click the + button under the person to whom the new employee will report. Double-click inside the new card to add the new employee's info. 
Add lines to show relationships 
To show an indirect report, double-click out of the org chart shape and back into the document. Add a line from the name of the report to the name of the person to whom they're reporting. Change the line style to dotted in the top toolbar. You can also change the outline color in the top toolbar. Feel free to use different lines to communicate exceptions for individuals in the org chart.
Add photos and contact info
Help new employees recognize team members in meetings or around the office by adding a photo. Double-click on the org chart, then expand the "shape style" menu and choose a style with a photo. Then double-click on the employee card and either upload a photo or point to a URL.
To add email addresses, select the whole org chart (make sure you can see the blue outline around the whole thing), then go to "Employee fields" in the right-hand side panel and check the "email" box. If any email addresses are missing from an employee card, double-click on the card and manually type the email.
To add more data to the employee card, just double-click inside the card and add any additional info by manually typing.
Want to customize your org charts further? Sign up for the rest of the course for videos, additional information, and hands-on activities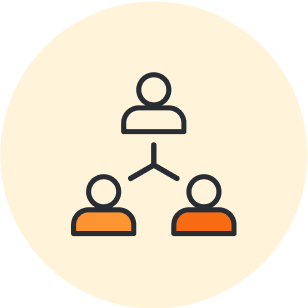 Sign up for the full "Getting Started with Org Charts" course. 
Register now
Lucidchart
Lucidchart, a cloud-based intelligent diagramming application, is a core component of Lucid Software's Visual Collaboration Suite. This intuitive, cloud-based solution empowers teams to collaborate in real-time to build flowcharts, mockups, UML diagrams, customer journey maps, and more. Lucidchart propels teams forward to build the future faster. Lucid is proud to serve top businesses around the world, including customers such as Google, GE, and NBC Universal, and 99% of the Fortune 500. Lucid partners with industry leaders, including Google, Atlassian, and Microsoft. Since its founding, Lucid has received numerous awards for its products, business, and workplace culture. For more information, visit lucidchart.com.
Bring your bright ideas to life.