Last week our product pro, Taylor Dolbin, impressed over a thousand users with an awesome Lucidchart training session. Initially, some attendees may have been slightly skeptical due to his youthful appearance:
However, Taylor quickly proved he really does know his stuff, and now he has a new fan base.
Whether you're a product manager mapping customer user flows, an HR manager building an org chart, or an engineer diagramming your AWS architecture, Taylor shared tons of tips and tricks for creating, collaborating on, and consuming diagrams in Lucidchart.
Before the webinar, he promised five hacks you didn't know you could do with Lucidchart. In case you missed them, we've got a quick recap here. But remember that, in order to become a product pro like Taylor, you'll want to watch the full webinar.
Hack #1: Break down your org chart.
If you've got a massive org chart that's overwhelming to look at, try breaking it into more manageable sections. Let's say you want to break it down by team. Import a CSV file to generate the org chart and choose "Page by: Manager." Lucidchart will automatically split your document into multiple pages titled by manager. Each page will contain a single team's org structure, making it easier to display and allowing you to visualize one team at a time. Lucidchart provides an easy way to import a complicated org chart and break it down the way you want to see it.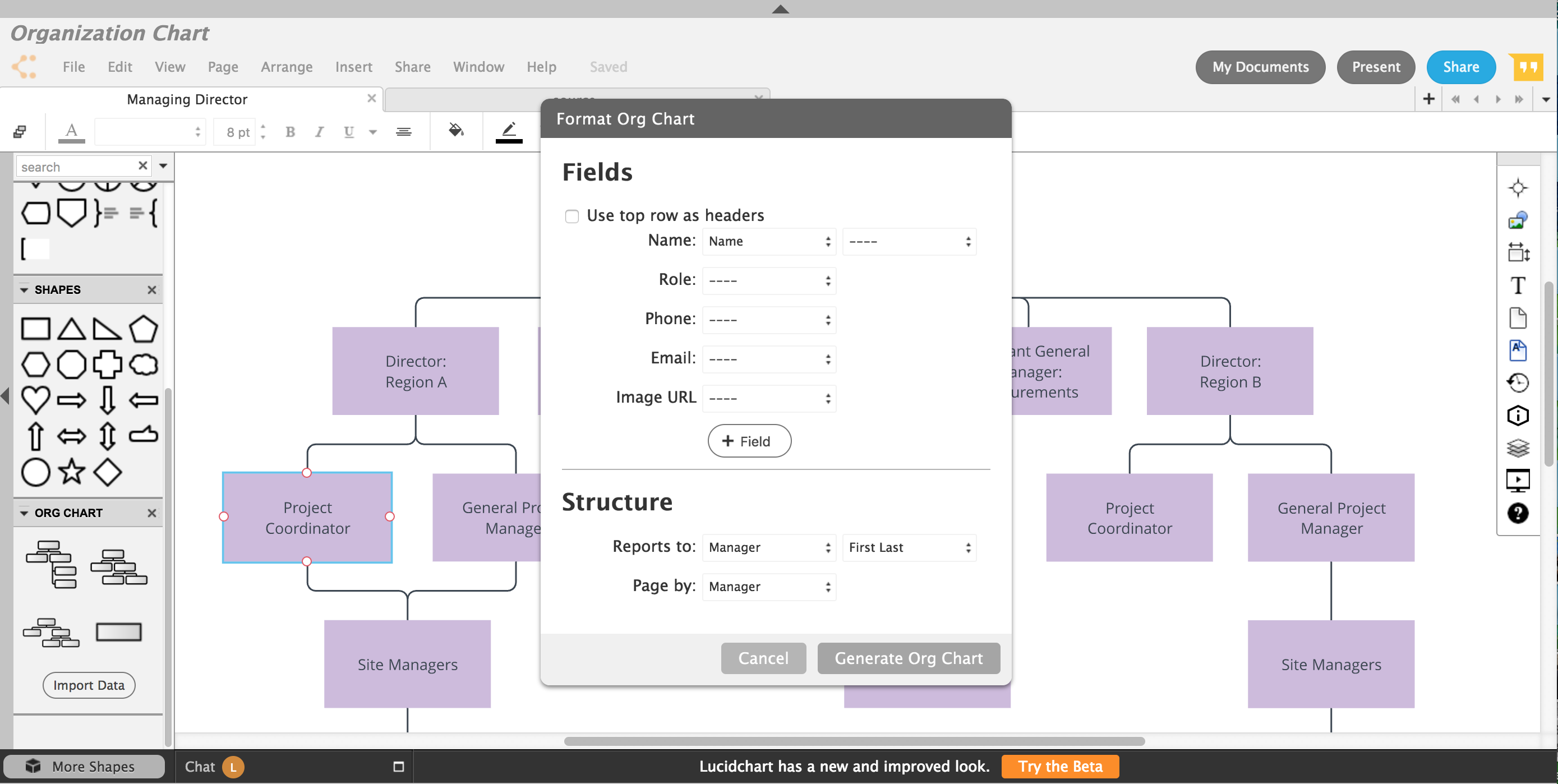 Hack #2: Edit your whole diagram at once.
Don't waste time formatting your diagram shape by shape. For example, say you have an org chart in which one of the boxes isn't quite large enough for the title name. You don't want that single box to be larger than all the others, but you also don't want to spend your afternoon resizing every single box. Simply select the entire diagram and then extend the entire selected area. All your boxes will enlarge at the same time so you maintain the sleek, uniform look. This hack doesn't just work on org charts—try it out on any diagram!
Hack #3: Stay in control with revision history.
When you have a whole team working on a document, your diagram is bound to be changing rapidly—sometimes for the better, and sometimes for the worse. Thanks to revision history, you're in control of your document even when you've invited others to collaborate.
By selecting the clock icon in the menu to the right of the canvas, you can access every single revision made to the document. When you click on a timestamp and the corresponding name, you'll see what your document looked like at that point in time. If your colleagues have gone a little too crazy and you need to get back to that selected diagram state, click the left icon in the bottom right-hand corner to revert your document back. Or if you are just curious about the direction a document has taken, click the right icon to create a new document from any desired revision point so you can compare two diagrams side by side and decide which you prefer.
Hack #4: Share via URL.
According to Taylor, one of the most powerful yet undiscovered features of Lucidchart is the Publish URL tool. Sometimes you need to share documents with people who (for some reason unbeknownst to us) don't have a Lucidchart account. When you open the Share menu, select "Publish" and then "Generate Link." You now have a live URL anyone can use to view a document without signing into Lucidchart.
Anyone with the URL can navigate all the pages of the document and bookmark it for future use. The best part is that whenever you make a change in Lucidchart, changes are live for those using the URL even before they refresh the page. This hack is an easy way to keep everyone involved and in the loop even while your document is constantly changing.
Hack #5: Draw a line.
It may sound simple, but Taylor gets a lot of questions on how to draw a line not connected to any boxes. Good news—this is the easiest hack of the bunch. Just press "L" on your keyboard, and then format your line as needed. Bonus hack: Make life easier by checking out all the other available hotkey references. Go to Help>Hotkey References.
Now you've got the scoop on Taylor's top hacks—time to implement them. Remember to go watch the full video for more tips on creating custom shape libraries, commenting, layers, hotspots, presentation mode, and more. And stay tuned for future live trainings!