The art of the seating chart: Perfecting classroom seating arrangements
Lucid Content Team
Reading time: about 7 min
Getting a new seating assignment as a student was always nerve-wracking. It determined how annoyed you'd be, how much you'd talk, and how much work you'd get done. The ponderous weight of your happiness hinged on where you sat. Now, as a teacher, classroom seating arrangements are less nerve-wracking and more headache-inducing. And, frankly, the stakes are higher: Implement the wrong seating arrangement, and you could potentially undermine your students' learning experience.
Making a classroom seating chart used to mean manually updating the paper layout you'd constructed, then reconfiguring every time a student added or left the class. But those days are over.
With Lucidchart, seating arrangements are easy to create and easy to update. Plus, you can experiment with different configurations in the software before implementing them in real life (because the less you have to drag desks around the room, the better). Read on for tips on how to select the best arrangement for your classroom.
What to consider
Keeping your students happy and productive in their seating arrangements in class is as delicate a task as keeping your wedding guests happy and non-combative in their seating arrangements at the reception. When you start creating your class seating chart, keep in mind:
Chaotic energy: Bill is a quiet student. So is Anna. But when the two of them sit next to each other, it's a volcanic nightmare. Using Lucidchart, it's easy to immediately see potential trouble and make adjustments.

Obstructions: Consider poles, weird angles, walls, your own desk placement, and anything else that may make it difficult for your students to see the whiteboard.

Comfort: Students all have different learning styles and abilities. Some may flourish in the back row, and some may flounder. Some may prefer sitting near a window, and some may consider it a distraction. Also, consider your own position. There may be students you need to keep a closer eye on, and they may need to be seated closer to your desk or to where you normally stand.

Height of student: Don't put a tall basketball player in front of a short student, forcing the smaller student to crane their neck to see the board.

Teaching style: If you prefer walking around the classroom as you teach, you may want to consider a cohort or group seating style. Or if you prefer being near the whiteboard, choose a seating arrangement that supports that.
The best seating arrangement is one that encourages your students' learning while also supporting your teaching style. It should make all students feel welcome, safe, and engaged.
Classroom layouts
We've come a long way from the rigid rows of English boarding schools. Take a look at a few examples of layouts and their benefits.
Cohorts
This seating arrangement works by grouping desks in even numbers, usually in fours. While this arrangement is great for supporting group projects and fostering better collaboration, you may want to steer clear if you have students who can't be trusted to stay on task when seated facing one another.
This type of seating arrangement may also make some students uncomfortable, as they are in close proximity to one another. On the other hand, you may introduce this seating arrangement by explaining that cohorts help simulate the typical office environment and that close collaboration is expected in most jobs, so if they can thrive in discomfort, your students will be able to thrive in most jobs. Use your best judgment. If you feel this cohort seating arrangement isn't working for your classroom, it's easy to try other seating arrangements using Lucidchart.
Best for:
High school or advanced middle school students
AP classes
Highly collaborative environments
U-shape
The U-shape is the most space-restrictive shape of seating, but it fosters a great sense of community. Though you can potentially have multiple rows in your U, adding multiple rows will leave some children facing the backs of other students, which detracts from the community feel.
The U-shape seating arrangement offers each seat full view of not only you but also every other student, which makes it the most equitable shape. Consider this seating arrangement if you incorporate many visuals into your lesson plans, like science experiments and demonstrations. You can also have your students sit in the middle of the U, with their backs to the desks, for show-and-tell and reading times. Because of its versatility, the U-shape is a particularly effective seating arrangement for elementary classrooms. 
Best for:
Small class sizes
Elementary and middle school students
Demonstrative teaching techniques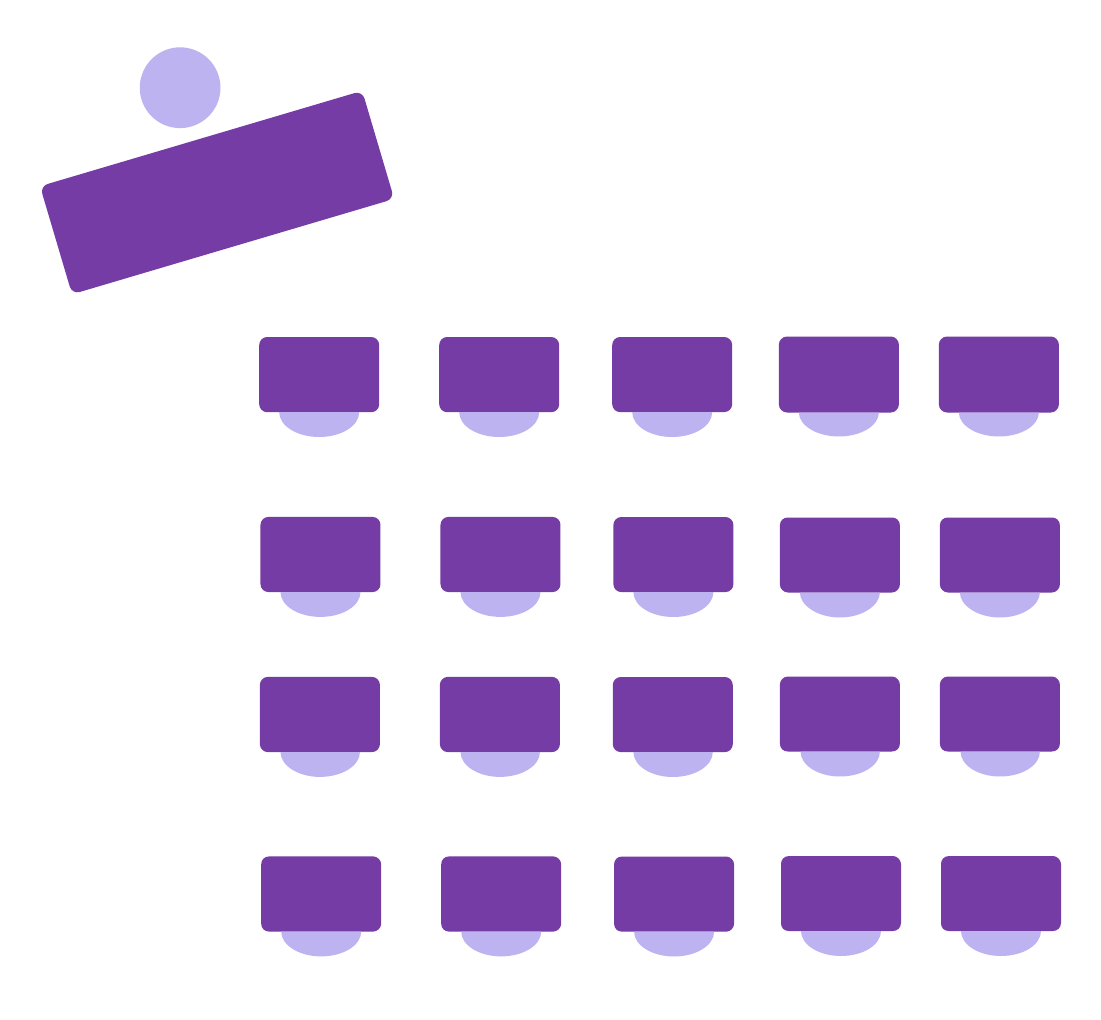 Traditional rows
The most time-honored of all classroom seating arrangements, traditional rows force focus to the front of the classroom, which is useful if you tend to spend most of your time using the whiteboard or projector.
However, not all seats are created equal. Students at the back of the class will have a more difficult time seeing the board, and they may be distracted by all the rows in front of them. It's also easier for students to cheat on tests, as it's easy to look over someone's shoulder. And it's also more difficult to have one-on-one time if you have to weave yourself between the rows.
Best for:
Large classrooms
All ages
Medium group involvement
Parallel rows facing each other
This classroom seating arrangement allows for an aisle down the rows, which is great if you prefer to get into the fray as you teach. However, it's awkward for students to see the whiteboard, as everyone has to angle their bodies to see the front of the room. Don't use this option if you often show movies or projections.
Best for:
Smaller classrooms
Middle and high schoolers
Fostering conversations and debates
Rows with an aisle down the middle
This variation on the traditional row setup allows you to have more involvement with and control over your class. It doesn't require as much space as a U shape, but if space is at a premium, you may have no choice but to go with rows. This option is also a good idea for computer-based teaching because you can easily provide power to all the desks while allowing you to individually teach each student.
Best for:
Computer classes
All ages
1-on-1 teaching
Using software to help
Manually creating and updating class seating charts is a chore. Save yourself time and frustration with Lucidchart's customizable seating chart templates for classrooms. You can experiment with different variations, quickly visualize the classroom, and make adjustments all in one digital canvas. It's also simple to link data about students, like names, attendance, grades, etc., so they're always accessible within the seating chart.
You can also easily share the seating chart with administrators or substitute teachers (otherwise your students may be stricken with a curious seating chart-specific amnesia). With Lucidchart, updating the seating chart is as easy as a few clicks.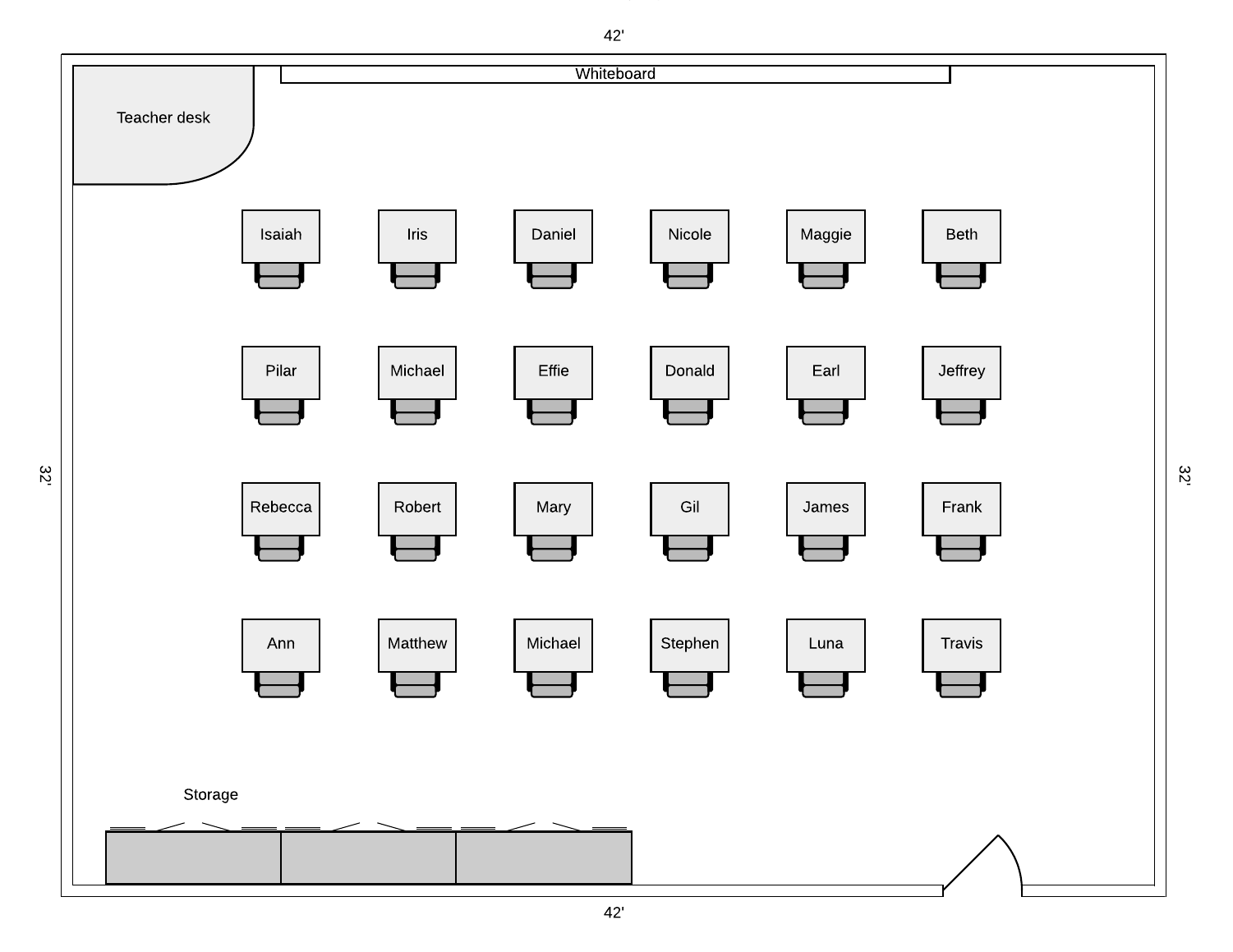 Trial and error
Don't be frustrated if it takes a few tries to find the right seating arrangement. In fact, don't be surprised if your class seating chart changes as you learn more about your students and grow familiar with their learning style.
Also, try changing the energy in the room by moving things around. Changing where your students sit can often reinvigorate your classroom. Of course, it can also lead to total anarchy, so if that's the case, try again.
Teachers can get a free Educational account from Lucidchart to start their classroom seating charts.
Learn more