7 types of graphic organizers for education
Reading time: about 7 min
Think about the last time you got a new phone or downloaded an app. Did you spend some time organizing your screen in a way that makes sense to you? When you think about it, your smartphone is a graphic organizer.
Studies have shown that people are more likely to recall information better when it is accompanied by some kind of visual stimulation. Scientists call this the pictorial superiority effect (PSE), which is based on the notion that "human memory is extremely sensitive to the symbolic modality of presentation of event information." In other words, we remember more with pictures.
Students of all ages can retain what they have learned for a much longer time if the information is organized visually in a manner that makes sense to them. There are many different types of graphic organizers for students and teachers—web graphic organizers can help students and teachers organize information, ideas, and concepts in a visual way. Let's dig into a few of the more common graphic organizers that can help you, or your students, better organize and asborb information. 
Note for teachers: Many of the templates in this article also offer a black-and-white printable version that you can use for assignments. Just click the image of the template you want to use to open in Lucidchart.
Types of graphic organizers
KWL chart
A KWL chart is a graphic organizer tool that lets students illustrate what they know, what they want to know, and what they have learned. This chart is very easy to use and encourages students to track their learning. These charts can be used individually, in groups, or by the entire class.
The process for using a KWL chart is simple:
Students brainstorm and write down what they currently know about a given subject.
Students write down what they would like to learn about the subject.
Students record what they have learned about the subject.
Use a KWL chart before, during, and after a lesson to measure how much students progress. You will be surprised by how much students are learning.
Venn diagram
A Venn diagram shows the similarities and differences between two or more items. The diagram is made up of a series of shapes, typically circles, with edges that overlap. Each shape represents a different item. The characteristics shared by each item are represented by the overlapping intersections of each shape.
Venn diagrams are typically used in scientific and engineering presentations, in computer applications, in theoretical mathematics, and in statistics. But you can use a Venn diagram as a graphic organizer in any situation where you want to find a direct comparison among different categories or concepts.
For example, younger students may have fun using Venn diagrams to discover what they have in common with their classmates. A very simple diagram can ask students to find out who has a dog, who has a cat, and who has both.
Double bubble map
A double bubble map is an educational graphic organizer that students and teachers can use to compare and contrast things such as people, characters, places, and events. Double bubble maps help students develop logical thinking skills as they organize similar data in one place and contrast it with unique data. Plus, saying "double bubble" is kind of fun.  
Unlike a Venn diagram, the shapes in a double bubble map don't intersect where the items share common characteristics. Instead, additional shapes are placed between the two shapes that represent the items being compared. The shapes that represent the contrasts of the items being compared are placed on the left and right of the items being compared.
In the example above (which you can open in Lucidchart and use as a template), the orange shapes in the center shapes tell us what apples and bananas have in common: They are both types of food, they are both fruits, and they are both tasty, depending on who you ask. The shapes on the outside edges describe the contrasts: Apples are red, crisp, and full of Vitamin C, while bananas are yellow, soft, and full of potassium.
Cluster/word web
The cluster/word web is a graphic organizer for teachers to help students sort out their thoughts before they start writing an essay, a research paper, or another writing project. This organizer is pretty straightforward: Students write a topic or theme in the middle of the cluster/word web, similar to a mind map. Then they write their main points in the second level of circles, followed by supporting details in the third level of circles.
Learn about additional graphic organizers for writing essays.
Start now
Storyboard
A storyboard uses simple artwork on static panels to convey a series of events without too much detail. The idea is to present a quick and easily understood overview of what you want to do. You might think of a storyboard as a tool used by filmmakers to visually outline the sequence of the story that their movie will follow. But a storyboard can translate educational settings as well.
For example, a history teacher can create a storyboard to outline important events from history to help their students remember and recall details that they may not remember if the information is presented in words alone.
A storyboard should have more pictures than words. Blank lines can be included below the graphic panels for any text that may be necessary. For example, in a storyboard for an event in history, you may want to write down important dates and names as they relate to the graphics.
Storyboards can also be useful for helping students memorize step-by-step processes, visualize concepts, or for helping students who speak English as a second language.
Persuasion map
A persuasion map is used to visually map arguments that you want to use in a debate or in persuasive writing. Writing to persuade can be as simple as an email asking for help on a project or as complex as a scientific paper describing a new theory.
The mapping process for this classroom graphic organizer is simple and straightforward, and it can help students stay on topic as they organize their persuasive arguments.
Introduce the goal or objective in the top box.
List three reasons to support why the goal or objective needs to be met.
Summarize important points and state once again what you want your audience to do or believe.
Concept map
A concept map, or concept diagram, is another type of educational graphic organizer that students can use to diagram suggested relationships between concepts. By making a concept map, students visually think about concepts more easily than they can with simple lists or notes.
A concept map uses shapes such as boxes or circles to represent ideas and information. Shapes are connected by arrows labeled with linking phrases such as "due to," "can be avoided by," "contributes to," "requires," and so on.
Why should you be using concept maps?
To help students organize new information
To help students brainstorm ideas
To help students make meaningful connections between main ideas and other information
To improve student understanding and increase knowledge retention
To give students an easy and flexible way to map out any concept or idea
To create a concept map, follow these simple steps:
Identify a topic you need to study.
Brainstorm about the facts, ideas, themes, and questions that come to mind as you think of the selected topic.
Start drawing your shapes. We recommend that you place the shape representing your main topic at the top and link to other shapes in a downward hierarchy. The more important the idea or concept, the closer it should be to the main topic in the hierarchy.
Connect the ideas and concepts you brainstormed to the main topic and to each other.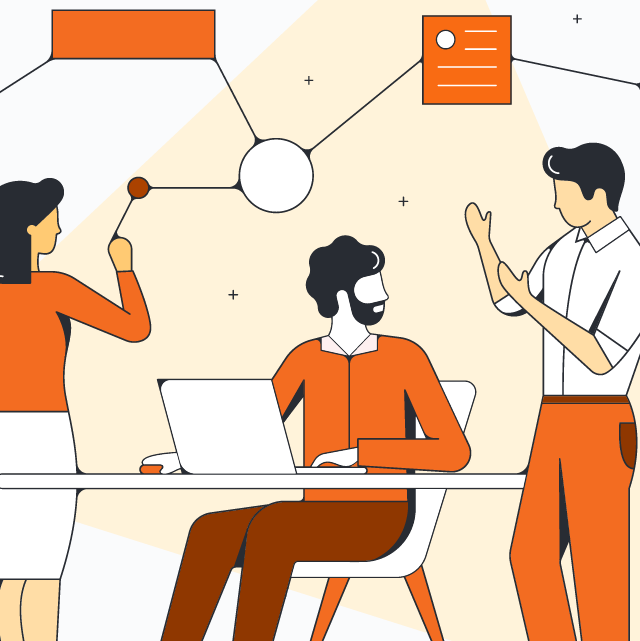 See more concept map templates and examples.
Go now
How can Lucidchart help?
As you can see from the templates throughout this article, Lucidchart has a huge selection of different types of graphic organizers for education. With an Educational account, students and teachers can use these resources to organize ideas, plan assignments, evaluate learning, and more.
Want to fully invest in bringing 21st-century learning to your classroom? Try Lucid for Education and create assignments that enable critical thinking, creativity, and collaboration. 
Learn more
Lucidchart
Lucidchart, a cloud-based intelligent diagramming application, is a core component of Lucid Software's Visual Collaboration Suite. This intuitive, cloud-based solution empowers teams to collaborate in real-time to build flowcharts, mockups, UML diagrams, customer journey maps, and more. Lucidchart propels teams forward to build the future faster. Lucid is proud to serve top businesses around the world, including customers such as Google, GE, and NBC Universal, and 99% of the Fortune 500. Lucid partners with industry leaders, including Google, Atlassian, and Microsoft. Since its founding, Lucid has received numerous awards for its products, business, and workplace culture. For more information, visit lucidchart.com.
Bring your bright ideas to life.