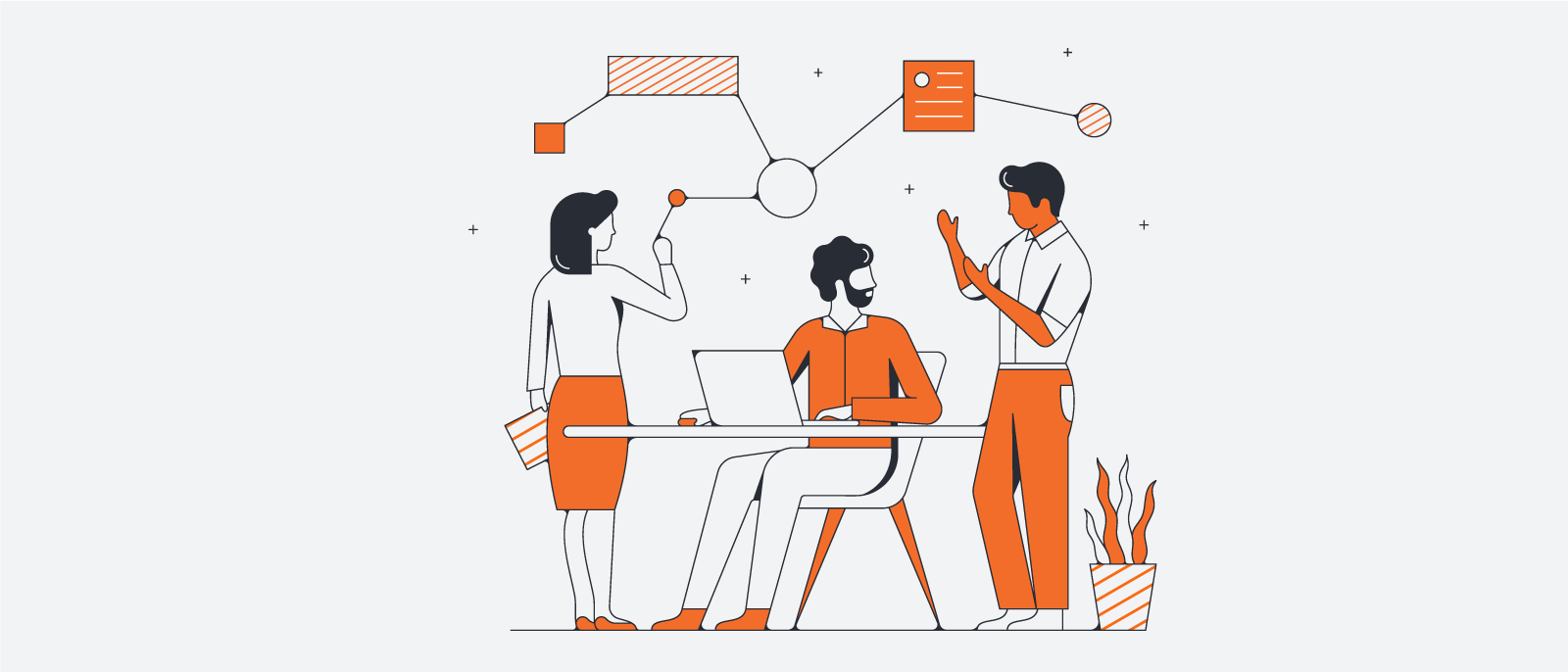 Rethinking the role of project lead
Reading time: about 6 min
Posted by: Lucid Content Team
Until recently, project management was a fairly linear task. The main goal was to keep the project in scope, on time, and on budget. 
But as the workplace has become more complex and technology has evolved, a project manager's role has become more layered. These days, almost every project needs a project lead—someone who has the soft skills to manage projects holistically, emphasizing people management. 
Let's take a closer look at the evolution of the project lead and how today's organizations are rethinking how and where the role fits into increasingly complex and transformational organizations. 
Evolution of the project lead
In the past, project management teams essentially had project managers, engineers, and directors to oversee the whole project. Project management was heavily focused on the technical aspects of implementation and the trifecta of staying on time, on budget, and within scope.
The role of lead project managers evolved out of the need for someone to focus on that interpersonal aspect of project management. Who would keep the team working well together? Who would keep stakeholders in the loop? And—let's be honest—who's bringing the donuts and coffee on Fridays? 
Project leads fill the intangible skills gap by focusing on team dynamics and a positive work environment. That includes keeping teams motivated, stakeholder outreach, and problem-solving. 
Why the shift? 
Technology has become an essential part of almost every aspect of the business, making the projects connected to it more complex and broader in focus. For example, Jira has primarily functioned as a support desk platform, but now it's used to manage all kinds of teams that field requests. So when it's time to implement a platform like Jira, project managers aren't just dealing with cost, timelines, and quality assurance anymore. They are dealing with more stakeholders and more dependencies.
The expanded focus requires finesse. Knowing when to loop in the right people can build support and cooperation for projects. At the same time, understanding business objectives at the company level can help project leaders prioritize tasks and put them in context for decision-makers. Project leads have the people skills to build those important relationships and demonstrate how projects ladder up to larger key objectives.
Processes have also become more complicated: Companies are trending toward a standardization of the platforms they use to reduce redundancies and take advantage of economies of scale. That approach requires understanding many different workflows and implementing change for both flexibility and consistency. 
A content management system like Box, for example, might work great for one team but need to be tweaked to be useful for another team. Project leads with strong strategic skills can more readily understand each team's specific needs while also identifying the commonalities that standardize implementation.
A powerful combination for the future
With more teams working remotely, it's very likely that the role of project lead will continue to evolve. Lead project managers of the future will need to do two things: lean more heavily on their strategic skills to navigate the remote workplace and leverage their communication skills to keep teams motivated. 
Project leads will need to lean on their understanding of business strategy to help decision-makers understand projects more efficiently since they won't always benefit from in-person communication. Visuals can be especially helpful in bringing stakeholders up to speed on the state of a project and conveying what's needed from them to make implementation successful.
Creative communication will be paramount because reaching team members can be more difficult when you can't easily pop into their office for a quick chat. If there are hiccups in implementation, team members can often feel disempowered or begin to complain. 
One way to refocus people is to remind them of their role in making the business successful. Visuals can again help this by illustrating to team members how their work will help the company reach important objectives. It can even be a tool for problem-solving so that issues become opportunities.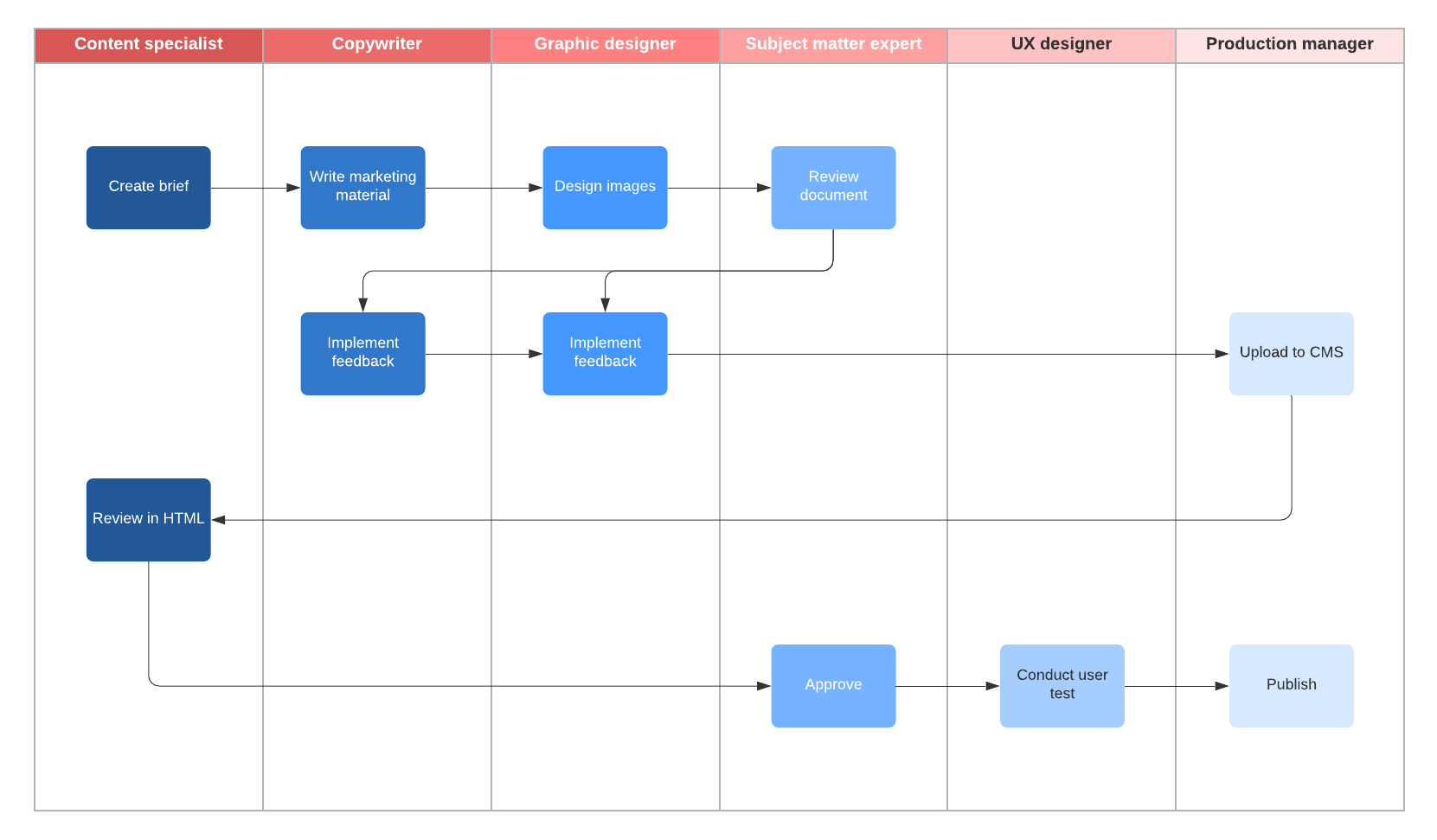 What is a project lead?
While project leads are essential, it can be challenging to describe their role. Because project leads are mostly focused on soft skills, they often get mixed up with other functions. Standard titles for a project lead are:
Program manager 
Product manager 
Business analyst
Project manager 
The truth is, each of these roles carries very distinct functions, but any one of the above-mentioned people can also serve as project leaders.
If it's such a nebulous role, then why are project leads necessary? Project leads provide three main benefits:
Advocate for the project: Project leads can build the relationships that are integral to project success. They can focus on outreach and education to internal teams as well as external stakeholders.

Maintain team morale: While many on the team may be focused on the technical aspects of implementation, project leads can focus on keeping the team engaged. They can organize team-building exercises to improve communication, spearhead training that will improve processes, and help identify the right people for the right roles.

Offer conflict resolution: Project management is often thought of as a linear process, but sometimes, issues need to be resolved for projects to stay on track. Project leads have the relationships to bring team members together and identify potential solutions before a small roadblock becomes a significant bottleneck.
Project lead vs. project manager 
It's especially easy to conflate project leads with project managers since their functions work hand in hand. Project managers are responsible for keeping the project on time, on track, and on budget, and they often have a deep understanding of the technical aspects. 
By comparison, project leads have technical expertise, but they focus on implementing soft skills to facilitate a project through people management. Think of it like this: Project managers are the film directors, while project leads are the producers.
What do project leads do?
Much like producers, project leads do a little bit of everything. They use a mix of technical and soft skills to facilitate teamwork and stakeholder cooperation throughout the life of a project. Project lead responsibilities usually include the following:
Project planning 
Team management 
Sprint planning 
Project execution
Team alignment
Their work and effort should result in the below deliverables, along with whatever else may be needed for implementation: 
Developing a project charter 
Identifying key stakeholders
Creating a project management plan 
Budgeting 
Defining and communicating timelines, scope, schedules, and more 
Demonstrating project completion in the form of a final project brief or postmortem 
The evolution of the project lead role is an opportunity to strengthen team dynamics and project success, especially in today's world of remote work. Complex processes and broader impact on business objectives mean that project leads can step up to expertly manage stakeholder cooperation and foster team engagement. Look for the above qualities to ensure your project leads are prepared for today's needs and the developments of tomorrow.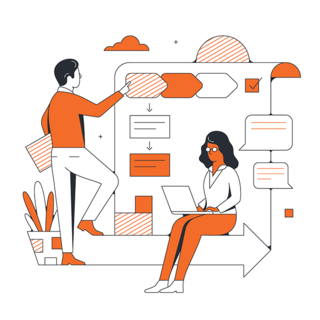 Now that we've defined what a project lead does—how can you make their jobs easier? See solutions to the top pain points of project leads.
Read now
Start diagramming with Lucidchart today—try it for free!
Sign up free
About Lucidchart
Lucidchart is the intelligent diagramming application that empowers teams to clarify complexity, align their insights, and build the future—faster. With this intuitive, cloud-based solution, everyone can work visually and collaborate in real time while building flowcharts, mockups, UML diagrams, and more.
The most popular online Visio alternative, Lucidchart is utilized in over 180 countries by millions of users, from sales managers mapping out target organizations to IT directors visualizing their network infrastructure.