Questions to ask IT about working remotely
Lucid Content Team
Reading time: about 8 min
As work continues to undergo a digital revolution, team leaders everywhere are researching the best ways to modernize their work processes. From digitized workflows to hybrid cloud storage options, there are a ton of resources available to industries solving the problem of transitioning to 21st-century processes. 
One of the top ways that teams are modernizing work is by adding remote work options or transitioning entire companies to remote work. If you're in the process of transitioning to remote work, here's a guide on the right questions to ask, challenges to anticipate, and clear solutions to those challenges. 
Making the case to work from home
Apart from providing greater flexibility for where employees are located, remote work has other major benefits for companies. If work processes are built on mobile infrastructure, work can continue even when a project manager or an executive is on vacation in Cabo (even if they'd rather be training than tanning). 
Additionally, unseen interruptions, from building construction to unpredictable natural disasters like the coronavirus pandemic, are mitigated by having a team whose work isn't restricted to a physical location. For most companies, moving to remote work is the only option to not only safeguard public health but also keep business operations afloat until people can return to regular day-to-day life. 
In recent years, more companies have embraced the possibility of remote work, and tips on working remotely and other work-from-home best practices abound. For now, as you make your transition to remote work, there are a few situations to consider with your IT teams as we all adjust to this new normal. 
What to discuss with your IT team
As you transition to remote work, here are some questions to ask your IT team to make sure work continues without interruption. 
How do I set up a VPN?
In order to access information on your company's private network, you will need to make sure you have a VPN (virtual private network). Certain sites and applications that house proprietary information will be unavailable without it. If you have already set up a VPN in the past, likely if you work from home occasionally or travel for business, you should still check your connection.
Discuss with your employer the implications of increased usage on your employer's existing VPN. With so many workers transitioning to remote work, VPNs will be put to the test—imagine running the waterload of a fire hydrant through a garden hose. The speed, the quality, or the entire network may suffer. VPNs are designed for subgroups of employees, not necessarily by an entire organization at once.
VPNs are licensed, meaning that a third-party company owns the network and loans out usage of it, like paying a toll to travel between cities. Depending on the size of your company, your employer will likely need to invest in added service on their current VPN or invest in their own VPN servers. 
Important note: VPNs used by remote workers may also present a security risk for your company. While the VPN is secure from hackers or cybersecurity threats to your computer, as soon as private information reaches your computer, it can become susceptible to cyberattacks via public Wi-Fi networks or hidden malware. You can avoid this outcome by investing in your own VPN server, but to do so, you will need a robust Internet connection. 
When should I use a VPN?
Depending on your industry, a VPN may or may not be necessary. 
Since VPNs provide a secure private highway to location-restricted information, they are treated as a single location, whether you're in Paris, Texas, or Paris, France. However, on public Wi-Fi networks, instead of a direct radio signal from a home or office router, your computer functions more like a radar, sending out a Wi-Fi request blip to everyone in the surrounding area and becoming susceptible to any hacker with the right equipment. 
Always avoid using public networks when accessing sensitive internal information and accessing personal accounts like bank accounts, medical records, etc. 
On the other hand, if your ISP gave you a password-protected Wi-Fi network, you have all the added security you'd need as VPNs will encrypt information between your computer and sensitive resources. Discuss with your IT manager when and if you need to use a VPN, and expect the response to center around your planned location(s) while working remotely. 
How do you protect against information breach?
Whether or not you use a VPN, there are still measures to take to protect against information breach when you work from your personal devices. IT Business Edge notes a few of these measures:
Develop an encryption policy
Talk to your IT department about any encryption policies and how they will be enforced. With laptop theft being the top cause of data breaches, working from home on your laptop should require a consistently applied encryption policy. 
Perform vulnerability assessments
If your IT management has never performed a vulnerability assessment, now is the time to do it. Vulnerability assessments help determine where added security, like data loss prevention, is needed and are a great way to mitigate against potential data breaches. 
Back up your data
While data needs to be protected, it also needs to be insured. Discuss the ways your sensitive information is backed up, including through cloud technology, and find out what role you play in that process. 
Learn about end-user security awareness
Training employees on best practices to prevent security breaches is the best way for an IT manager to ensure that cybersecurity is a company-wide priority. Your IT manager may or may not have developed your security awareness, and now is the time to learn from them how and why your cybersecurity measures exist.
What should you do if your Wi-Fi goes down?
Your remote work will be dependent on a reliable Internet connection. Everyone has experienced an Internet outage—your preparation for an outage will not only keep productivity up and running, but it will also mark you as a forward-thinking team member. If your Internet happens to go down, here are some ways to keep you online.
Use your cellular hotspot
Connecting to your cellular network via your personal hotspot on your phone is a great fast backup option to a temporarily downed Wi-Fi connection. The only drawback is that it's reliant on the network coverage in your area, and not all coverage is created equal. 
Depending on the strength of the connection, you should be able to access email and simple work communications but may run into trouble if you need large bandwidth for any reason.
Borrow Wi-Fi from a neighbor
No one likes a utility thief—but everyone likes a kind neighbor. If your new work life is reliant on consistent Wi-Fi, consider making a network trade with a neighbor. If an even trade isn't enough to seal the deal, be willing to offer to help them subsidize some of the partial utility costs. 
Work offline
Modern work is internet-reliant, but you'd be surprised how much work you can get done offline. A smart preemptive measure would be to set up offline mode in as many applications as possible. Applications like G Suite and Lucidchart all have offline mode available for this reason. It's rarely as versatile an option as online work, but remote work is often about finding ways to continue to be productive and approaching work with flexibility. 
What tools should I have to collaborate with my team remotely?
Working remotely is about more than just your Internet connection. Consider these solutions to keep your remote work as sophisticated as your office work.
Real-time communication
When email is too slow and text is too personal, you'll need a real-time communication platform to stay in touch with team members and stakeholders. If your team hasn't joined the millions of users who utilize Slack, it's the tool of choice for teams of all sizes to communicate remotely in real time. 
Video chat and teleconferencing
While phone calls and messaging are fine, we all know that conversation is more trusting and personal when you can see the face of the person you're speaking to. Remote teams across the globe use video conferencing as a way to connect across state and country lines. Applications like Zoom, Google Hangouts, and Join.me are all platforms that connect teams with real-time audio and video conferencing.
Visual collaboration
When you're working in the office and you're having trouble conveying your thoughts to a co-worker, what do you do? Many business professionals turn to the whiteboard to visualize an idea, a process, or a system. In lieu of a physical whiteboard, remote workers can use a visual workspace such as Lucidchart to accelerate understanding and drive innovation. Work with team members in real time to map out processes, brainstorm ideas, visualize deadlines and project progress, and more.
Once you see which solutions your company has available, make sure to ask your IT team how to set them up and how to get an account. Many companies use single sign-on (SSO) solutions, so you can use your standard log-in credentials and further protect private company data.
Whatever solutions you find to enable remote work, embrace the idea that "business as normal" may be an obsolete term. Forward-thinking, problem-solving leadership has ensured that normal business is agile business, and remote work is the clear path to industry agility.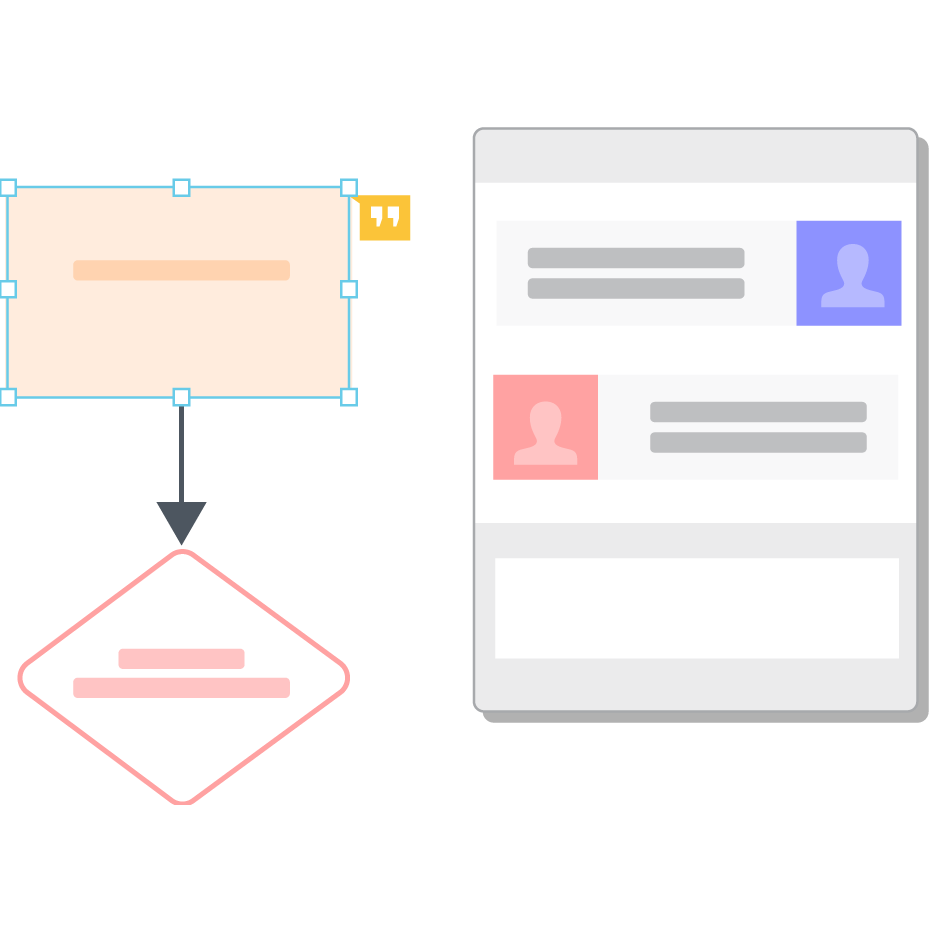 Learn how Lucidchart can help your team collaborate just as effectively while you work remotely.
Read more
Lucidchart
Lucidchart, a cloud-based intelligent diagramming application, is a core component of Lucid Software's Visual Collaboration Suite. This intuitive, cloud-based solution empowers teams to collaborate in real-time to build flowcharts, mockups, UML diagrams, customer journey maps, and more. Lucidchart propels teams forward to build the future faster. Lucid is proud to serve top businesses around the world, including customers such as Google, GE, and NBC Universal, and 99% of the Fortune 500. Lucid partners with industry leaders, including Google, Atlassian, and Microsoft. Since its founding, Lucid has received numerous awards for its products, business, and workplace culture. For more information, visit lucidchart.com.
Bring your bright ideas to life.