How Lucidites have done remote team building activities during COVID
Lucid Content Team
Reading time: about 9 min
Remote work significantly increased in the last year as many companies were forced to limit in-person work during the COVID-19 pandemic. Here at Lucid, we've been working remotely for months and, even as restrictions lift, will continue to offer employees the option to work flexibly in-office or from home. 
This has dramatically shifted not only how we get work done, but also how we stay connected to each other. 
One thing that most people agree on—building relationships has become harder since the pandemic began. Working remotely means there are fewer opportunities to connect during "downtime" between meetings, shared moments at the water cooler, or sitting together during lunch breaks. Plus, with a full year under our belt, there are new employees who haven't even met the team in person yet.
These circumstances have required us to be creative and purposeful in our approach to building relationships in the workplace. In this article, we'll cover why team building is important and share our favorite remote team building activities this year. 
Why team building is important
At the start of the pandemic, companies were focused primarily on digital transformation and adapting to remote processes. Leaders had to consider: 
What tools and software do we need to work remotely? 

What processes do we need to put in place? 

How will we track performance and measure progress? 
But going forward into an uncertain future of work, what we actually need to start improving is the way we work together remotely. 
This includes developing interpersonal skills and strengthening the human connection—even  though we don't see each other in person.
Why are team building and work relationships so important? 
Because at the end of the day, productivity, performance, and innovation all rely on our ability to work well together. And we can only collaborate, communicate, and innovate effectively when we have a foundation of trust.
Team building activities are a simple but impactful way to develop the trust, unity, and camaraderie needed to create and maintain strong and effective teams. And with teams operating partially or fully remote for the foreseeable future, it's more important than ever to create those opportunities for connection.
Lucid's favorite remote team building activities 
Team building activities don't always get a good rap. If they aren't done right, they can feel forced, childish, and like a waste of time. Not a great outcome when you're trying to foster collaboration and trust. 
You want your team to bond through the exercise—not over their shared boredom or discomfort with the activity. But when the team is distributed remotely, getting those dynamics right can be even more challenging. 
So where should you start? 
Here are some of our favorite remote team building activities we've done this year at Lucid.
Virtual escape rooms
You've probably heard of escape rooms. A group of people are "locked" in a room and have to work through a series of puzzles and clues to solve the mystery and unlock the door. With COVID-19, in-person escape rooms aren't an option for most office groups. But the fun is still possible online! 
Virtual escape rooms allow remote teams to come together online in an immersive experience to collaborate to solve the puzzles and "escape." You can play through Zoom or other video conferencing software (some adventures are also available through apps). Depending on the program or experience you choose, a guide will lead the team through the time-sensitive riddles or groups can split into breakout rooms to solve different puzzles. 
Virtual escape rooms are a great way to foster collaboration, communication, and problem solving in a fun, low-stakes setting. Plus, who doesn't like a good mystery?
Board games converted into Lucidchart docs
Bring the fun and competition of a classic board game night online for an easy remote team building activity that everyone can enjoy. Here at Lucid, we picked a few of our team's favorite games and converted them to Lucidchart. Try your hand at games like: 
Clue

Splendor

Loaded Questions/Things

Codenames
Simply add a picture of the game board (or recreate it) with the corresponding images of cards and tokens, and then have each team member use their mouse or keyboard to move the pieces digitally and make their plays. 
Lucidchart makes it easy to organize a board and set up order of play. And since everything operates on the cloud, you can play the game in real time with your co-workers from anywhere. 
Bonus: If you're throwing an after-hours party, add a little spice and have co-workers bring their own snacks or drinks. Either way, this is a fun activity to get your team working and playing together.  
Virtual white elephant gift exchange
White elephant gift exchanges are a standard holiday office activity. But with teams working from home this past holiday season, we had to get creative with our gift giving. 
Our team was able to take in-person gift-giving virtual with Lucidspark. You can set up a team game of your own on a Lucidspark board and send out invitations to the group. Then, each person logs on to the shared board, uploads a picture of their gift, and adds a shape over the image to hide it (or "wrap" it). Note: You don't have to purchase the gift ahead of time—a link to the product or a photo of the gift you have on hand will do. 
When everyone has added their gift to the pile, you can start playing. The rules for online white elephant work similarly to the in-person version. Each team member draws a number and then each person goes in order picking out gifts from the pile (or stealing from someone else). One Lucid team did a fun twist and played mini-games, like bingo or a scavenger hunt, to decide who would "open" a gift next. But you could also just have people roll dice or go in order by assigned number.
The Lucidspark dashboard makes it easy for teams to keep track of each person and the gift they chose. When all the gifts are gone, and the final steals are accounted for, each person can complete their purchases and send them to the corresponding team members. 
Pictionary with LEGOs 
We decided to do a spin on the classic game of Pictionary by adding a fun twist: LEGOs. For this fun team building game, we mailed each team member a standard set of LEGOs to work with. Then, the team meets together virtually on Zoom (or your preferred video conferencing tool), and you take turns choosing a word and then building it with LEGOs. 
For word selection, you can add a master list of Pictionary words to an online generator for team members to select from, or simply assign words privately through chat. The group who guesses the most creations correctly wins.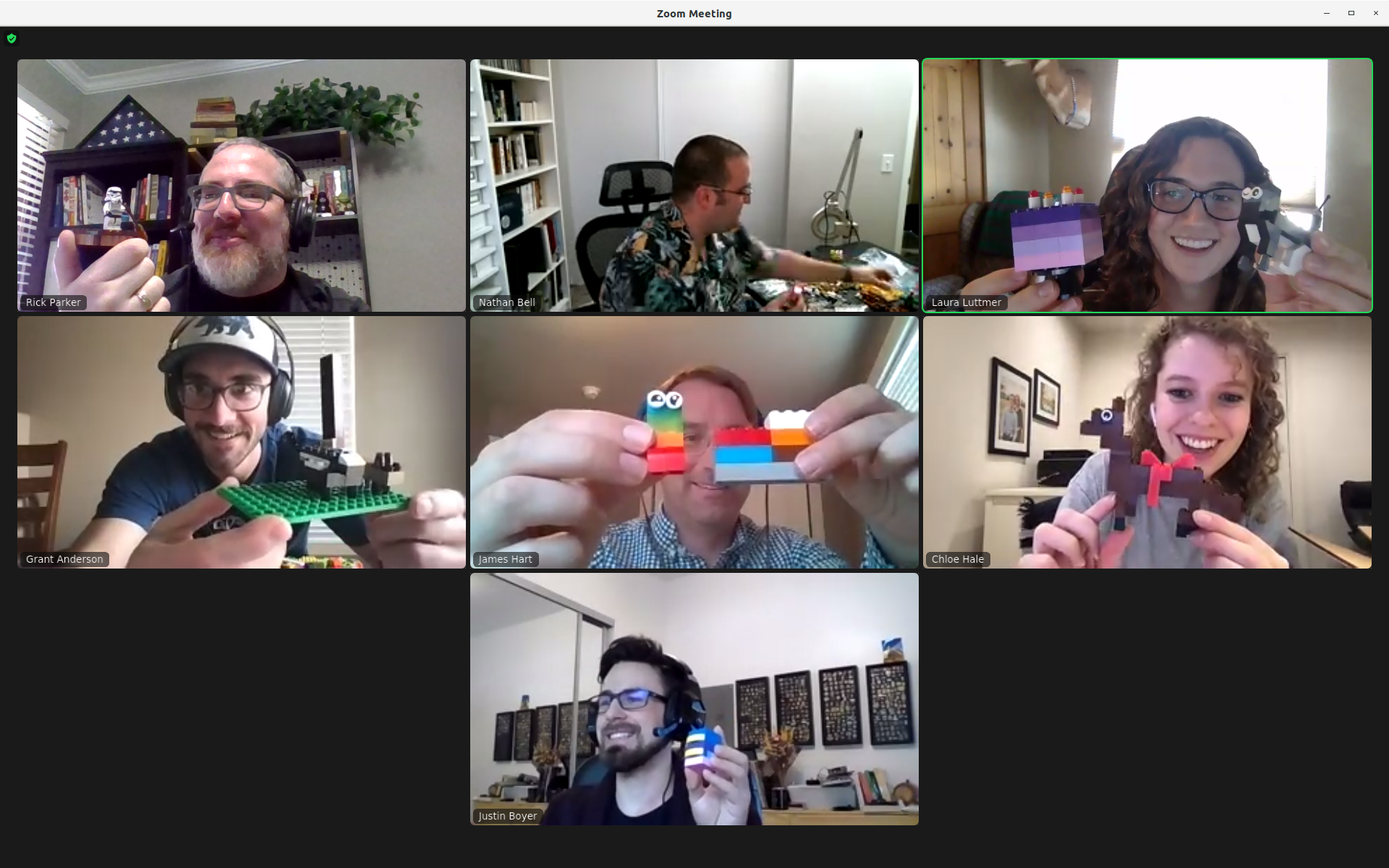 MASH
Remember the old grade-school pastime MASH? It's the ultimate method for predicting our childhood friends' futures! Well, turns out it's also a great team building activity for remote teams. 
At Lucid, we put a fun spin on this classic too. Here's how it worked: 
Create a Google Form with several "life" categories you want to make predictions for. You can add as many categories as you want. Standard categories include "Spouse/Partner," "Job," "Salary," "Number of kids," "Car," and "Where you live." But feel free to add other categories related to your company, team, or region. (If you want to get especially tricky, you can create more generic categories, like "Famous celebrity" or "Number between 1 and 100," without telling your team what they relate to.)

Next, have each team member fill in their MASH answers on the form. Typically, each category will have a standard 3 or 4 options.

Once everyone submits their answers, pair up team members and have them review each other's answers and narrow them down. Traditionally participants choose a number between 3 and 10 and then count through the answers and striking them out.

Once the options are narrowed down to one answer per category, you have a complete prediction for your co-worker. 

Here's the fun part. We illustrated our MASH predictions in Lucidchart. Each team member designed a story (pictures and all) on the Lucidchart canvas and then presented their co-worker's "future" to the group. 
This is a lighthearted and fun remote team building activity that helps people relax and get to know each other in a low-stress environment. 
Bob Ross painting night 
Bob Ross is making a comeback in homes and offices across America. While we can't meet in person for a boozy paint night with our pals, Lucid brought the fun and charm of this PBS classic show to our teams.
Using the Lucidspark virtual canvas as a literal canvas, the team selected a Bob Ross painting for everyone to recreate. Instead of using paints and brushes at home, each team member used the Lucidspark freehand drawing tool to recreate the picture directly on the virtual board. The results may not have been masterpieces, but that was half the fun!
For a fun twist, you can also try sectioning off a famous painting and giving every team member a piece of the artwork to recreate.
There are lots of creative ideas out there to help bring your remote teams together while working apart. Experiment to find what works best for your unique team culture and remote setup.
Bring your entire team together in Lucidchart for your next remote team activity.
Try it now
Lucidchart
Lucidchart, a cloud-based intelligent diagramming application, is a core component of Lucid Software's Visual Collaboration Suite. This intuitive, cloud-based solution empowers teams to collaborate in real-time to build flowcharts, mockups, UML diagrams, customer journey maps, and more. Lucidchart propels teams forward to build the future faster. Lucid is proud to serve top businesses around the world, including customers such as Google, GE, and NBC Universal, and 99% of the Fortune 500. Lucid partners with industry leaders, including Google, Atlassian, and Microsoft. Since its founding, Lucid has received numerous awards for its products, business, and workplace culture. For more information, visit lucidchart.com.
Bring your bright ideas to life.