How to deal with last-minute scope changes
Lucid Content Team
Reading time: about 6 min
Whether you're a freelance designer, an engineering project manager, or a CEO, understanding the scope of your work is an important part of your day-to-day effectiveness—and it's essential to keeping projects and teams aligned and on track.
But what happens when that scope changes? 
Whether project requirements shift or the first round of deliverables didn't quite meet expectations, there are plenty of reasons why a project's scope might change after the initial stages of scope definition. When this happens—and it will—you need to have a plan ready to deal with last-minute scope changes and pivots. 
Let's start by clarifying exactly what classifies as a scope change and then dive into a few tips on incorporating those shifts into your project plan and workflow. 
What are scope changes? 
Not all project shifts are the same—but each type of shift needs to be handled differently. 
Many of us are familiar with the frustration of unexpected scope changes, particularly changes that don't seem to be rooted in any strategy or appear to be the result of poor planning or a lack of resources. For example, freelance creatives know all too well what it's like for a client to ask for "just one or two more rounds of changes" after the agreed-upon scope of work is complete. This "scope creep" frequently happens at a larger scale, too, even when the scope is seemingly clearly defined.
So how do you define a necessary change in scope for strategic reasons vs. changes in scope that simply add additional work? 
Scope changes are deviations in functionality, layout, quality, budget, timeline, responsibilities, or other aspects of a project. 
Typically, scope changes result from careful decisions from a project manager or stakeholder. Scope changes can also happen when new data or information comes to light to inform the existing strategy or plan. These changes are built into most Agile project management processes and are a healthy, productive part of the product development process. 
Data-driven: New information or data-driven insights can often reveal that an existing scope of work won't achieve the desired outcome. In this case, a scope change is necessary for success.
Budget-driven: Simply put, sometimes budgets get cut, which requires a shift in time and resource investment. A budget increase would also warrant a reevaluation of scope. 
Deadline-driven: Maybe the product needs to launch early to beat a competitor to market. Or maybe the timeline needs to be pushed to make time for a competing higher priority project. Any timeline adjustment will result in a shift in the project scope. 
Resource-driven: Any change in resources on a project will require a scope change to adjust for stakeholders, owners, responsibilities, etc. 
Scope creep occurs for reasons outside of business imperatives or strategy shifts, usually defined by a poorly planned project or scope that grows beyond the definition of the original statement or scope of work (SOW). It's wise to avoid scope creep at all costs to ensure you don't set a precedent for future projects. 
Tips for managing scope changes in project management 
They say that the only constant is change, and the adage certainly holds true when it comes to project management. No matter how solid the scope definition, scope changes are an inevitable and natural part of the project management process. But even if the reason for scope change is valid, it still changes your original plan and requires careful management to keep the project on track. 
Here are some tips to help you with scope change management—and it all starts with having a process in place. 
Understand and communicate the need behind the change
Change requests can come from executive stakeholders, senior leadership, or customers. No matter the source, it's important to understand why the change is being requested. 
Does new data indicate the existing project outcome won't be successful or meet strategic objectives? Does a new launch date require a shift in the deadline? Is a new feature required? 
Before you pivot, be sure you fully understand why the stakeholder or customer asks for the change. Ask questions, or even better, implement a process to ensure requesters are carefully evaluating the change. Sometimes, this step will reveal that the requested change is actually more of a want than a strategic need. 
Document the change 
As soon as a change request comes through, be sure to record it, even if it ultimately doesn't result in a scope change. This process also gives you the ability to document and review the request and consider other, less disruptive, costly, or time-consuming solutions. 
By following this process, you also ensure that you can effectively communicate reasonable and implementable scope changes to your team. 
Evaluate the change and understand the impact in scope, schedule, and budget
Take time to evaluate the requested change, and have a process in place to do so. Start by asking some simple questions: 
Why is the stakeholder or customer asking for the change? 
Is the change relevant and aligned to our strategic priorities? 
Does the request make sense based on our desired outcomes? 
Is this request necessary, or is it already part of the scope? 
How urgent is the change? 
The answers to these questions will help you evaluate the validity of the request and prioritize accordingly.
A trade-off or priority matrix can help you evaluate whether the requested changes will help the team stay focused on the organizations' most important strategic priorities and keep all relevant projects on track. 
Consider the implications and get any change(s) approved 
Once you've evaluated and approved the request, it must also be approved by any necessary executive stakeholders outlined in your scope change approval process. Send the request, details of the scope change, reasons for your approval, and any other details to the management team. 
If you've decided the scope change isn't necessary, let the requester know why. They can always revise their request and submit a new request form. 
Implement and communicate to the team
Few things are more frustrating than being told to change the way you're working without a clear reason as to why. And there's also no quicker way to lose your team's trust and motivation than to communicate a scope change without also communicating why the shift is necessary. 
Be sure to involve and inform your team of scope changes as soon as they happen. By documenting the requests and their evaluation, you'll be able to clearly demonstrate why a pivot is necessary—and get your team on board with the change.
Unplanned changes are a predictable part of modern-day business. Changes can be sudden and transformative, or they can be gradual and subtle, but they all add up to important changes to your business over time. By implementing a flexible but process-driven approach to managing scope changes, you can ensure unexpected changes don't derail projects. Instead, the ability to pivot effectively will help you build better products and keep the business agile.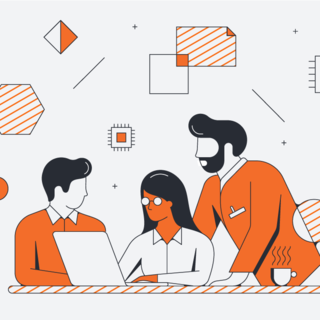 Learn how you can use Lucidchart to successfully plan projects—and avoid scope changes where possible.
Read now