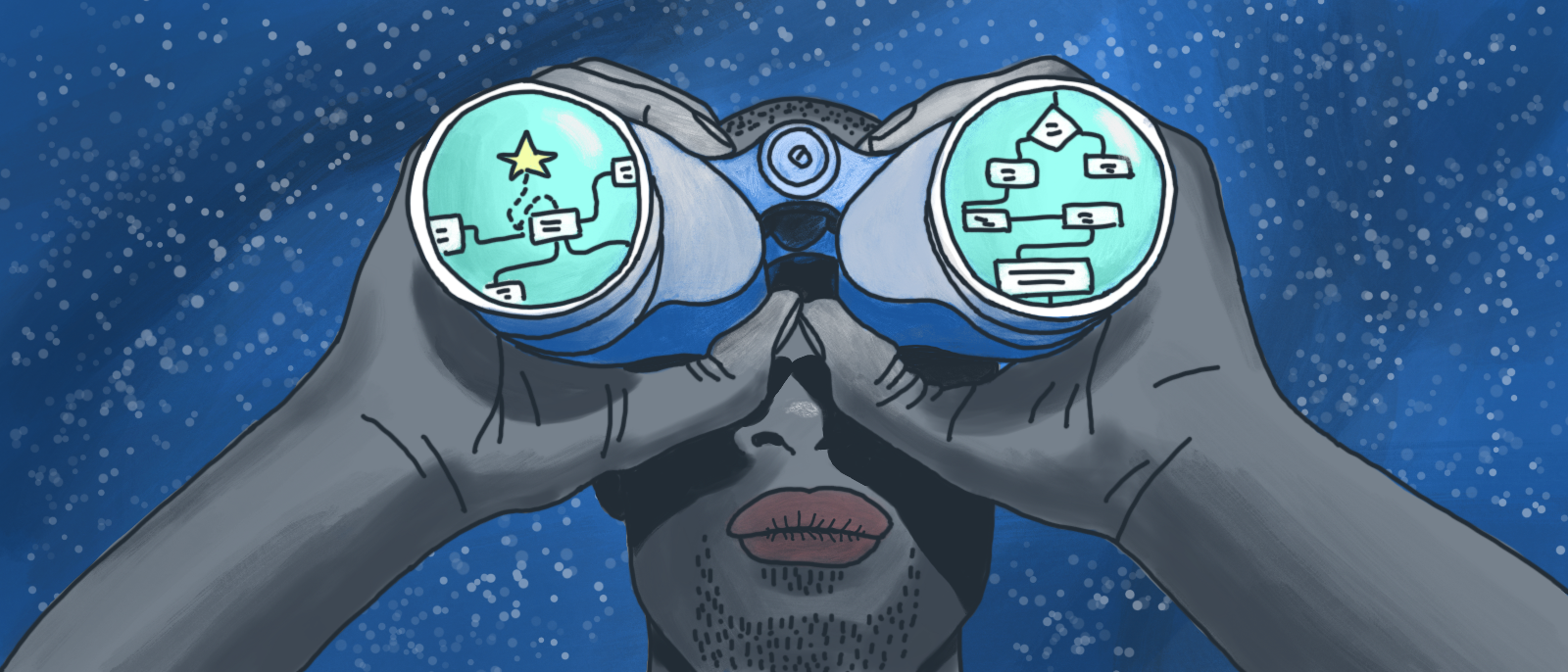 Define Your Business with a Strategy Mapping Template
Reading time: about 7 min
Posted by: Lucid Content Team
According to joint research from the Society of Management Accountants of Canada, the American Institute of Certified Public Accountants, and the Chartered Institute of Management Accountants, 95% of a typical workforce does not understand its organization's strategy, and 90% of organizations fail to execute their strategies successfully.
With so many companies experiencing these gaps in strategy planning and execution, you can move your business ahead of the game by creating a strategy map. Learn how you can use a strategy mapping template to link the formulation and execution phases of strategy and turn your organization's mission and vision into actionable objectives.
Principles of strategy mapping
Simply put, a strategy map is a diagram used to document a team's primary goals. A strategy map can and should be created for your organization as a whole and for smaller teams whose strategy may differ. A good strategy mapping example contains all necessary information on one page and demonstrates explicit cause-and-effect relationships between the company's and customer's perspectives.
Before building a map for your company using a strategy map template, you should understand the basic principles of strategy mapping, outlined below.
Balance contradictory forces
Because your strategy map takes into account both what your business wants and what customers want, your strategy must balance consumer wants and needs with the interests of your organization.
Differentiate a customer value proposition
A good strategy is not only about business performance but also about giving customers what they need. In developing your company's strategy, you should define what makes your organization's offering different from what other companies provide.
Create value with internal business processes
When mapping your strategy, keep your internal business processes in mind and think about how they separate you from other organizations. Is your team structured to get work done for clients more efficiently? Have you developed a new way of manufacturing a product? Do you use data in new and exciting ways? Make your advantages integral to your strategy and not just added bonuses.
Think in simultaneous, complementary themes
Because you must consider both internal and external forces when mapping your strategy, it's important to make sure the different phases work in tandem. Think of how a project manager uses swimlane diagrams to sync workflows for multiple team members—your strategy map should sync different aspects of your business, both outside and in.
Work from the top down
Unlike many process maps, a strategy map should be designed from the top down—where you want to be, rather than where you are. Instead of starting with an idea for a new product or service, start with a financial goal and work your way back to ideation from there. The following are the four different perspectives you should consider from the top down when developing a strategy map for your business.
1. Financial perspective
Building a strategy map puts your organization's financial perspective front and center. For larger companies, that could be a goal for increasing shareholder value. For smaller companies, it may be something as simple as acquiring a certain number of new customers. By defining your end financial goal, you can work backward to build your strategy with that final focus in mind.
2. Customer perspective
In order to meet that financial goal, you will need a customer value proposition, a statement of how the product or service you offer differentiates you from the competition. By focusing on what your customer needs, you can build those values into the earlier stages of the strategy map.
3. Internal perspective
Now that you have the value proposition—what you will provide for your customer in order to reach your financial goal—you know what you need to build internally. What kind of work needs to be done, and how many team members are needed to do it?
4. Learning and growth perspective
In figuring out all of these steps, you learn more about your business than you would working from bottom to top. Instead of hiring a bunch of people and then finding things for them to do, you can find out what needs to be done and grow your company accordingly with your strategy in place.
Building with a Lucidchart strategy map template
Now that you understand the principles and basics of strategy mapping, you can use a Lucidchart strategy map template to map the strategy for your organization. Download a strategy mapping template and follow along, step by step, as you map out your strategy painlessly with Lucidchart's help.
Step 1: Overriding objective
The first step in building a strategy map is defining your overriding objective. This is not to be confused with a mission or vision statement for your organization—while your objective may relate, it should be more concrete than a statement of the company's values or culture. Your objective should have both a financial target and a time dimension (for example, "increase stock value by 6% over the next fiscal year"). Place your objective at the top of the strategy map within the template.
Step 2: Value proposition
After you have set your objective, you need a value proposition that will set you apart from the market. Value propositions generally fall under one of three categories:
Operational excellence: Your organization's efficiency of operation allows you to move ahead of competitors via better performance and lower operating cost.
Product leadership: You have a product that is superior to others on the market.
Customer intimacy: You have a better relationship with your customers than do your competitors.
Once you have determined your value proposition, enter it in the strategy mapping template.
Step 3: Financial strategies
Once you have determined your value proposition, you need to make sure your finances are in line with your end goals. Take a look at your company's potential revenue growth, productivity, and asset utilization, and determine how these aspects of your organization relate to your end goal. Input the specifics of each category into your template.
Step 4: Customer strategies
To meet your projected financial strategy needs, take a look at your customer strategies next. For example, if you require revenue growth to make your financial goal, you may want to grow your customer base or retain your existing customers while upselling them on more products or services. You can also decide to spend fewer resources on each customer, thus making each customer more profitable. Once you have decided on your approaches, put them into the template.
Step 5: Internal perspective strategies
During this step of the strategy mapping process, the focus shifts from "What do we want to do?" to "How are we going to do it?" Here you choose the right business processes to fuel your customer relations and financial strategies to create the value proposition that helps you reach your end objective. If you are attempting to spend fewer resources on each customer, you might implement a new software platform that helps your employees work more efficiently. To increase a customer base, you might try a new social media strategy.
Step 6: Learning and growth strategies
To implement the internal strategies outlined above, you must identify and bridge gaps in your organization. You may need to hire new employees or shift the focus of current employees. You may need to research new software platforms or manufacturing equipment. You may need to reorganize your company structure to better increase productivity. At this stage, you should account for all these examples of human capital, information capital, and organizational capital
Step 7: Phase connections
Once you have all the information in place, you need to make connections from one phase to the next. Which learning and growth strategy has an effect on which internal perspective strategy? Which customer strategy directly flows into which financial strategy? Lucidchart makes it easy to draw lines and arrows to connect the different entries in your template. Once you have made all the connections, you have a strategy map that's ready to point the way for your company's continuing journey.
Use Lucidchart for strategic mapping
With templates from Lucidchart, it's easy to set up your company's strategy map, process flowcharts, swimlane diagrams, and a whole lot more.
Sign up for free and let Lucidchart help you put your ideas down on pixels and paper.
Start diagramming with Lucidchart today—try it for free!
Sign up free
About Lucidchart
Lucidchart is the intelligent diagramming application that empowers teams to clarify complexity, align their insights, and build the future—faster. With this intuitive, cloud-based solution, everyone can work visually and collaborate in real time while building flowcharts, mockups, UML diagrams, and more.
The most popular online Visio alternative, Lucidchart is utilized in over 180 countries by millions of users, from sales managers mapping out target organizations to IT directors visualizing their network infrastructure.