Concept Map Maker
Concept maps help you map the relationships between ideas. Use Lucidchart to create online concept maps from templates or from scratch—we have everything you need to get started.
See why millions of users across the globe choose Lucidchart.
Map out new concepts with ease
Get to work right away with Lucidchart's intuitive concept map software.
Organize concepts with easy-to-use shapes
With our drag-and-drop shapes, you can easily organize concepts and the relationships between them. Add your ideas to your concept map and share the map with anyone in real time.
Import and export ideas
Import existing concept maps or ideas from Visio, Gliffy, OmniGraffle, Draw.io, or simply from a TXT file to create a quick concept map. To export your concept map, download it as a PDF, JPEG, or PNG or export directly to Google Drive.
Share and present concept maps online
Collaborate in real time from anywhere
Our concept map generator is cloud-based, so you can collaborate on your concept map with anyone—no matter where they are or what device, browser, or operating system they use.
Customize concept map templates
Lucidchart has more than 1,000 custom-made diagramming templates available for you to use. While you can always start with a blank page, you can also draw inspiration from what others have done.
Connect to tools you already use
Lucidchart integrates with Google Workspace, so you can import your concept map to Google Docs or Slides as needed. You can also use Google Drive to store your Lucidchart files, and any changes you make in Lucidchart will automatically update in Google Drive.
See why users love Lucidchart
Lucidchart has thousands of five-star reviews on TrustRadius, Capterra, and G2. Try our concept map software to see why.
Learn to use Lucidchart in 3 minutes
Create your first concept map, whether you import it, start from a template, or begin with a blank canvas.

Add shapes and connecting lines to your concept map, and add text to describe what you're thinking.

Change the styling and formatting to make your concept map visually appealing.

Use Feature Find to locate any feature or tool within your diagram.

Share your concept map with your team to start collaborating.
Concept map templates
Start working on a concept map right away with one of our templates.
Lucidchart integrations
Connect Lucidchart to all your favorite industry-leading apps.
See why teams use Lucidchart
Diagram, visualize data, and collaborate all in one platform.
Collaboration
Use our concept map maker on any device with ease. Lucidchart helps teams collaborate in real time from anywhere in the world. Enhance productivity while working with your team to achieve your goals.
Clarity
Lucidchart brings clarity to the complex. Intelligent diagramming allows you to quickly visualize projects and processes from start to finish.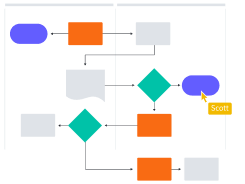 Alignment
Drive alignment with your team by collaborating in the same space. Quickly map out processes and ideas together in real time so that you never miss a beat.
Better together
The Lucid Visual Collaboration Suite transforms the way you work from ideation to project completion. Brainstorm and plan in Lucidspark, then map it out in Lucidchart. Create a living blueprint of your organization.
What is a concept map?
A concept map helps you visualize the relationship between concepts, ideas, events, or notes. These diagrams are commonly used to plan curriculum, create study guides, or outline writing projects. To use a concept map, put your ideas in circles (also called nodes). Unlike a mind map that starts in the center and works outwards, a concept map generally works top to bottom in a hierarchy. Connect your circles with lines or arrows (also called arcs) and label the lines to show how the ideas relate to each other.
How to make a concept map
Start with a topic

Begin with the core topic you want to explore. Drag a shape onto the canvas to contain it. The hierarchy of your concept map will start from here.

Identify key concepts

Make a list of all the key ideas that relate to your core topic. This list is called the parking lot. Order them from most general first to most specific last.

Connect topics and subtopics

Move your key concepts from the parking lot to the diagram, drawing connecting lines as you go. Label the lines with text to show how the ideas are related.

Customize and format

Personalize and organize your diagram by adding colors and images. As you learn more about your core topic, update your diagram.

Present and share your work

Use Lucidchart's easy sharing options to present your concept map. You can share the diagram directly within Lucidchart, print it, or download it as a PNG, JPEG, or PDF.
Frequently asked questions about concept maps