Data Flow Diagram Software
Create a data flow diagram online with Lucidchart! Use our DFD examples and specialized notation to visually represent the flow of data through your system.
Create a data flow diagram online with Lucidchart! Use our DFD examples and specialized notation to visually represent the flow of data through your system.
Choose from 120+ templates
Drag and drop shapes, lines, and images
View and edit Visio files with a Mac or PC
Easily share and collaborate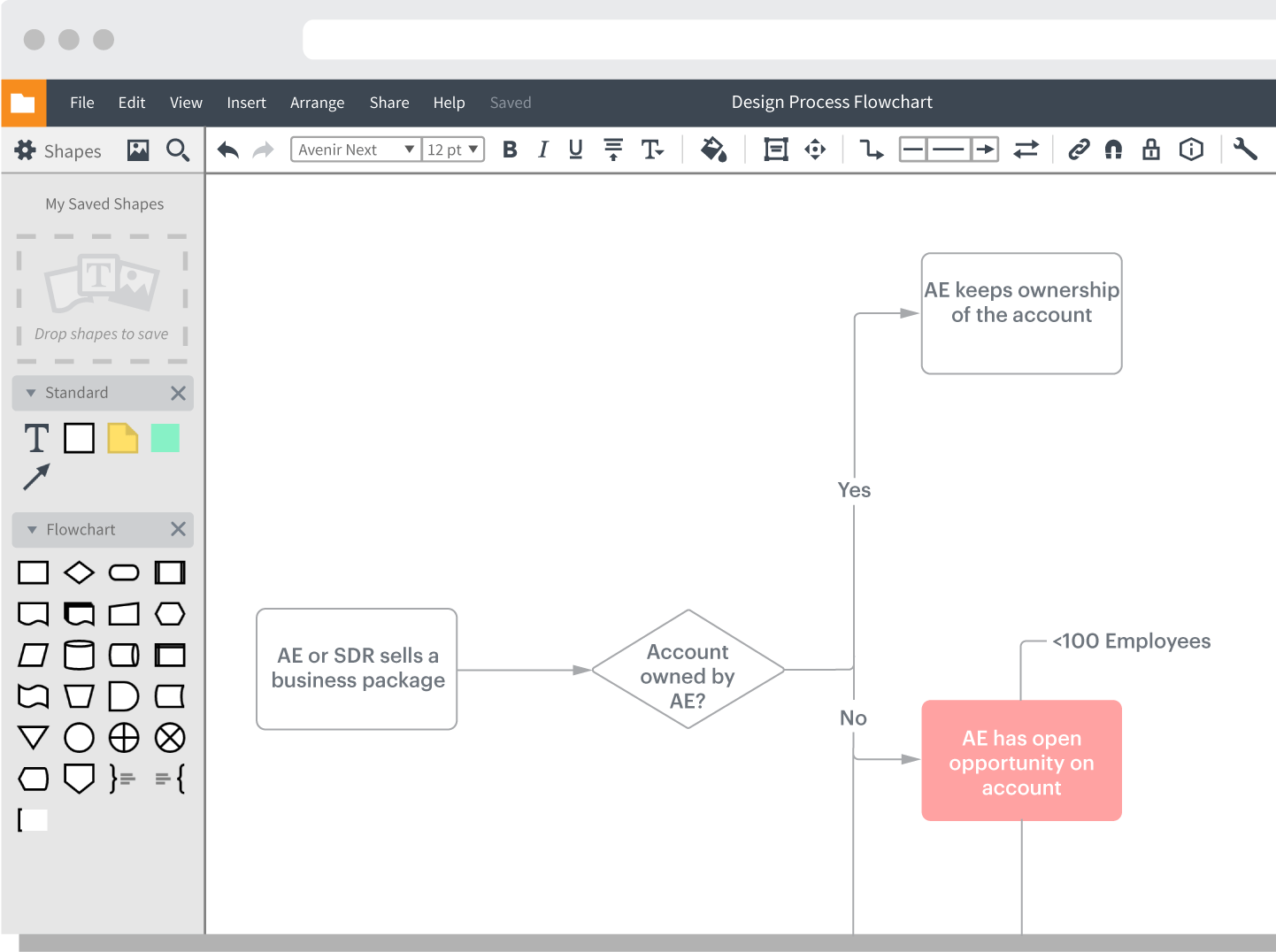 Over 11,000,000 users
trust Lucidchart to keep them on
the same page "Less expensive than alternatives, you can make very professional process maps and charts using it, easy to use, good customer support."
—Diana B
"Where do I start? Price is great. Functionality is great. Company is great. Overall system is awesome and evolving."
—Jonathan M
"Lucidchart is a great app for creating diagrams and flowcharts. It also allows multiple users to work on the same chart at the same time."
—Eric S
"It's simple and intuitive; very easy to use quickly. It doesn't require you to choose lots of options or fiddle around to get things to look good."
—Elizabeth B
"I really enjoy using this program for collaborative projects. The ability for everyone to collaborate in a single space is great."
—David H
"What I like the most about Lucidchart is that it 's easy to use and helps me bring visualization to my work with other teams."
—Kimberly V
"Whenever our sales team needs to mock up something we use LucidChart. The ease of exporting to a pdf is really helpful when it comes to sharing with our team."
—Allyssa C
"You don't have to know what you're doing before you start. It's easy to adjust and move items int he chart."
—Brett F
"Has plenty of objects and templates. Very responsive, easy to use. Professional look. It supports real time collaborative editing. Impressive outcome."
—Simon G
"This is a very intuitive application for flow charting. I think it is much easier to use and has a better end product than Microsoft Visio"
—Aubrey B
---


586 reviews
Data flow diagram maker
Our data flow diagram maker is simple, yet powerful. Get started with a template, then use our shapes to customize your processes, data stores, data flow, and external entities.
Try it now
Collaborative online tool
Data flow diagrams and system flow diagrams are much easier to put together when you collaborate. Lucidchart is an online data flow diagram tool, so you can easily invite all your colleagues to the same document, and then set permissions to let them comment or edit.
More Features
Visualize any process
Lucidchart offers more than just data flow diagrams. From system flow diagrams, to flowcharts, to business process maps, to UML diagrams, you can visualize any process or system using Lucidchart.
More Features
Easily make a DFD
With shapes and data flow diagram symbols for external entities, processes, data stores, and more, it's easy to graphically represent the flow of data and model process aspects. Since Lucidchart is web-based, all changes will be automatically shared with collaborators.
More Features
Data flow diagram creator features
Lucidchart helps you understand your processes and systems with professional-quality flow diagrams.
Drag and drop

Our drag and drop diagram editor makes it possible to draw a DFD with virtually no learning curve. Our data flow diagram shape library has all the shapes you need, just drag them onto the canvas to get started. You can even check out our guide to data flow diagrams.

Visio import/export

Do you have co-workers or clients asking for data flows in Visio? Import your Visio files, edit them in Lucidchart, and export them back to Visio. It's as simple as that! Our app also allows file import for SVG files and other diagramming tools.

OS compatibility

Lucidchart works across all operating systems: PC, Mac, and Linux. Lucidchart is a data flow diagram generator that works anytime, anywhere, on any device. Never be limited by desktop software that only works on certain machines again!

Share and publish

With easy sharing options, design iterations of your data flow will be fast and pain-free. Publish your data flow diagram as a webpage or download it as a PDF, JPG, or PNG. You can even present your diagram right in Lucidchart.
Try it now