Flowchart maker
Lucidchart is an intelligent diagramming application that takes flowcharts to the next level. Customize shapes, import data, and so much more. See and build the future from anywhere with Lucidchart.
See why millions of users across the globe choose Lucidchart.
Flow like a pro.
Get started in minutes with our simple, intuitive flowchart maker.
Versatile flowcharts
Diagram anything from systems and processes to data and programs with our flowchart creator. Visualize complex systems all in one place.
Flowchart shape library
Our dynamic flowchart shape library has everything you need, including all the shapes, symbols, and swimlane containers necessary to make both simple and complex diagrams.
Easy to use
Our flowchart generator offers a simple user interface with drag-and-drop functionality so that you can start creating online flowcharts within minutes.
Advanced flowchart features
Larger, more complex diagrams are supported by Lucidchart features like conditional formatting, data linking, layers to show phases of a process, action buttons, and external links.
Import diagrams
Import your diagrams from Visio, Gliffy, or OmniGraffle and pick up right where you left off.
Work from anywhere
Cloud-based diagramming makes it easy to start diagramming, no matter the device, browser, or operating system.
Security
Your security and privacy matter to us. Lucidchart maintains compliance certifications such as PCI, Privacy Shield, and SOC 2.
Lucid security
Highly rated
Lucidchart has thousands of 5-star reviews on top third-party apps like Capterra, G2, and TrustRadius.
Master the basics of Lucidchart in 3 minutes
Create your first online flowchart from a template or blank canvas or import a document.

Add text, shapes, and lines to customize your flowchart.

Learn how to adjust styling and formatting within your flowchart.

Locate what you need with Feature Find.

Share your flowchart with your team to start collaborating.
Flowchart Templates
Get started building out your own flowchart with these free templates from our gallery.
Lucidchart integrations
Connect Lucidchart to your favorite industry-leading apps.
See why teams choose Lucidchart
Diagram, visualize data, and collaborate all in one platform.
Collaboration
Create online flowcharts on any device with ease. Lucidchart helps teams collaborate in real time from anywhere in the world. Enhance productivity while working together with your team to achieve your product goals.
Clarity
Lucidchart brings clarity to the complex. Intelligent diagramming allows you to quickly visualize projects and processes from start to finish.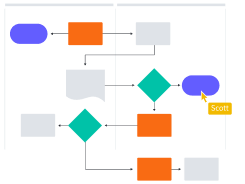 Alignment
Drive alignment with your team by collaborating in the same space. Quickly map out processes and ideas together in real time so that you never miss a beat.
Better together
The Lucid Visual Collaboration Suite transforms the way you work from ideation to project completion. Brainstorm and plan in Lucidspark then map it out in Lucidchart. Create a living blueprint of your organization.
What is a flowchart?
A flowchart is a diagram that depicts a process, system, or computer algorithm. They are used to document, study, plan, improve, and communicate complex processes in clear, concise diagrams. Flowcharts use specific shapes to define the type of step, along with connecting arrows to define a flow or sequence. They are one of the most common diagrams used by both technical and non-technical people in numerous fields.
How to make a flowchart
Gather information and define the purpose of the flowchart

Identify which process you want to define in your flowchart, and determine the start and end points. Bring together the stakeholders involved to brainstorm and outline the necessary steps. You can use Lucidspark to brainstorm online in real time with your team members.

Select a template, open a blank document, or import your flowchart

Choose from one of Lucidchart's many flowchart templates, and simply fill in the appropriate data in the relevant shapes. You can also start from scratch with a blank canvas to create your flowchart online. If you already have your own template or a flowchart you've created that needs to be updated, import your diagram from Lucidspark, Visio, Gliffy, Omnigraffle, or Diagrams.net into Lucidchart. If you just have data to import, you can import your dataset from Google Sheets or Excel.

Drag and drop flowchart shapes

Click and drag the shapes you want from the shape library and drop them anywhere on the canvas. Simply click a shape to add text to it, and use the available formatting options to customize shapes, colors, and text.

Connect the shapes in the proper sequence

Hover your cursor over any shape to see four white circles outlined in red. Simply click one of these circles and drag a line or an arrow to connect to the next shape. Click the line to add text to it, and format the line styling from the properties bar.

Share your flowchart and collaborate in real time on improvements

Once you have created the tasks and decision points of your process and made sure each step is clearly outlined, share the flowchart with stakeholders so they can give suggestions on improvements, make comments, edit, and make any other changes to the diagram before presenting or publishing.

Present or publish your flowchart

Once the flowchart is ready to go, you can publish your flowchart as a PDF or image. To present, you can convert your flowchart into a slide and present directly from Lucidchart or export the flowchart to Google Slides. Read our "How to Make a Flowchart" guide for detailed instructions on creating a flowchart.
Frequently asked questions about flowcharts