Gantt chart maker
Lucidchart is an intelligent diagramming application that takes Gantt charts to the next level. Drag and drop shapes, import data, access templates, and so much more.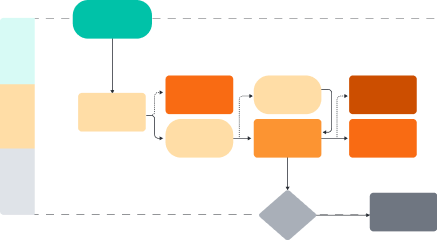 See why millions of users across the globe choose Lucidchart.
Simplify project management
Get started in just a few clicks with our simple, intuitive Gantt chart software.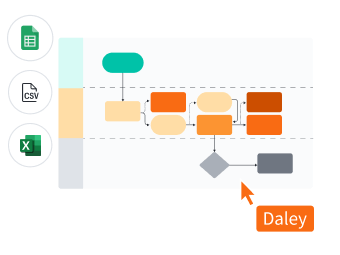 Manage project timelines effectively
Create Gantt charts quickly by importing your tasks and projects directly from Excel.
Add a screen recording or video
Need to give your team a better visual? Add a video or screen recording to your Gantt chart to include more information about your project.
Share with your team
Real-time visual collaboration from anywhere
Our online Gantt chart maker allows you to collaborate with anyone from any device, browser, or operating system.
Customizable Gantt chart templates
We offer more than 1,000 custom-made diagramming templates to choose from. Get inspiration from what others have created to manage your own projects.
Highly rated
Lucidchart is the trusted diagramming app of millions of users, with hundreds of 5-star reviews on apps like Capterra, G2, and TrustRadius.
Master the basics in 3 minutes
Create your first Gantt chart from a template, blank canvas, or imported document.

Add shapes, connect lines, and write text.

Adjust styling and formatting within your diagram.

Use Feature Find to locate anything you need.

Share your Gantt chart with your team and start collaborating.
Gantt chart templates
Get started building out your own Gantt chart with these templates from our gallery.
Lucidchart integrations
Connect Lucidchart to your favorite industry-leading apps.
See why teams use Lucidchart as their Gantt chart creator
Diagram, visualize data, and collaborate all in one platform.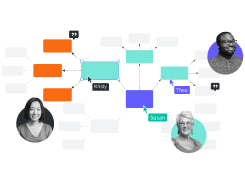 Collaboration
Use Lucidchart on any device with ease. Lucidchart helps teams collaborate in real time from anywhere in the world. Enhance productivity while working with your team to achieve your goals.
Clarity
Lucidchart brings clarity to the complex. Intelligent diagramming allows you to quickly visualize projects and processes from start to finish.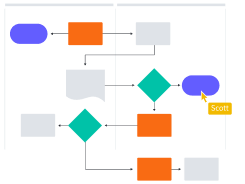 Alignment
Drive alignment with your team by collaborating in the same space. Quickly map out processes and ideas together in real time so that you never miss a beat.
Better together
The Lucid Visual Collaboration Suite transforms the way you work from ideation to project completion. Brainstorm and plan in Lucidspark, then map it out in Lucidchart. Create a living blueprint of your organization.
What is a Gantt chart?
A Gantt chart is used for project management to visualize all tasks from the beginning of a project to its completion. A Gantt chart lays out individual tasks and their dependencies, ownership, duration, and the expected duration of the project as a whole. With each task mapped out and assigned, your team can easily meet deadlines and ensure accountability.
How to make a Gantt chart
Gather the information needed for your project

Compile a list of project timeline information, stakeholders, tasks, and resources to ensure that your Gantt chart is as thorough as possible.

Select a Gantt chart template or start from scratch

Create a Gantt chart by selecting a template from our template gallery or by starting with a blank canvas.

Customize a template to fit your project needs

Input your project milestones and deadlines, and adjust each bar to visually correspond with the expected duration for each.

Collaborate and improve your Gantt chart

Share the most up-to-date version of your Gantt chart with stakeholders to analyze potential pain points, make updates, and recognize progress as your projects move forward.

Print, share, or present

Once your Gantt chart is ready, you can share it with your team via email, link, Slack, or Join ID. Or if you'd prefer a hard copy, print the chart. You can also use Presentation Mode to create presentation slides right in Lucidchart.
Frequently asked questions about Gantt charts