Mind map maker
Brainstorm away and capture all your thoughts with Lucidchart. Our mind map software makes creating mind maps simple and intuitive, so all you have to worry about is coming up with your next great idea.
See why millions of users across the globe choose Lucidchart.
Mind mapping made easy
Organize your ideas with our mind map creator and then share them with others.
Map your thoughts
With Lucidchart's mind map shape library, you can use hotkeys to add new ideas to your mind map and group related thoughts as you go.
Import and export ideas
Import mind maps from Visio, Gliffy, OmniGraffle, and diagrams.net to continue building on your previous work. You can also import ideas from any TXT file—Lucidchart will help you organize them, and you can export the finished mind map as a PDF, JPEG, or PNG when you're done.
Share your mind map
Collaborate freely
Cloud-based mind mapping allows you to work with anyone from anywhere, no matter what device, browser, or operating system each person uses.
Start with a mind map template
We've created over 1,000 diagramming templates for you to choose from. You can start from scratch or take inspiration from others to get a head start.
Feel secure with Lucidchart
We take your security and privacy seriously, so we maintain PCI, Privacy Shield, and SOC II compliance certifications.
See why everyone raves about us
Thousands of users have given us five-star reviews on third-party apps like Capterra, G2 and TrustRadius. Try Lucidchart to see what all the fuss is about.
Master the basics of Lucidchart in 3 minutes
Create your first mind map from a template or blank canvas.

Add shapes, lines, and content to customize your diagram.

Style and format your diagram to fit your use case.

Use Feature Find within Lucidchart to locate additional shapes and features.

Share your diagram with your team to get feedback and continue iterating.
Mind map templates
Make your own mind map by starting with one of our templates.
Lucidchart integrations
Connect Lucidchart to your favorite industry-leading apps.
See why teams use Lucidchart as their mind map maker
Diagram, visualize data, and collaborate all in one platform.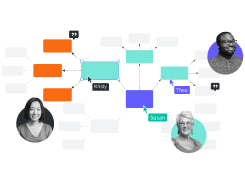 Collaboration
Use our mind map generator on any device with ease. Lucidchart helps teams collaborate in real time from anywhere in the world. Enhance productivity while working with your team to achieve your goals.
Clarity
Lucidchart brings clarity to the complex. Intelligent diagramming allows you to quickly visualize projects and processes from start to finish.
Alignment
Drive alignment with your team by collaborating in the same space. Quickly map out processes and ideas together in real time so that you never miss a beat.
Better together
The Lucid Visual Collaboration Suite transforms the way you work from ideation to project completion. Brainstorm and plan in Lucidspark, then map it out in Lucidchart. Create a living blueprint of your organization.
What is a mind map?
A mind map is a way to capture your thoughts. Start with a central idea, and then create branches from it to related concepts. From there, you can add and connect ideas freely. Mind maps work well for visual thinkers, and the flexible structure enables out-of-the-box brainstorming.
How to make a mind map in Lucidchart
Create your core idea

The core idea represents what you want to brainstorm about, like a problem you're trying to solve or the goal of a project that you're planning. Drag a shape from the mind map shape library to your board and add the core idea to it. That shape will remain central as your map grows.

Add parent branches

Make branches that outline your basic subtopics. Drag a line from your central idea, then choose a shape from the auto-prompt and fill in your subtopic. You can also use the hotkey "Tab" to create and connect your parent branch.

Add child branches and key words

Create more branches from the subtopics you've added. To add more detailed information, use the hotkey "Enter." Use the hotkey "Z" to collapse and expand the child branches so your mind map stays easy to scan.

Add colors and images

While not strictly necessary, colors and images help you visually sort and understand your ideas. Using them can make your mind map richer and more helpful to you.

Share your mind map

Share your mind map online, even with people who don't use Lucidchart. Generate a URL to share the diagram in an app integrated with Lucidchart, embed your diagram in a wiki, or export your diagram and outlines to different file types.
Frequently asked questions about mind maps