Swimlane Diagram Software
Add clarity to your flowchart when you use Lucidchart's swimlane diagram software to delineate who performs each part of a process. Our swimlane diagram maker is powerful yet easy to use—you can start diagramming in minutes!
Add clarity to your flowchart when you use Lucidchart's swimlane diagram software to delineate who performs each part of a process. Our swimlane diagram maker is powerful yet easy to use—you can start diagramming in minutes!
Choose from 120+ templates
Drag and drop shapes, lines, and images
View and edit Visio files with a Mac or PC
Easily share and collaborate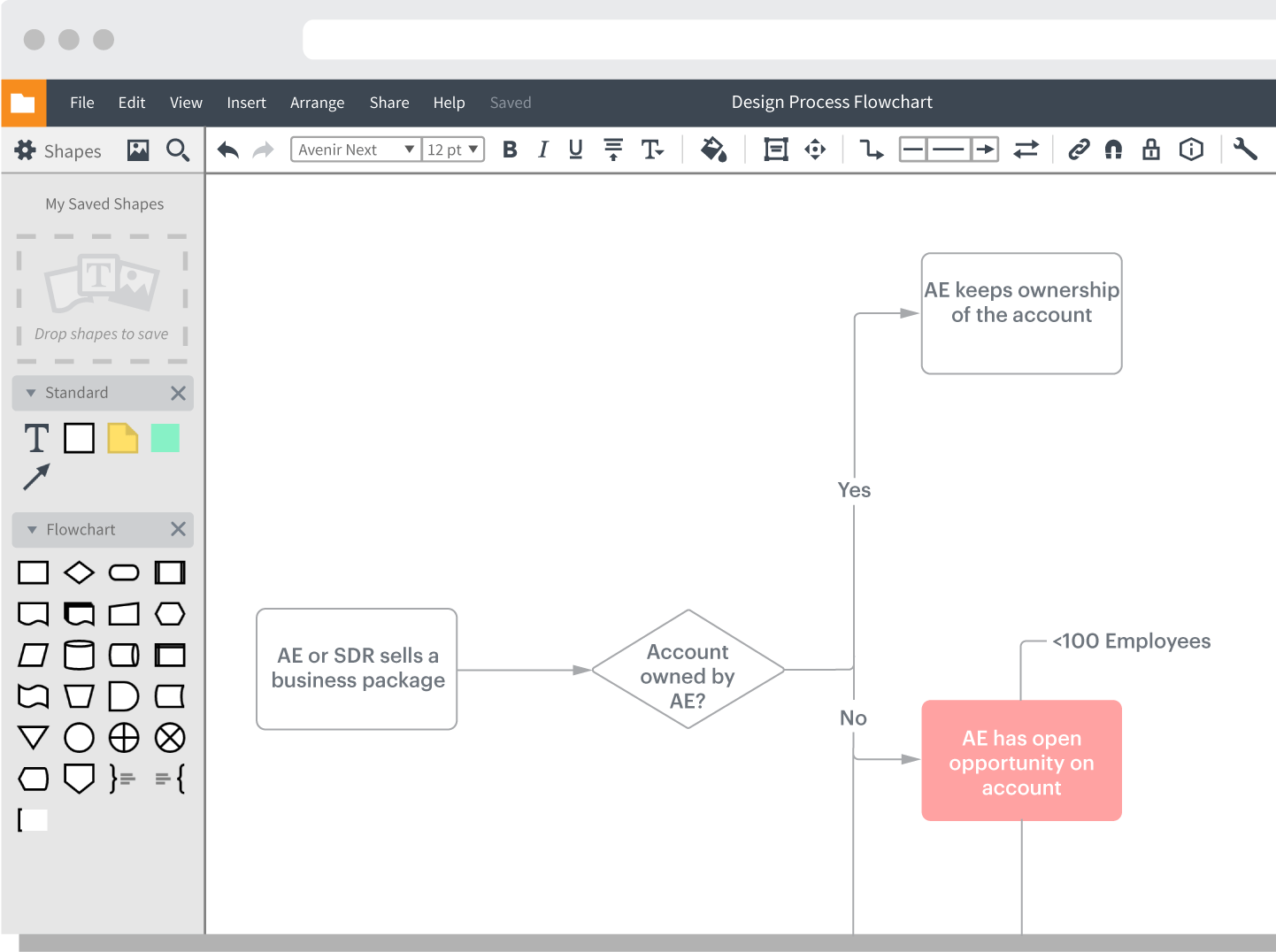 Over 11,000,000 users
trust Lucidchart to keep them on
the same page "Less expensive than alternatives, you can make very professional process maps and charts using it, easy to use, good customer support."
—Diana B
"Where do I start? Price is great. Functionality is great. Company is great. Overall system is awesome and evolving."
—Jonathan M
"Lucidchart is a great app for creating diagrams and flowcharts. It also allows multiple users to work on the same chart at the same time."
—Eric S
"It's simple and intuitive; very easy to use quickly. It doesn't require you to choose lots of options or fiddle around to get things to look good."
—Elizabeth B
"I really enjoy using this program for collaborative projects. The ability for everyone to collaborate in a single space is great."
—David H
"What I like the most about Lucidchart is that it 's easy to use and helps me bring visualization to my work with other teams."
—Kimberly V
"Whenever our sales team needs to mock up something we use LucidChart. The ease of exporting to a pdf is really helpful when it comes to sharing with our team."
—Allyssa C
"You don't have to know what you're doing before you start. It's easy to adjust and move items int he chart."
—Brett F
"Has plenty of objects and templates. Very responsive, easy to use. Professional look. It supports real time collaborative editing. Impressive outcome."
—Simon G
"This is a very intuitive application for flow charting. I think it is much easier to use and has a better end product than Microsoft Visio"
—Aubrey B
---


586 reviews
Swimlane Diagram Tool
Visualize any process using Swimlane diagrams built in Lucidchart. Our Swimlane diagram tool has ready-made templates and is accessible from any device!
Why you need swimlane diagram software
A swimlane diagram encourages accountability by placing process steps within horizontal or vertical swimlanes of a specific employee, team, or department. It demonstrates flows of communication and highlights handoffs within a process.
More Features
Swimlane diagram templates
Swimlane diagrams focus on resolving inefficiencies, collaborating with anyone involved in a process, and identifying responsibilities between employees and departments. Start diagramming a process using one of our swimlane diagram templates. Simply open the template and then add shapes and formatting to make it your own.
More Features
Ali Khan, Director of Technology Operations at Warby Parker
"We've been trying to establish a new project process. Despite the kind of project process you choose -- Waterfall, Agile, RUMBA -- all can be hard to learn. As a result, we've used Lucidchart extensively to make the project process visual with swimlanes, flowcharts, and other symbology. Now, people can visualize things in a simple way, rather than reading 30 pages of a project process."
More Features
The ideal swimlane diagram maker
Share with anyone

Now you don't have to email documents back and forth and deal with versioning issues. With the click of a button, Lucidchart's swimlane diagram tool lets you share your document with all those involved in a process. Maintain control by choosing whether collaborators have editing, commenting, or view-only access. Use @mentions to invite people to review a specific part of the diagram, or even start a chat within Lucidchart.

Visualize with ease

With a swimlane shape library and simple drag-and-drop functionality, Lucidchart's swimlane diagram software is easy for anyone to use. Even team members new to diagramming can get started with minimal instruction. Spend more time optimizing your processes and less time learning how to diagram them.

Work from Anywhere

Never worry about accessibility with our online swimlane diagram maker. Lucidchart plays nicely with all systems and platforms so you can diagram processes from any web browser running on Mac, Linux, or Windows. Diagram anywhere you go without ever downloading software.

Fully Integrated

Increase productivity by using Lucidchart with all your favorite applications. Our swimlane creator integrates seamlessly with leading workplace productivity apps, including G Suite, Microsoft Office, Slack, HipChat, Confluence, and JIRA. Setting up your integrations is simple so that you can instantly make visuals a part of every Google Doc, PowerPoint, and Slack conversation.
Try it now