Swimlane diagram software
Create a swimlane diagram in Lucidchart and help your organization get stuff done. Our intuitive software will help you map out tasks and responsibilities quickly, then update them effortlessly as your needs change. Diagram and plan for the future with Lucidchart.
See why millions of users across the globe choose Lucidchart.
Start your swimlane diagram
Learn how our swimlane diagram software makes building a swimlane diagram effortless.
Update with ease
With the magnetize function, any shapes that you add to your swimlanes will move with the container whenever you change its position. Disable the magnetize function as needed, and enjoy seamlessly updating your swimlane diagram.
Drag and drop shapes
From the Containers shape library, drag and drop shapes to build your swimlane diagram online in minutes. Customize the swimlanes using the Properties bar—you can add more lanes, change the colors, or even change the orientation of the swimlanes.
Collaborate with anyone, anywhere
Work with team members on the same swimlane diagram in real time. Leave @mention notifications on your swimlane diagram, or use our in-editor chat to share your ideas with your team as you work.
Keep track of ownership
Clearly delineating who is responsible for individual tasks and how they affect others in the process. Work with others on the same online swimlane diagram, automatically displaying updates for every user to see.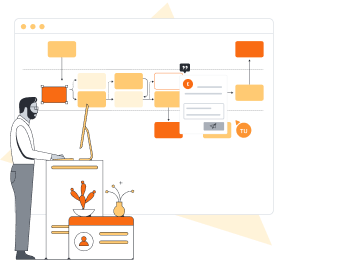 Customize our ready-made templates
Lucidchart offers more than 1,000 diagramming templates to choose from! Get a head start on your swimlane diagram by using a ready-made template and customizing it to your use case.
Trust us with your diagrams
We'll keep your data and ideas safe. We maintain compliance certifications like PCI, Privacy Shield, and SOC 2.
Lucid security
Rely on our reputation
Check out what others have to say about us on third-party apps like G2, Capterra, and TrustRadius. You'll like what you find.
Learn to make a diagram in 3 minutes
Begin work on your first swimlane diagram. Start with a template, import your data, or begin with a blank canvas.

Add shapes to your diagram. Connect them with lines, and add text to the shapes and lines to describe what's going on.

Format your diagram and adjust the styling. Use our tools to make it look professional and easy to read.

As you fine-tune your diagram, locate any feature you need with Feature Find.

Share your swimlane diagram with your team. Get feedback, collaborate, and present with ease from Lucidchart.
Swimlane diagram templates and examples
Don't reinvent the wheel—use one of our swimlane diagram templates instead of starting from scratch.
Lucidchart integrations
Connect Lucidchart to all your favorite industry-leading apps.
See why teams choose Lucidchart
Diagram, visualize data, and collaborate all in one platform.
Collaboration
Use Lucidchart on any device with ease. Lucidchart helps teams collaborate in real time from anywhere in the world. Enhance productivity while working with your team to achieve your goals.
Clarity
Lucidchart brings clarity to the complex. Intelligent diagramming allows you to quickly visualize projects and processes from start to finish.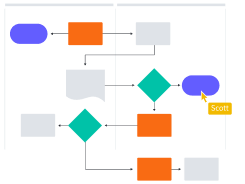 Alignment
Drive alignment with your team by collaborating in the same space. Quickly map out processes and ideas together in real time so that you never miss a beat.
Better together
The Lucid Visual Collaboration Suite transforms the way you work from ideation to project completion. Brainstorm and plan in Lucidspark then map it out in Lucidchart. Create a living blueprint of your organization.
What is a swimlane diagram?
A swimlane diagram shows ownership of tasks within a process or system. Each entity, whether that's a person, team, or department, will have their own lane on the diagram, and every task they are responsible for will be in their lane. Arrows show the flow of tasks and information between entities. Swimlane diagrams help organizations see what tasks need to be completed by who and at what stage of the process. You can also use these diagrams to identify where delays might happen and improve your processes.
How to make a swimlane diagram in Lucidchart
Research and document your process

Break down the process workflow by steps, including which teams or roles perform those steps and how they affect other departments. Use this information to identify your swimlanes.

Start with a blank document or swimlane template

Start your swimlane diagram by choosing one of our swimlane templates. You can also open a blank document and drag and drop shapes from the Containers shape library.

Customize your swimlanes

Once you've added your swimlanes, adjust the orientation of your containers to reflect the needs of your process. Your swimlanes can be horizontal or vertical.

Add process shapes

Drag and drop process shapes onto your swimlane diagram, then connect each to show process flow. Add text, color, and style to your diagram using our formatting tools.

Get feedback from our team

Share your swimlane diagram with key collaborators to make sure it accurately reflects your process. Get feedback using our collaboration features, share your diagram as a link or image file, or share directly within any integrated app
Frequently asked questions about swimlane diagrams