Work breakdown structure software
Lucidchart is an intelligent diagramming application that makes creating a work breakdown structure (WBS) easy. Customize shapes, import data, and so much more.
Create a free work breakdown structure
See why millions of users across the globe choose Lucidchart.
Lucidchart is your collaborative WBS software
With our WBS creator, you can put together a work breakdown structure easily and then share it with stakeholders.
Collaborate and share with anyone from anywhere
Link your data to your WBS diagram
Import data from Excel directly to your WBS diagram in Lucidchart. If your data is linked to Google Sheets, easily refresh and update your diagrams as you make changes to the data or simply upload a new CSV.
Integrates with Jira
Our Jira integration lets you create Jira tickets directly from your WBS diagram. Once your diagram is complete, integrate it with Jira to automate ticket creation for projects.
Add a video for context
Embed short video clips within your visual to explain more complex parts of your work breakdown structure.
Customizable templates
We offer more than 1,000 custom-made diagramming templates to choose from! Get inspiration from what others have created with Lucidchart to solve problems, make decisions, and manage projects.
Security and privacy
Our users' security is our first priority. Lucidchart maintains security certifications like PCI, Privacy Shield, and SOC 2.
Trusted by thousands
Lucidchart is trusted by millions of users worldwide and has hundreds of five-star reviews from customers on third-party apps like Capterra, G2, and TrustRadius.
Master the basics in 3 minutes
Start by creating a WBS from a template, blank canvas, or imported document.

Add shapes, lines, and text.

Learn how to adjust styling and formatting within your WBS diagram.

Use Feature Find to locate anything you need.

Share with your team and start collaborating.
Work breakdown structure templates and examples
Get started building out your own WBS design with these templates from our gallery.
Lucidchart integrations
Connect Lucidchart to your favorite industry-leading apps.
See why teams use Lucidchart for their WBS software
Diagram, visualize data, and collaborate all in one platform.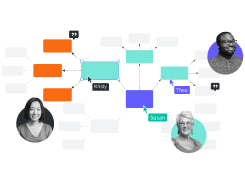 Collaboration
Use our work breakdown structure creator on any device with ease. Lucidchart helps teams collaborate in real time from anywhere in the world. Enhance productivity while working with your team to achieve your goals.
Clarity
Lucidchart brings clarity to the complex. Intelligent diagramming allows you to quickly visualize projects and processes from start to finish.
Alignment
Drive alignment with your team by collaborating in the same space. Quickly map out processes and ideas together in real time so that you never miss a beat.
Better together
The Lucid Visual Collaboration Suite transforms the way you work from ideation to project completion. Brainstorm and plan in Lucidspark, then map it out in Lucidchart. Create a living blueprint of your organization.
What is a work breakdown structure?
A work breakdown structure—also called a WBS—is a project management tool used to define and manage a project's deliverables. The purpose of a WBS is to break down complex activities into hierarchical, manageable parts, allowing users to see the individual deliverables that need to be completed in order to reach a project's overarching goal. While most project management tools focus on planned actions, a WBS focuses on planned outcomes. A carefully organized WBS can help a project manager more effectively oversee the completion of otherwise complicated tasks within a project. A WBS with measurable, clearly defined tasks can also help project management assign accurate costs and deadlines to a project, simplifying project planning and monitoring.
How to create a work breakdown structure in Lucidchart
Add your project name

Start with the project name as the first level of the WBS. Then, use the project's scope and statement to determine the major deliverables that are essential to the success of the project.

Add the deliverables at the second level

Take the deliverables you have identified and add them to the work breakdown structure at the second level, connecting back to the project name.

Break down major deliverables into work packages

Break each of your major deliverables down into the necessary work components required to complete them. Record each of them on your WBS at the third level. Most work breakdown structures will have three levels, but you can add more if necessary.

Review and group manageable tasks

Before taking action, make sure deliverables and sub-deliverables add up to 100% of the work needed for the project to be complete. Then, divide up the tasks you have created so that they are ready to assign to the appropriate team members.

Share your WBS with team members

When you've finalized your work breakdown structure, share the visual with project stakeholders and team members who will be assigned to tasks, so everyone can see the planned deliverables and what's expected for each task.
Frequently asked questions about work breakdown structures