Why you must continuously evaluate and improve business processes
Lucid Content Team
Reading time: about 9 min
Change is good. Some say it's inevitable or to "be" the change that you wish to see in the world. But no one ever really says that change will be easy. Business process improvement is no different.
Too often, companies have a mindset of "If something isn't broken, why fix it?"—and that's all it takes to prevent process improvement in the first place. But as businesses scale and try to innovate to keep up with the competition, the need to evaluate current practices and improve processes becomes inevitable.
And the importance of continuous business process improvement isn't limited to growth alone. Dissatisfied customers, frazzled employees, missed quotas, and increased costs are just some of the problems associated with dysfunctional processes and outdated business practices. 
For anyone still on the fence about examining processes and implementing change, consider this.
The benefits of process improvement
No matter what industry you're in or what size your company is, most organizations use several business processes every day. Whether it's generating reports, onboarding employees, tracking orders, entering sales, or launching a new product, everyone adheres to some set of processes. 
Upon closer examination, instances of waste and inefficiency can be found within any process.
Business process improvement can take many forms. Sometimes, it involves the adjustment of existing protocols, adding processes to improve results, or following a different methodology.
In any case, the benefits of process improvement can't be ignored. It allows companies to:
Automate tedious, repetitive, or menial tasks for greater process efficiency.
Better allocate time, employees, or resources to save money.
Streamline or replace products to increase competitive advantage.
With continuous business process improvement, you can gain a better understanding of which processes are working well for your business and which ones aren't. Process improvement is a strategy that can be used to focus on specific aspects of a business, such as the following.
Reveal hidden bottlenecks
Surprisingly enough, the reality of what is happening in the workplace or on the production floor doesn't always match up with what you think is happening. It's easy to assume that employees are always making good use of their time, that our vendors are giving us the best prices, or that our supply chains always proceed uninterrupted.
Business process improvement helps make sense of the bottlenecks that affect businesses. Companies may be more vulnerable to bottlenecks when starting the production process for a new product or during the transition to a different software (or logistics management) system. A solution to such bottlenecks could be as simple as outsourcing work or reassigning resources.
See how to visualize and analyze your current processes so you can detect bottlenecks and areas for improvement.
Learn more
Scale faster as a business
Business processes that worked great when a company was small and had fewer employees don't always work in the future. It's why adding twice the people to a workforce or doubling production speed on the line doesn't necessarily assure 200% growth. Scalability can be tricky.
With process improvement, you can better determine whether your company's current infrastructure, business systems, and employees are able to accommodate growth. Manual processes might require automation. Systems may need integration. Facilities may need a complete upgrade.
Without continuous process improvement, realities like these may be overlooked entirely.
Respond to industry changes
Seizing new market opportunities and getting ahead of the competitors in your industry takes more than initiative or desire. It demands a greater awareness of one's business strengths and limitations.  
The importance of process improvement techniques in adapting to industry changes is critical. A great example of this is how Netflix changed its process for delivering movies to subscribers. In 2007, while its DVD-by-mail model was adapted by competitors (including its brick-and-mortar rival, Blockbuster), Netflix strategically shifted its emphasis to streaming.
The benefits of process improvement in this instance would include the adoption of Netflix on several platforms, faster expansion into international markets, and eventual market dominance.
Meet compliance requirements 
Continuous business process improvement helps keep businesses aware of compliance-related changes or updated security protocols. Building compliance into process improvement helps to avoid eleventh-hour attempts to implement regulatory requirements or document procedures.
Being proactive with process improvement also helps avoid compliance delays and costly fines.
Add new technologies effectively
Process improvement also allows for businesses of all sizes to better assess software needs in support of new developments and organizational requirements. Without continuous business process improvement, many organizations might waste time, money, and effort to develop a custom web application when a commercially available software program will solve their need.
Increase employee satisfaction
A work environment that lacks business process improvement can prove highly demoralizing for even the most hard-working or loyal employees. The more time team members have to focus on the critical aspects of their job instead of doing repetitive, tedious tasks, the better.
With better processes and a happier workforce, productivity and revenue will also improve. By automating data entry and order taking, more resources can be directed to profitable activities.
Much happier customers
Automation and the continuous improvement of a business process can also improve response times, order-fulfillment accuracy, and consistency of service—increasing customer satisfaction.
Happier customers are also more likely to recommend products and services to friends, family, and colleagues, helping to differentiate your business from competitors. Loyal customers mean repeat business and steady sales for years to come, reason enough for process improvement.
Types of business processes to improve 
From the most complex to the most basic, any process can gain from continuous improvement. Each designed to streamline how work is done, business processes can be formal or informal.
Formal processes
Encompassing safety guidelines, financial matters, legal issues, and other sensitive functions, formal processes hold particular importance for businesses and comply with rules or regulations.
In most instances, formal processes are well documented with established steps to follow. An example of a formal process might include how expenses are submitted and reimbursed or how a customer is acquired by your organization, onboarded, and assigned to an account team.
Informal processes
In contrast, informal processes are often instituted by individuals or teams within a business to complete certain tasks. Even if they lack written instructions or rules, they're still highly valued. An informal process might include who signs for a package in the absence of a receptionist or the unspoken rule about the last person to use the printer being the one to refill it with paper.
When and how to improve a business process
Process breakdowns rarely happen overnight. With continuous business process improvement, it becomes easier to isolate, identify, and resolve issues within your organization. Inefficiencies and waste are often the most important to tackle first. If there are bottlenecks causing delays in fulfilling orders or servicing accounts, they must also be addressed immediately. However, as a general rule, the sooner you act to improve a failing or outdated business process, the better.
Mapping out a process
After you've determined which process to improve, it's helpful to document the process with a flowchart or other diagram. Participation by all involved (or affected) by the change in process is recommended to help ensure nothing vital is overlooked—including any unexpected sub-steps.
If the process is a complicated one, mapping it out may span a few days' time. Plan accordingly.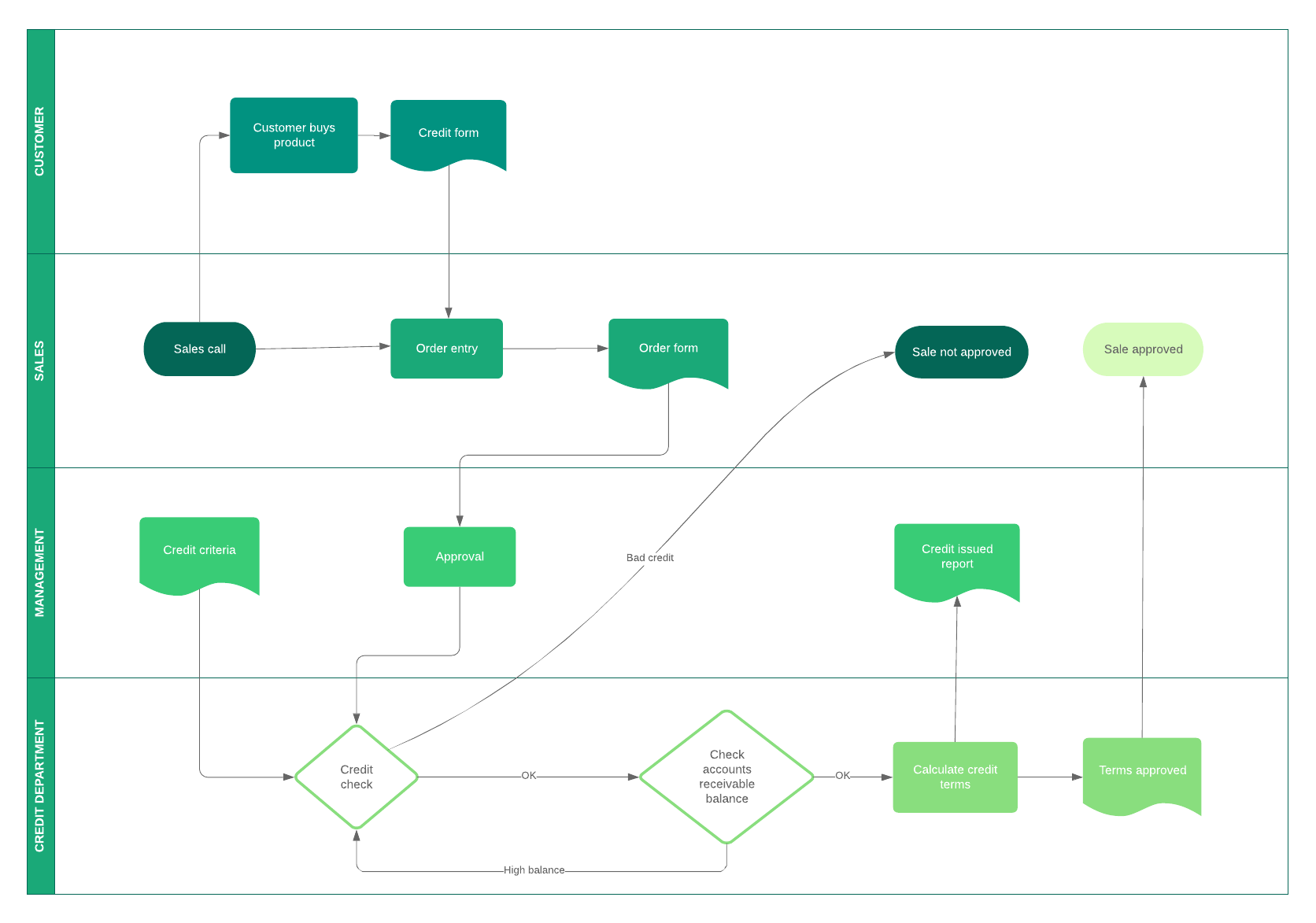 Analyzing a process
When evaluating and improving a business process, it's useful to engage with the people most involved or affected, see if they notice a problem, and ask how they might change the process.
Considerations for a business process improvement analysis may include factors such as what issues are most urgent to employees or customers, what circumstances are increasing cost or decreasing quality, and which steps are causing the most inefficiencies and could be eliminated.
Redesigning a process
Once the analysis is complete, it's time to redesign the process and resolve the inefficiencies and problems you've identified. Again, it's helpful to involve anyone who is directly involved in the process with the redesign and be open to any suggestions for improvement they have.
People are more likely to adapt to change and accept a new process if you've included them from the start. Make sure everyone understands (and agrees) with the need for improvement, is willing to explore new solutions to the existing process, and understands the effects of the change.
Acquiring resources for a process
Improving business processes doesn't come free. Process improvement might involve hiring more employees, adding new technology, upgrading facilities, and investing in infrastructure.
To acquire the necessary resources for improving business processes at your organization, be prepared to make a list of everything you need. Seek assistance from department managers or colleagues who can understand the need for process improvement and will support the cause. To win people over, explain how the improvement plan will help benefit the entire organization.
If improvement requires a significant investment, explain the effects of process improvement on sales forecasts, customer loyalty, end-to-end costs, and production times to secure resources.
Implementing and communicating process changes
Process improvements require collaboration and timing to pull off successfully. Before making sweeping changes to current processes, systems, or teams, consider a trial run at first. By doing so, you can identify and correct potential problems before committing to a wider rollout of your improvement plan. No matter how much planning takes place, there will always be resistance.
The willingness to accept change varies between individuals. Some people (or even teams) will need more time and reassurance to adapt. Offer them as much information as possible to help.
Reviewing a process
No process is foolproof. Even the best plans require flexibility when implemented in the wild.
After the process improvement is implemented, keep a close eye on how things are performing in the first few weeks after the rollout. Is your operational process improvement performing as expected? Monitor for any changes and make adjustments accordingly. And of course, reach out to all the people who are putting the new business process into action and ask how everything is going.
Business process improvement isn't a one-time event. It's an ongoing commitment that requires diligence, stamina, and attention to detail to see through to completion. It's also a worthwhile endeavor that can have a positive effect on your business in the short term—and into the future.
Lucidchart can make the implementation of business improvement more effective by providing you with the functionality to map out a plan, redesign a process, and communicate change as needed.
Once you have updated your processes, read our tips for implementing a new process efficiently with your team.
Learn more
Lucidchart
Lucidchart, a cloud-based intelligent diagramming application, is a core component of Lucid Software's Visual Collaboration Suite. This intuitive, cloud-based solution empowers teams to collaborate in real-time to build flowcharts, mockups, UML diagrams, customer journey maps, and more. Lucidchart propels teams forward to build the future faster. Lucid is proud to serve top businesses around the world, including customers such as Google, GE, and NBC Universal, and 99% of the Fortune 500. Lucid partners with industry leaders, including Google, Atlassian, and Microsoft. Since its founding, Lucid has received numerous awards for its products, business, and workplace culture. For more information, visit lucidchart.com.
Bring your bright ideas to life.