Building a customer relationship in the discovery process
Taylor Dolbin
Reading time: about 7 min
"Account-based everything" is a sales strategy for understanding and managing the collective client experience with your business from the first touch to closed-won and beyond.
Combining the popular practices of account-based selling (ABS) and account-based marketing (ABM), ABE emphasizes the need for a collaborative and holistic approach to the customer relationship.
Unlike traditional sales organizations, under ABE, marketing, sales, and client services function as interdependent departments rather than working in silos. Each team collaborates to build stronger client relationships and create value for the customer at every stage of their lifecycle.
Building relationships is important not only because sales teams must tailor their solution to win and retain customers but also because today's sale has become more complex. It's not just one person you need to convince—you need to create consensus among a group of stakeholders. With a focus on relationships, organizations can increase sales, improve retention rates and growth, and minimize churn.
But in order to build relationships and create value, you need to understand who is who during the buyer journey and what is important to those decision-makers.
The discovery process plays a crucial role in gathering the information necessary to develop relationships throughout the lifecycle of an account, but sales reps often approach this process in the wrong way. They research the prospect, ask dozens of qualifying questions, and then focus in on selling the solution before moving onto the next account.
If reps aren't careful, this approach can leave the client feeling interrogated, steamrolled, and ignored. Discovery calls that focus too heavily on the sell, rather than the client and their needs, don't create a strong relationship between the customer and the sales rep, which, in turn, can lengthen the sales cycle or alienate the buyer to the point of a lost sale.
When executed well, the discovery process is an opportunity to enhance your account-based selling strategies and build a connection with your customer that can extend far beyond the initial qualifying conversation.
Use the following tips to help your sales team build stronger client relationships throughout the discovery process.
Create a dialogue
One of the worst things that a rep can do in a discovery call is read off a long list of qualifying questions.
Don't play 20 Questions with your prospects.
That kind of rapid-fire interview quickly starts to feel like an interrogation to clients and doesn't leave room for the kind of conversations that will build rapport or help reps understand the prospect's needs at a deeper level.
Instead, encourage reps to create a dialogue and then listen to what the buyer has to say.
Research by Gong.io found that discovery calls that cover just 11-14 questions were most successful. Fewer questions didn't allow the sales rep to fully qualify the prospect and understand their pain points while more questions made the conversation too one-sided.
The simple act of listening will build rapport with the prospect. Additionally, sales reps will be in a better position to address the buyer's concerns and provide meaningful solutions, building greater trust.
Document findings
Make sure to train sales reps to document account information in your CRM as they listen to prospective buyers and start to understand their motivations and pain points better. After all, the sales rep isn't the only one who will benefit from that information—other roles in your org, from marketing to client services, can use those insights in their own ABE efforts.
Account maps are a simpler, visual way to record account information and give your co-workers a glimpse into the status of a deal. Encourage sales reps to create account maps so they can quickly identify decision-makers and discover their next steps. With Lucidchart, account mapping becomes even faster as reps import contacts from Salesforce and use intuitive drag-and-drop functionality to visualize the political landscape.
As sales reps are listening to prospects, they should add notes to the contact on their account map, including whether they have buying power, what pain points they face, how they feel about your solution, what technology they use, etc.
Because Lucidchart integrates with Salesforce, any notes, contact information, and new contacts that sales reps add to the account map will automatically sync back to Salesforce and vice versa.
Provide insights
If sales reps listen carefully and ask the right questions, they should be able to uncover insights into the client's business. When they identify opportunities for change and improvement, they become valuable advisors to prospects, rather than pushy salespeople.
To do this, sales reps should focus on just three to four core problems the prospect has. This focus will allow them to drill down into the customer's pain points to better understand their problems and the solutions they need.
Record the calls
Teams that record sales calls have multiple advantages that can help build better customer relationships.
When sales reps record their calls, they can focus more on the client and less on taking precise notes. Additionally, they can refer to the recording when they draft follow-up emails or other sales collateral to create more accurate and effective responses. As reps review calls later on, they should add all new insights to the account map to ensure all information is being documented.
Recordings are also great management tools to measure success and coach sales reps on how to improve their discovery calls.
Review the deal
Reps should present their account maps during EBRs and QBRs to help leadership come up to speed quickly on the status of a deal. As a leadership team, you can then help reps determine the best path to closed-won. You can also find connections you might have to the account and be able to see missed stakeholders or connections the rep still needs to help the deal progress. This executive sponsorship can help reps offer a smooth, tailored, and strategic buyer experience.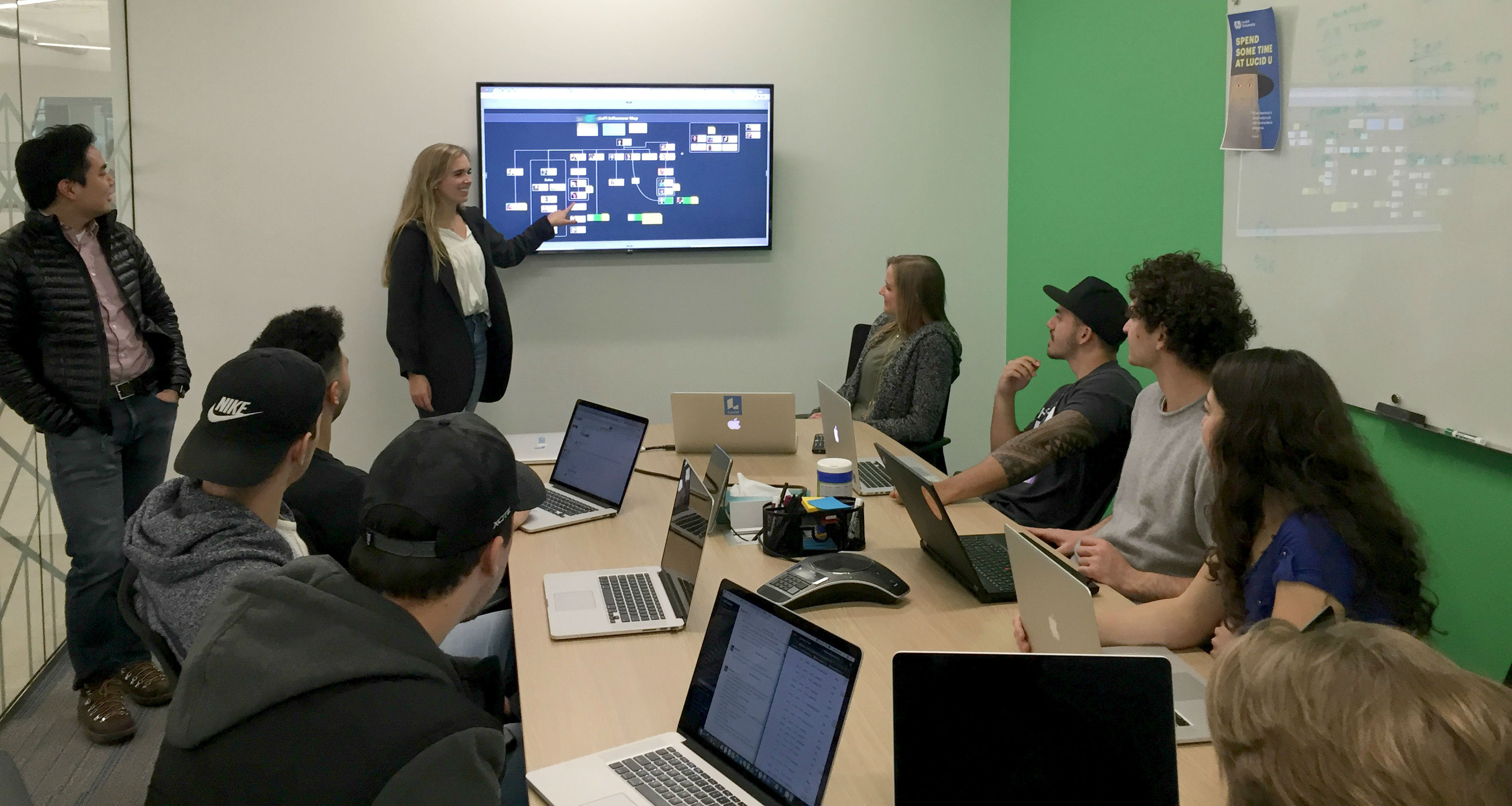 Create a centralized location for discovery information
With ABE, relationship-building extends beyond the initial discovery and even after closed-won.
Following a discovery call, sales reps should use the information they gleaned from the prospect to create even more targeted initiatives to accelerate the sales cycle. One way to do this is through a multi-touch outreach campaign that involves sales, marketing, and executive leadership.
In order for this type of campaign to succeed, everyone involved needs access to the insights gleaned during the discovery call. Account maps allow the most up-to-date information to be stored in a central location for easy reference.
Let's say your sales team learns that a customer's goal for the quarter is to expand into a new market. As a leadership team, you could use the account map to identify and reach out to the decision-makers at the organization to discuss strategies for market penetration.
At the same time, marketing could use info from the discovery call to create content (e.g., a whitepaper) outlining the challenges and possible solutions. Finally, the rep could outreach personally (via email or phone) to talk with their contact directly.  
Using a collaborative, cross-team approach, sales organizations can build a more positive, cohesive relationship with their customers.
But a closed deal isn't a done deal. A healthy business is built on good customer relationships that extend far beyond the initial sell. To ensure your clients renew and grow with you, continue to nurture the relationship you've built over the sales cycle. You have to keep convincing them of your value, and you can only do that when you know what the client values.
Once a deal closes, to improve internal sales communication, reps should pass all discovery information to your customer success and account management teams. Again, this process is simple if everything is centrally stored in an account map. These teams can use that documentation to make sure they fulfill client expectations and keep customers happy when it comes time to renew.
The discovery process can be so much more than a qualifying phone call—it can help your sales team build relationships and set your deals up for success from the very beginning.
It's not just the discovery call that's key to building customer relationships. Test your entire buyer experience.
Start here
About the author
Taylor Dolbin graduated from BYU in English and works as the Sales Solution Strategist at Lucidchart. His key focus is empowering sales organizations to sell more effectively. His greatest passions are trail running, triathlons, dirt biking, and being a husband and father to two (sometimes more, sometimes less) foster children.
Lucidchart
Lucidchart, a cloud-based intelligent diagramming application, is a core component of Lucid Software's Visual Collaboration Suite. This intuitive, cloud-based solution empowers teams to collaborate in real-time to build flowcharts, mockups, UML diagrams, customer journey maps, and more. Lucidchart propels teams forward to build the future faster. Lucid is proud to serve top businesses around the world, including customers such as Google, GE, and NBC Universal, and 99% of the Fortune 500. Lucid partners with industry leaders, including Google, Atlassian, and Microsoft. Since its founding, Lucid has received numerous awards for its products, business, and workplace culture. For more information, visit lucidchart.com.
Bring your bright ideas to life.