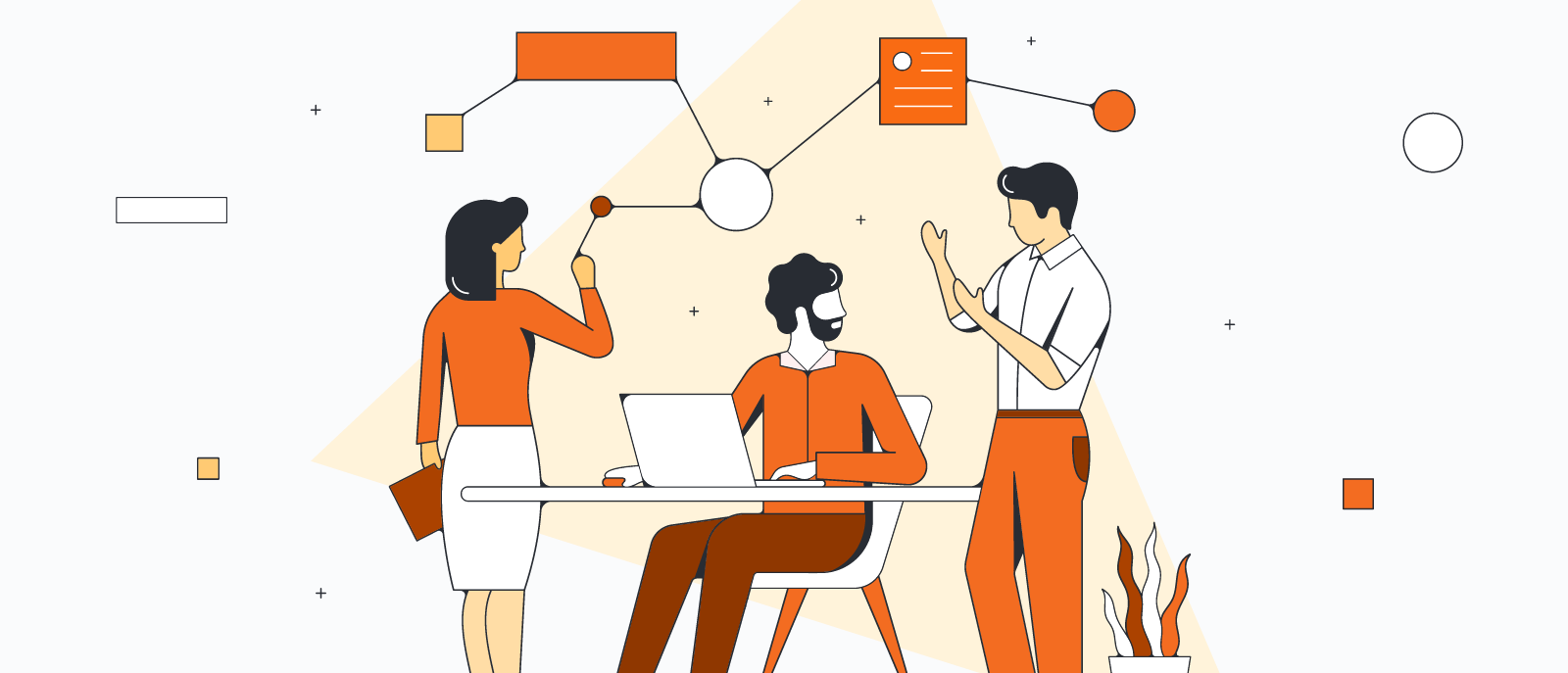 How to create a customer journey map
Lucid Content Team
Reading time: about 8 min
How to Make a Customer Journey Map
Steve Jobs, the genius behind Apple's one-of-a-kind customer experience, said, "You've got to start with the customer experience and work back toward the technology, not the other way around."
Nowadays, a clear vision and strategy for customer interactions is no longer an optional "nice-to-have"—it's essential. As you refine your customer experience, a customer journey map is one of the most powerful ways to understand your current state and future state.
Want to create a shared vision for a customer experience that is ready to scale with your organization? Check out our customer journey map example, that's easy to edit and share with your team.
A customer journey map is a diagram that shows the process your customers go through in interacting with your business, such as an experience on the website, a brick and mortar experience, a service, a product, or a mix of those things.
What is a customer journey map?
A customer journey map is a visual representation of a customer's experience with your brand. These visuals tell a story about how a customer moves through each phase of interaction and experiences each phase. Your customer journey map should include touchpoints and moments of truth, but also potential customer feelings, such as frustration or confusion, and any actions you want the customer to take.
Customer journey maps are often based on a timeline of events, such as a customer's first visit on your website and the way they progress towards their first in-product experience, then purchase, onboarding emails, cancellation, etc. 
Your customer journey maps may need to be tailored to your business or product, but the best way to identify and refine these phases is to actually talk to your customers. Research your target audiences to understand how they make decisions, decide to purchase, etc. Without an essential understanding of your customers and their needs, a customer map will not lead you to success. But, a well-constructed and researched customer journey map can give you the insights to drastically improve your business's customer experience.
The benefits of customer journey mapping
Customer journey mapping is a powerful tool for uncovering insights into your customer experience, driving business goals, and building resilience in a changing market. In a 2022 report, Hanover Research found that 94% of businesses said their customer journey maps help them develop new products and services to match customer needs. Another 91% said their maps drove sales. 
But understanding a customer's journey across your entire organization does so much more than increase your revenue. It enables you to discover how to be consistent when it comes to providing a positive customer experience and retaining customer loyalty. 
This was especially evident in recent years as top of improving marketing, customer journey maps emerged as a valuable way to understand evolving buyer behavior. In fact, 1 in 3 businesses used customer journey maps to help them navigate the changing landscape during the pandemic.
When done correctly, customer journey mapping helps to:
Increase customer engagement through channel optimization.
Identify and optimize moments of truth in the CX.
Eliminate ineffective touchpoints.
Shift from a company to a customer-focused perspective.
Break down silos between departments and close interdepartmental gaps.
Target specific customer personas with marketing campaigns relevant to their identity.
Understand the circumstances that may have produced irregularities in existing quantitative data.
Assign ownership of various customer touchpoints to increase employee accountability.
Make it possible to assess the ROI of future UX/CX investments.
Following the process outlined above, customer mapping can put your organization on a new trajectory of success. Yet, according to Hanover Research, only 47% of companies currently have a process in place for mapping customer journeys. Making the investment to map your customer journey and solidify that process as part of your company's DNA can result in significant advantages in your competitive landscape, making your solution the go-to option that customers love.
How to create a customer journey map
Customer journey maps can become complicated unless you keep them focused. Although you may target multiple personas, choose just one persona and one customer scenario to research and visualize at a time. If you aren't sure what your personas or scenarios might be, gather some colleagues and try an affinity diagram in Lucidchart to generate ideas.
1. Set goals
Without a goal, it will be difficult to determine whether your customer journey map will translate to a tangible impact on your customers and your business. You will likely need to identify existing—and future—buyers so you can set goals specifically for those audiences at each stage of their experience.
Consider gathering the key stakeholders within your company—many of whom likely touch different points of the customer experience. To set a logical and attainable goal, cross-functional teamwork is essential. Gather unique perspectives and insights about each part of the existing customer journey and where improvements are needed, and how those improvements will be measured.
Pro Tip: If you don't already have them in place, create buyer personas to help you focus your customer journey map on the specific types of buyers you're optimizing for.
2. Conduct persona research
Flesh out as much information as possible about the persona your customer journey map is based on. Depending on the maturity of your business, you may only have a handful of records, reports, or other pre-existing data about the target persona. You can compile your preliminary findings to draft what you think the customer journey may look like.

However, the most insightful data you can collect is from real customers or prospective customers—those who have actually interacted with your brand. Gather meaningful customer data in any of the following ways:
Conduct interviews.
Talk to employees who regularly interact with customers.
Email a survey to existing users.
Scour customer support and complaint logs.
Pull clips from recorded call center conversations.
Monitor discussions about your company that occur on social media.
Leverage web analytics.
Gather Net Promoter Score (NPS) data.
Look for information that references:
How customers initially found your brand
When/if customers purchase or cancel
How easy or difficult they found your website to use
What problems your brand did or didn't solve
Collecting both qualitative and quantitative information throughout your research process ensures your business makes data-driven decisions based on the voice of real customers. To assist when conducting persona research, use one of our user persona templates.
Discover more ways to understand the Voice of the Customer
Read how
3. Define customer touchpoints
Customer touchpoints make up the majority of your customer journey map. They are how and where customers interact with and experience your brand. As you research and plot your touchpoints, be sure to include information addressing elements of action, emotion, and potential challenges. 
The number and type of touchpoints on your customer journey map will depend on the type of business. For example, a customer's journey with a SaaS company will be inherently different than that of a coffee shop experience. Simply choose the touchpoints which accurately reflect a customer's journey with your brand.
After you define your touchpoints, you can then start arranging them on your customer journey map.
4. Map the current state
Create what you believe is your as-is state of the customer journey, the current customer experience. Use a visual workspace like Lucidchart, and start organizing your data and touchpoints. Prioritize the right content over aesthetics. Invite input from the stakeholders and build your customer journey map collaboratively to ensure accuracy. 
Again, there is no "correct" way to format your customer journey map, but for each phase along the journey timeline, include the touchpoints, actions, channels, and assigned ownership of a touchpoint (sales, customer service, marketing, etc.). Then, customize your diagram design with images, color, and shape variation to better visualize the different actions, emotions, transitions, etc. at a glance.
Mapping your current state will also help you start to identify gaps or red flags in the experience. Collaborators can comment directly on different parts of your diagram in Lucidchart, so it's clear exactly where there's room for improvement.
5. Map future states
Now that you've visualized the current state of the customer journey, your map will probably show some gaps in your CX, information overlap, poor transitions between stages, and significant pain points or obstacles for customers.
Use hotspots and layers in Lucidchart to easily map out potential solutions and quickly compare the current state of the customer journey with the ideal future state. Present your findings company-wide to bring everyone up to speed on the areas that need to be improved, with a clear roadmap for expected change and how their roles will play a part in improving the customer journey.
Customer journey map templates
You have all the right information for a customer journey map, but it can be difficult to know exactly how to start arranging the information in a digestible, visually appealing way. These customer journey mapping examples can help you get started and gain some inspiration about what—and how much—to include and where.
Don't let the possibility of a bad customer journey keep you up at night. Know the current state of the customer journey with you business, and make the changes you need to attract and keep customers happy.